DraftKings has raised its 2023 revenue guidance to $2.95bn, up from $2.90bn, after experiencing "better than expected" sportsbook results – among other successes – in the fourth quarter of 2022.
DraftKings CEO and co-founder Jason Robins pointed to a double effort of increased revenue and reduced costs as the reasons for the Q4 growth, along with the sportsbook results.
Revenue for the quarter was $855m in total, a rise of 81% year-on-year.
"I am very pleased with how we concluded 2022, with continued top-line growth and strong focus on expense management," he said.
"In the fourth quarter, we grew revenue by 81% versus last year and delivered positive adjusted earnings before interest, tax, depreciation or amortisation (EBITDA) in October and for the quarter when adjusting for our launch costs in Maryland and Ohio."
DraftKings was one of several operators to announce its entry into Maryland in November last year.
The operator entered Ohio on January 3 2023. Days later, it was announced that it would be fined – alongside BetMGM and DraftKings – $150,000 by the Ohio Casino Control Commission (OCCC) for advertising violations.
Jason Park, DraftKings' chief financial officer, added the exceeded expectations across the board had led to the business raising its forecast for the year ahead.
"We are increasing the midpoint of our fiscal year 2023 revenue guidance to $2.95bn from $2.9bn and improving the midpoint of our fiscal year 2023 adjusted EBITDA guidance from $525m in losses to $400m in losses," he said.
Increased revenue
For the full year, DraftKings reported $2.24bn in revenue, a 72.8% increase on from the $1.30bn received the previous year. This was, in part, driven by a bumper Q4 which saw revenues of $855m, an 81% increase as highlighted by Robins.
The increased revenue was also due to expansion into new jurisdictions, continued customer retention and monetization in existing states and an augmentation of the operator's sportsbook market share.
For the fourth quarter, operating losses fell 37% year-on-year, from $369m in 2021 to $232m, driven by the revenue growth and a paring back of expenses. This resulted in a loss of 0.52c per share as opposed to the 0.80c loss per share experienced by the business in 2021.
The quarter concluded with a pre-tax loss of $233m and a net loss of $243m.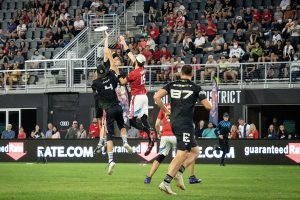 Pared back costs
At the beginning of February, DraftKings laid-off 140 workers – accounting for 3.5% of the total workforce – as part of a wider effort to improved profitability.
"Our fiscal year 2023 adjusted EBITDA guidance reflects a meaningful slowdown in the growth rate of our fixed costs as we continue to capture efficiency opportunities and optimize our organizational productivity," said Robins,
This can be seen with the reduction of the operator's administrative costs by 7.7% from $828m in 2021 to $764m in 2022.
While other costs, such as cost of revenue, sales and marketing, as well as product and technology, rose in tandem with the increased revenue, the increases remained below that of revenue.
In Q3 2022 DraftKings' 2023 revenue guidance, which predicted losses between $475m-575m, spooked the market and sent DraftKings' stock price tumbling more than 20%.
Player acquisition
The number of monthly unique payers, a metric that measures the number of unique paying customers rose 31% year-on-year to 2.6 million in Q4 2022.
The company pointed to its strong user retention and acquisition across both its online sportsbook and igaming products, as well as the continued expansion into new jurisdictions.
Average revenue per paying user also rose , by 42% year-on-year to $109 in the fourth quarter of 2022.
"This increase was primarily due to improvement in the company's structural sportsbook hold rate and a continued mix shift into DraftKings' sportsbook and igaming products," said the business.