DraftKings' revenue continued to grow year-on-year, prompting the business to raise its revenue guidance again, but losses also grew further thanks to mounting expenses and unfavorable sporting results.
Revenue was up 60.2% to $212.8m. Though this market a significant year-on-year increase, it was down from both the $297.6m recorded in Q2 and the $312.3m recorded in Q1.
The operator said that "atypical hold rates", primarily in the first month of NFL fixtures, offset some of the benefits from new market openings.
Jason Park, DraftKings' chief financial officer, said that if not for the unfavorable results, DraftKings' revenue would have been significantly higher. Because of this, the operator opted to up its full-year revenue guidance again, from between $1.21bn and $1.29bn to between $1.24bn and $1.28bn.
 "Fundamental user acquisition, retention and engagement trends in the third quarter were outstanding across all of our online gaming products," Park said. " On a same-state basis and taking into consideration lower-than-expected hold primarily due to NFL game outcomes, third quarter revenue would have been $40 million higher.
Online gaming operations made up the vast majority of this total, up 76.8% year-on-year to $176.3m, as DraftKings' monthly unique players increased from 1.0 million to 1.3 million.
 Gaming software — mostly from the legacy SBTech business — was down 18.1% year-on-year to $23.7m. Other revenue — such as media revenue from VSiN and retail betting revenue — tripled to $12.8m.
Breaking down revenue geographically, the US made up $188.2m, up 76.1%, while international revenue came to $24.7m. Like after Q2, DraftKings noted that SBTech offered its services through a reseller model in Asia, but that this agreement was terminated as of April 1.
However, DraftKings' costs also continued to rise, albeit slightly more slowly than revenue, growing by 57.8% to $759.3m. 
Costs of revenue were up 76.0% to $170.7m, thanks to a $32.5m increase in gaming taxes and a $14.2m growth in payment processing fees.
Meanwhile, sales and marketing costs alone continued to outstrip revenue, rising 49.8% to $303.7m.
Product and technology costs were up 21.0% to $65.2m, while general and administrative costs were up 72.4% to $219.7m, driven in part by a $47.8m increase in stock-based compensation costs.
As a result, DraftKings was left with an operating loss of $546.5m, an increase of 56.9% from the loss it made in Q3 of 2020.
After $1.6m in interest expenses and a $7.1m gain on the remeasurement of liabilities owed from warrants to buy shares, DraftKings was left with a pre-tax loss of $541.0m, a 36.8% increase.
After accounting for a $3.8m tax bill, DraftKings was left with $545.0m net loss, which was 37.8% more than the business lost in the same period of 2020.
In addition to the Q3 results, DraftKings also announced its revenue guidance for 2022. For the full year, it expects revenue to fall between $1.7bn and $1.9bn.
DraftKings chief executive Jason Robins (pictured), meanwhile, noted that during the quarter DraftKings successfully completed its migration away from Kambi's sportsbook technology to SBTech's offering.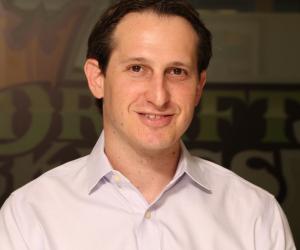 "DraftKings had a strong third quarter that highlights our team's unique ability to drive engagement with our core customers while simultaneously launching new states and verticals and completing the complex migration to our own in-house technology ahead of schedule," Robins said. "Since migrating, we have rapidly added innovative features and functionality to our top-ranked mobile sports betting app. 
"We are also excited that our new growth initiatives, including DraftKings Marketplace and our content and media business, demonstrated promising early results in the quarter."
Looking at the start of Q4, DraftKings said that it saw record activity on 3 October — thanks mostly to an NFL fixture between the New England Patriots and Tampa Bay Buccaneers — while it was also the strongest online casino month to date.
Robins also added that the last week of November included some very strong sporting results from the operator's perspective, helping to offset much of the negative effects of Q3 results.
The quarter also saw DraftKings make two proposals to acquire European online gaming giant Entain.
After a £25.00 per share offer, comprising cash and stock, had been rejected by the Entain board, DraftKings then returned with a new proposal of £28.00 per share on 19 September. 
This proposal would have valued Entain at £16.40bn (€19.23/$22.40bn).
Neither was considered a firm bid though, with DraftKings initially having until 19 October to submit such an offer. This deadline was then pushed back until 16 November.
When the deadline was extended, Entain said more clarity was needed on the value creation for Entain shareholders, including their share of potential synergies, and the terms of any technology supply agreement to BetMGM and MGM Resorts.
However, last week, DraftKings announced that it would not submit a bid.
During the DraftKings earnings call, Robins downplayed the operator's interest in acquiring Entain.
"Because of the UK's takeover code, it had to be disclosed that we were in discussions, even though the discussions were very early," he said.
"However, after weighing many factors including our own growth opportunities, we decided not to make an offer. We are very well-positioned to grow our leadership position in the US and beyond."
Park, however, noted that global expansion has been an area that DraftKings has been looking at if the opportunity arises.
"We've laid out a few areas we'd look at in terms of M&A, one is global expansion, one is product expansion, another is something that can help our position in the US," he said.
"It's hard to sort of say, 'I'm going to do this one first then this one second', it's just about doing them when the opportunities come along."
DraftKings has also been linked to an acquisition of sports media brand The Athletic. However a representative of the operator told iGB North America it would not respond to the rumors.
"DraftKings speaks to a variety of companies regarding various matters in the normal course of business, and it is our general policy not to comment on the specifics of any of those discussions," they said.
On the earnings call, Robins said DraftKings is pursuing major moves in the world of media, however.
"I don't want to tip our hand, but I am very excited about the new strategy that our chief media officer has planned," Robins said. "We'll have more to say on that in the coming quarters."