Michigan Representative Brandt Iden has introduced his long-awaited bill to legalize sports betting in the state.
House Bill 4916, if passed into law, would permit online and retail wagering, with land-based casino permitted to operate one mobile skin apiece. The Divison of Sports Betting would be created to serve as the regulator for the market.
Operators would be required to pay a $200,000 license fee, followed by a $100,000 annual renewal fee. For management service providers, which would be permitted to operate mobile wagering on behalf of a land-based partner, a $50,000 annual fee would be levied, which drops to $5,000 for suppliers.
Both pre-match (described by Tier 1 bets in the bill) and in-play (Tier 2) betting would be permitted, and in theory the bill does not impose any restrictions on the data that can be used to determine the results of bets.
However, for Tier 2 betting, the sports leagues may choose to inform the Division of Sports Betting that official data must be used.
Licensees would then face an 8% gross revenue tax. Money raised through the taxation of sports betting would be split between a number of different groups, with 30% going to the city or municipality in which the casino is located.
The Michigan State School Aid Fund, Transportation Fund and Agriculture Equine Industry Development Fund would each receive 5% of tax revenue each.
The remaining 55% would go into the Sports Betting Fund, created through the bill and to be administered by the State Treasury. Of this sum, $1m would be used to fund the treatment of gambling addiction, with the fund also used to cover costs associated with regulating and enforcing sports betting laws.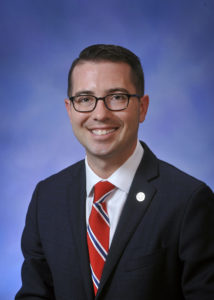 The state treasurer would then be able to decide what to do with the remaining money in the fund.
HB 4916 is Iden's latest attempt to push through measures to expand legal gambling in Michigan. Last year he was the author and driving force behind HB4926, 4927 and 4928, which collectively formed the Lawful Internet Gaming Act. While these bill progressed through the House and Senate, they were vetoed by outgoing Governor Rick Snyder.
Iden has resumed efforts to legalize online gaming in the state's 2019-20 legislative session, though HB4311 has again run into difficulties, with new Governor Gretchen Whitmer resistant to the idea of allowing online slots.
Indiana, which borders Michigan, has already legalized sports betting.
Casinos in Michigan include the MGM Grand Detroit and the Soaring Eagle Casino & Resort tribal casino near Mount Pleasant.