Novel coronavirus (Covid-19) resulted in all commercial casinos and 97% of tribal casinos closing their doors to the public. As states begin to emerge and social distancing is relaxed, however, the industry is back in business. Cole Rush examines what the land-based experience now looks like.
US casinos are slowly welcoming back new customers with strict social distancing and safety measures in place. Shutdowns across the country brought the gambling industry, which has historically thrived on constant innovation and regular attendance from a wide player base, to a grinding halt. 
The return of land-based casino gaming has been a slow trickle instead of a steady stream – necessarily so, as social distancing and safety precautions remain a top priority for operators. 
Stakeholders are taking notice of key strategies that will mark a return to form for the industry as well as measures that will push gambling forward on the heels of an evolving global crisis. 
Safety meets entertainment
Casino gaming is back, but it looks fundamentally different than it did before the 78-day shutdown. Venues known to welcome thousands of players at a time now see a heightened need to shift their policies to protect those patrons.
Take Caesars as an example. The company has outlined health and safety procedures that encourage users to exercise caution as they return to land-based gaming. 
"For the well-being of our guests and team members, employees have been trained on cleaning and disinfectant techniques, including use of PPE, protocols for all surfaces and tracking cleaning schedules," it explains, "Recommended social distancing guidelines are being adhered to throughout the resort and the presence of hand sanitizer stations have been increased across each area."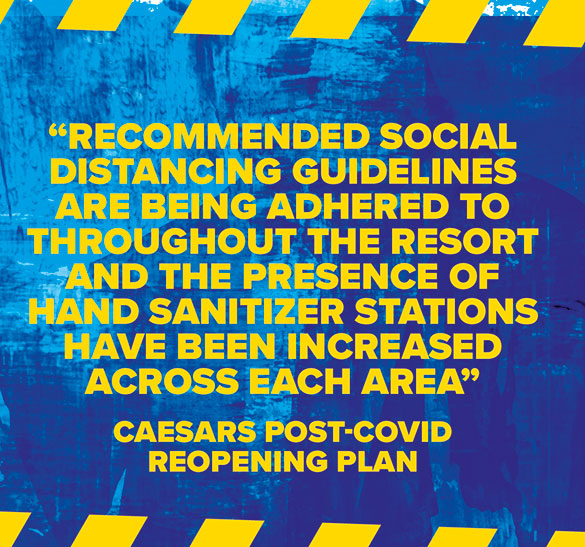 Specific safety measures, including new regulations for slot banks and table games, have been outlined by the operator. Dealers are required to wear masks, and positions at the tables themselves are limited: roulette drops to four players, craps to six, and only three players can sit at a blackjack or pai gow game. These limits are enforced physically with only the allowed number of seats placed at a given table game. 
The gameplay itself has changed, too. Caesars' policy says: "Where possible, procedures have been adjusted to allow only dealers to touch cards" and notes that dealers will give players hand sanitizer. Plexiglass shields separate players from dealers at many casino properties.
Similar practices have been adopted for slot banks. Caesars has rearranged seating to encourage social distancing and placed hand sanitizer near most slot machines in addition to implementing regular sanitation schedules. 
In-venue sportsbooks follow a near-identical path. Properties limit customers to every other seat to encourage social distancing and routinely disinfect the areas. 
Caesars isn't alone in raising the bar for on-property safety standards. MGM Resorts has a comprehensive safety plan outlining familiar policy changes. Wynn Las Vegas, meanwhile, offers a 30-page safety plan on its company website. It appears casinos are prioritizing the ongoing health of casino patrons and employees alike.
Al Roney, a spokesperson for Rivers Casino & Resort Schenectady in New York, emphasizes the need for top-notch safety measures: "The health and well-being of our team members and guests is our highest priority. 
"Rivers Casino & Resort Schenectady is currently developing a comprehensive reopening plan that will address crowd management, cleanliness, monitoring, isolation and social distancing so that we can provide a safe environment for everybody."
From theory to practice
Casinos can put new policies in place and offer end-to-end plans to ensure the safety of their employees and patrons, but only so many are enforceable when the doors open to players. 
Health and safety is a two-way street, though; casinos and customers have to meet in the middle to ensure that health measures remain effective. CDC Consulting, after visiting multiple casinos during early reopening stages, found that customers vary in their willingness to adhere to such procedures. 
"We continue to find that guests are not fully obeying social distancing requests," the company pointed out in reports of visits of Caesars Palace and Wynn in Las Vegas.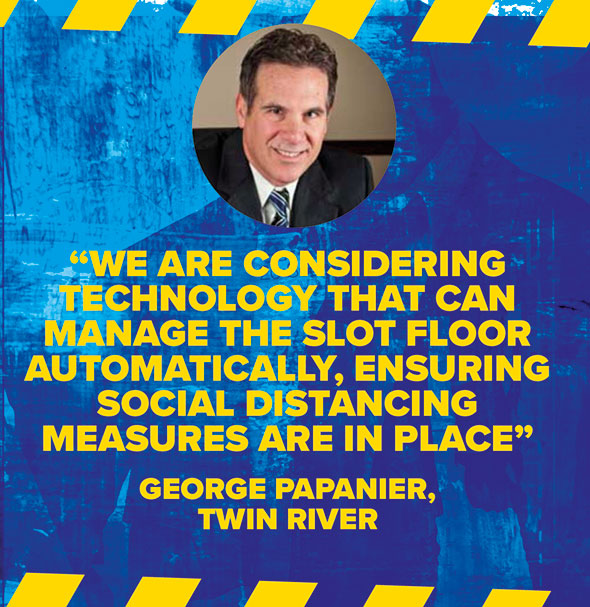 Still, the onus falls on casinos to implement sensible and logical safety measures. Some properties, CDC Consulting says, are "not letting guests touch the cards [per property policy] but these same patrons can handle chips in and out of the rack which are not being cleaned." 
Even a guest wearing a mask and avoiding contact with cards is at higher risk than a guest who wears a mask and plays a slot machine while following social distancing measures. 
This highlights the gap between theory and practice. Health plans and safety measures are crucial, as most would agree, but implementation proves equally essential. A post-shutdown casino gaming world is new territory for everyone, and those who adapt with swift and smart solutions may find the most success. 
In that regard, Las Vegas in particular has early favorites – as well as underdogs. CDC Consulting visited more than 35 casinos, and reports on the success of property safety measures vary wildly. 
Among the properties, Wynn stands out as a frontrunner. 
CDC Consulting's report reads: "The consistent look of new procedures across the hotel and casino upheld the high-end, resort experience. The approach to cultivating a safe environment for Wynn's Guests seemed intentional and thorough." 
Images from reopened properties tend to show patrons happily gambling on slots and table games, showcasing the desire for casino gaming's full-fledged return. 
Change sparks innovation
The wide-scale adaptation in the face of a global crisis by casinos and players has ignited a flurry of discussion surrounding the industry's ongoing evolution. Land-based gaming thrives on constant change, though it's usually spurred by ideas and new technologies from industry thinkers and innovators. 
Now, the gaming industry is poised to ride a wave of massive change, but this time the need comes from the outside. Covid-19 and the closures it caused have set the stage for new technological advances for the gaming and hospitality space. Stakeholders are ready to take hold of the opportunity and grow their businesses. 
New technology solutions are resonating with casino innovators as the need for contactless processes rises. Twin River CEO George Papanier offers an overview of some changes the organization is currently exploring. 
"Our room key systems at some of our properties are mobile-key ready and we are looking to add this functionality to our mobile app," he says. "We are considering technology that can manage the slot floor automatically, ensuring social distancing measures are in place. This software could be used to alert staff when a slot machine session has completed, ensuring it is sanitized before the next guest uses it."
But gaming floors and hotel areas aren't the only parts of a casino complex that can benefit from new technologies. 
Papanier continues: "For our food and beverage systems, we are evaluating contactless ordering and payment options. Finally, we see some benefit to using technology to manage lines, at our entrances, the players club, front desk and cages. By taking a virtual 'number,' guests can remain socially-distanced and be notified when an agent is available or a table is ready."
On one hand, there's a lot of discussion about technology underpinning the post-Covid casino experience, and Papanier's comments indicate that operators are ready to embrace them. On the other hand, seismic technological shifts take time and investment, and not every property has the infrastructure in place to support a sweeping change to its systems.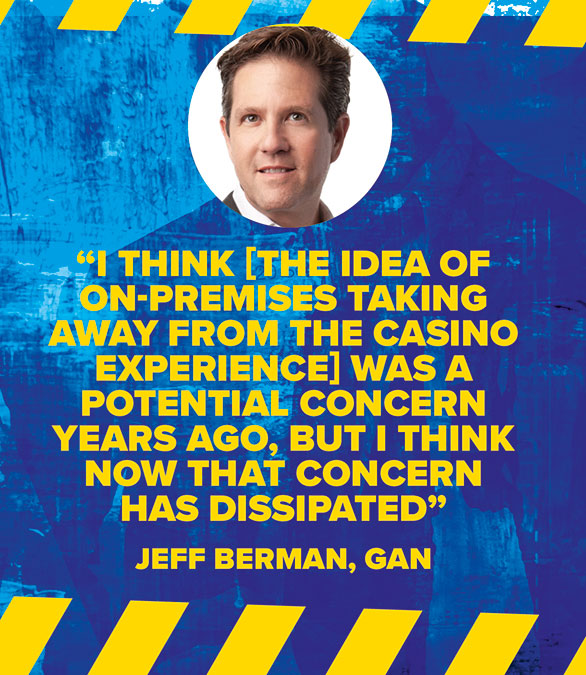 GAN Chief Commercial Officer Jeff Berman argues that the investment is both necessary and beneficial for casinos and their customers. 
"If you look at demographics, of interest, of potential player experiences, by definition you will have to have the underlying infrastructure to support those advancements that are coming with new technologies and new experiences. That investment will be heavy, but it is inevitable." 
Berman also notes that timelines are flexible when it comes to evolving tech. "I can't answer if that's a 1-3-10 year horizon," he says. 
On-premise on the upswing
In the midst of an uncertain on-property landscape with social distancing measures required, the industry is looking to mobile on-premise wagering to fill some of the gaps – both figurative and literal – left by Covid-19. 
Brandt Iden, a Michigan State Representative who helped drive the state's legalization of sports betting and iGaming, is optimistic about the future of mobile on-premise betting. 
"I think that will become more integrated," Iden says, "Nevada's a great example for that, as they are going to have more opportunity to drive players sitting in the casino to mobile promotions."
It's a sentiment echoed by industry leaders. With slots and table game seats cordoned off, casinos need to get creative to engage players whose options are more limited than they have ever been before. 
GAN's Berman explains that current casino procedures create a launchpad that allows mobile on-premise betting to truly take off. 
"Casinos will open up and only be able to provide partial capacity, slot banks will be closed, and table games reduced, so how do you backfill that revenue?" 
Mobile on-premise solutions can help bridge the gap, he says. "If a casino can only have 4 blackjack tables, with 3 players at each table, you're looking at 12 players at any one time with hypothetically several others wanting and waiting to play, so facilitating their playing blackjack when they are waiting for a table, this is a backfill for lost revenue."
Berman adds that mobile apps powering on-premise wagers can expand to encompass a kind of casino GPS, indicating which games are available on the floor and how long the wait is.
Of course, on-premise always begs the question of in-venue cannibalization. Berman claims that mobile on-property wagering actually enhances the land-based casino experience. "People go to casinos for various reasons, whether it's to get out of their house or to be social, and this being just another entertainment option in the social setting of the casino."
Fears of on-premise cannibalization of casino floor revenue is an idea that has generally receded, according to Berman. And truncated reopenings following Covid closures have helped put that misconception to rest. 
"I think [the idea of on-premises taking away from the casino experience] was a potential concern years ago, but I think that concern has dissipated," he explains. "It's a way of attracting a new demographic, and everyone knows there is going to be a reduced capacity for the unforeseeable future, so all these elements have helped casinos to cohere around this thinking."
The rise of igaming
Outside of the land-based bubble, the industry has explored igaming as a way to drive revenue during widespread casino closures. The US still lags behind its overseas counterparts in this regard; only a few states have legalized igaming. 
Michigan is among those states pioneering online gaming, and Representative Iden believes it's a necessity for casinos when they reopen. He argues that the land-based casino industry is on the precipice of significant change, with igaming at the forefront. 
"There are players who just enjoy the look and feel of Las Vegas, but most are going to be looking for more mobile, because it's going to give them an opportunity to get in the game."
Mobile is a way to reach players who may be unwilling to return to casinos until the risks presented by Covid are significantly lower or completely removed. Those customers give casinos an opportunity. 
"Casinos are going to want to capitalize on the players they can't service," Iden says. Even gambling hubs like Nevada, which historically has opposed widespread igaming, will begin to embrace it. 
"You will even likely see versions of igaming arrive there because casinos are going to have to capitalize on the lost revenue."
Michigan is still in the midst of the implementation process, but Iden hopes the eventual igaming launch will boost gaming revenue later this year, even if casinos still have strict attendance limits and social distancing measures in place.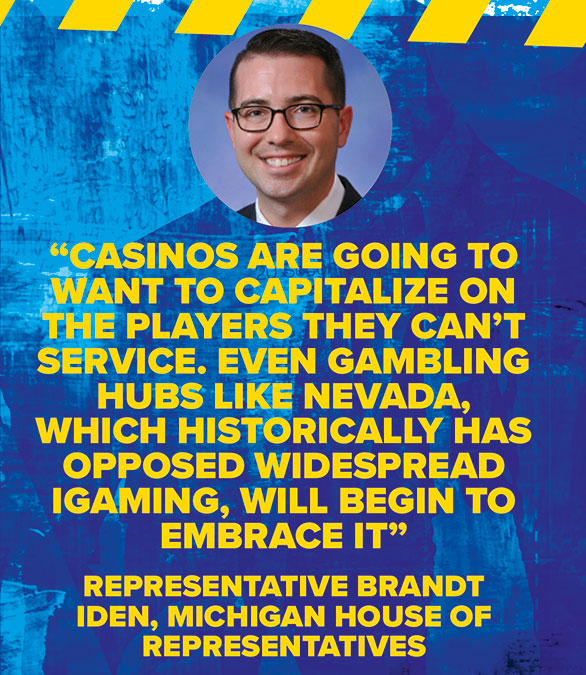 "The rules process continues, that is going to go through the full legislative process, and we're starting to take applications, and those always traditionally take a while for the Gaming Control Board to do their background checks. The good news is they are continuing to fast track that, and I think that November to December timeframe is still achievable based on the progress we've made…we could have a very exciting fourth quarter."
GAN's Berman shares Iden's optimism for the future of online gaming in an eventual post-Covid landscape. But his outlook isn't strictly limited to real-money offerings. 
"This interest is super strong for casinos looking to develop any online presence," he says. "With the introduction and roll-out of legislation across the country, more and more casinos (whether tribal or corporate) see the value of launching a [social casino] product to track and retain customers before things opened up for regulated real money gaming. 
Berman's comments signal a supplier readiness for real-money gaming that's been brewing for some time. Many markets were already on the cusp of legislation, and revenue losses related to the Covid-19 outbreak could spark more demand for platforms that can quickly pivot from social casino to real-money online casinos.
iGaming's rise could be meteoric, and the effect could ripple throughout the industry. Most states with online gaming or sports betting – New Jersey and Pennsylvania, for example – require a land-based tether for all online operations. States with a strong existing land-based presence will look to online partners for an added lift in revenue and for future growth prospects. 
Jurisdictions with no brick-and-mortar properties, on the other hand, will look to the online space to carve out a new lane for gambling revenue where previously there was none. 
Iden cites Tennessee as a prime example: "Take Tennessee […] where there are no [land-based] venues; it was able to adopt a statute that doesn't require them to be tethered anywhere. 
"So I do think it's going to be a very state by state scenario, however I do think it is important – tethering to the land-based casino does bring opportunities to drive foot traffic to the land-based [properties]."
Forward to the future
Safety measures are in full swing during trial reopenings, and new technologies are breaking into the industry. Though the outlook is uncertain, early signs indicate that casino reopenings will spark a wave of change in the casino gaming world, marking a fundamental shift in how US players approach gambling.