Industry trade body the American Gaming Association's (AGA) survey of gaming executives revealed that a majority of those queried are muted on the industry's future economic outlook.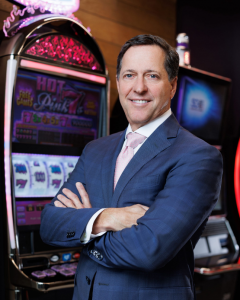 Despite this ambiguous view of the future economic backdrop, 60% of executives who were asked characterized current business conditions as good, and 35% as satisfactory. This compares with expectations of future performance, with only 20% of expecting conditions to improve, while 64% said that the environment would be broadly the same.
"Gaming's record momentum has continued into 2023 and that is clearly reflected by the attitudes of gaming executives around the country," said AGA President and CEO Bill Miller. "While projections of slowing growth across the American economy are muting expectations for gaming in the medium term, our industry is well-positioned to weather any potential headwinds."
The AGA's Industry Outlook – presented partnership with Fitch Ratings – provides a snapshot of current and future economic shape of the industry based on a number of key indicators, including executive sentiment, casino visitation plans, gaming revenue and other economic signals.
Cautious attitudes for growth
The AGA said the results from its gaming executives survey showed "cautious attitudes for growth" over the next six-months. The majority of executives expect that the pace of new employee hiring, revenue growth and customer activity to decrease over the period, rather than increasing.
Challenges around a competitive labor market for gaming talent including competition for current employees and talent retention were areas noted by executives as particular areas of concern.
Despite this, many executives expressed optimism at certain sections of the industrial landscape. Most operators expect capital investment and gaming units in operation to increase over the next three to six-months.
Gaming equipment manufacturers were particularly bullish on the sector's economic outlook, with 88% of executives saying sales of gaming units for replacement use would increase, as well as 63% of those asked also answering that units for new of expansion use would increase in the medium-term future. No gaming manufacturer said that they expected the pace of sales to decrease.
In terms of macro-level risk, 69% of executives noted the effects of interest rates and inflation, and 38% answering economic uncertainty as top concerns for gambling executives. Worries about the impacts of supply chains – previously a top concern in industry – has been replaced with the 31% of executives who said that geopolitical risk represented a threat.
Concerns regarding the availability of credit have also eased in recent months, with the percentage of executives who view credit as tight, equally balanced with the number who view it as easy at 20%.