Efforts to authorize sports wagering in the Missouri hit a brick wall on Wednesday as proponents of video lottery terminals (VLT) sought to introduce a number of poison pill amendments to the bill.
Senate Bill 30 – which has the support of both casinos and major professional sports teams – seeks to legalize sports wagering in Missouri.
All of the state's neighbors have either authorized sports betting, or are in the process of doing so. Last week, Kentucky Governor Andy Beshear signed House Bill 551 into law, paving the way for state-wide sports betting, and making Missouri one of the final states in the region to legalize the activity.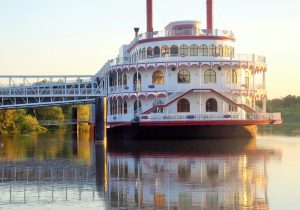 The proposed law – introduced by Sen. Tony Luetkemeyer – is the companion bill to House Bill 556, which was sponsored by a bi-partisan coalition of Republicans and Democrats.
The legislation would allow each licensed casino in the state to partner with three skins, up to a total of six per casino company.
Additionally, each major sports team will be able to partner with a mobile operator, with the team granted an exclusion area around their grounds where they are to be the only online platform authorized to advertise.
The tax rate was initially set at 10% of gross gaming revenue, with the application fee set no higher than $100,000 for casino tethered licenses and $150,000 for sports team linked ones. The Missouri Gaming Commission is to be given regulatory authority over the activity.
VLT filibuster
Efforts at sports wagering regulation have floundered the previous two years as a consequence of conflicting approaches with the VLT lobby. In the past, proponents of the legalization, such as Sen. Denny Hoskins, have argued that VLT authorization should be folded into wider sports betting legislation.
Hoskins own combined VLT sports betting bill – Senate Bill 1 – did not make it out of committee. Since then, the Senator has vowed to obstruct any sports betting bill that does not include an amendment permitting the video lottery terminals state-wide.
Subsequently, Hoskins opted to filibuster much of the Senate's eight-hour session where Senate Bill 30 was due to be discussed.
While the senator's own amendment adding VLT authorization to the bill failed 20-11, a number of other amendments were added which may hinder the bill's prospects of passage.
The state-wide $2 boarding tax for casinos was doubled to $4, then extended to digital platforms. It seems likely that such as fee for every online sports betting session may make the business model unworkable. Another amendment also increased the tax on revenue to 15%.
Following the Senate's activities, Luetkemeyer withdrew the bill. House Bill 556 has not yet been sent to the chamber, which means that an original version of the legislation may yet be voted on in the Missouri Senate.