Ontario's state-run gaming and lottery operator, the Ontario Lottery and Gaming Corporation (OLG), has appointed Pinder Basi as its new chief financial officer.
Basi (pictured), who begins his new role with OLG today (1 February), previously served as the executive vice president and chief financial officer at retailer Mastermind Toys.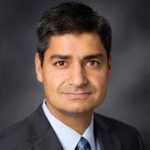 Basi replaces outgoing CFO, Lisa Bell-Murray, who is retiring after 30 years with the Canadian province's crown agency, which conducts and manages land-based gaming facilities, province-wide lottery games and internet gaming.
"Pinder is an experienced executive with a proven track record in finance and business with a focus on growth, profitability and collaboration," Duncan Hannay, OLG's president and chief executive, said. "His successes in large transformations will be an asset as we work together to position OLG for a post-pandemic recovery, digital growth, and new opportunities to maximize value for our customers and the people of Ontario."
Basi's arrival comes as OLG prepares for major changes to gaming in the province, with the regional government set to introduce new legislation seeking to end the operator's current online gambling monopoly.
While at Mastermind, Basi was a key member of the executive team that grew the company from a Toronto-based retailer into a national chain in Canada with a growing e-commerce operation.
He previously served as a senior executive at Universal Studios Canada, a division of NBC Universal, and has also been a successful leader in other sectors including packaged goods. He is a designated Chartered Professional Accountant (CPA, CA).
"I am pleased to be joining OLG and look forward to working with the team at such a crucial and exciting time for the organisation," said Basi. "I believe my experience with growing companies, in both the retail and e-commerce sectors, and with entertainment content delivery, will assist OLG as it charts its new strategic course."
Last November it was announced that Ontario's government is to open up the province's online gambling market to private operators.
At present, OLG is the only operator approved to offer online gambling in the province via its PlayOGA.ca website.
However, after setting out in its budget plans to end the monopoly in 2019, the government has now taken this a step further in its 2020 budget, confirming it will introduce legislation to establish a more open market.
In November, the Canadian Government introduced a bill to allow legal sports wagering on single events for the first time.
The bill repeals paragraph 207(4)(b) of Canada's Criminal Code, which states that sports betting is only legal if players place a bet on at least three games or more.