New York state assemblyman J. Gary Pretlow has introduced a bill that would legalize certain forms of online poker, by classifying them as skill-based games.
House Bill 1380 would seek to regulate legal online poker in the Empire State, and has been referred to racing and wagering committee to review.
The proposed bill would amend New York's racing, pari-mutuel wagering and breeding law by adding a new section that would redefine online Texas Hold'em and Omaha Hold'em poker, "as well as any other poker game that the commission determines is the material equivalent of either of those" as games of skill rather than luck – therefore legalizing the games.
The bill's logic is similar to the March 2022 New York Court of Appeals ruling that found fantasy sports to be considered a game of skill rather than a game of chance.
Regulatory oversight for New York poker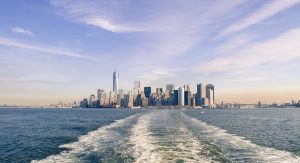 While the bill paves the way for the legalization of online poker, it also highlighted an integral role for the state's regulator.
"Any interactive gaming enforcement and regulatory structure must begin from the bedrock premise that participation in a lawful and licensed gaming industry is a privilege and not a right, and that regulatory oversight is intended to safeguard the integrity of the games and participants and to ensure accountability and the public trust," said the bill.
The bill also includes the provisions of how these activities would be authorized by the New York State Gaming Commission (NYSGC), stating that Commission shall "promulgate regulations to implement interactive gaming in this state" within 180 days of the article becoming law.
According to the bill, up 11 licenses can be issued to casino operators in possession of a New York class III gaming license and is licensed to operate video lottery gaming.
Tax obligations and fees
The Commission will require each licensee to pay a $10m one-time fee, that can be paid in up to 60 monthly instalments. This can be paid during this period in lieu of the operator's other tax obligations.
These obligations are set at 15% of gross gambling revenue (GGR), with all revenue being directed to the state lottery fund.
Previous attempts
The proposed law does not mark the first time that New York has flirted with the legalization of online poker. In February 2019, Pretlow introduced a similar bill reclassifying poker as a game of skill rather than chance.
This was followed in 2022 with an attempt by state senator Joseph Addabbo Jr to pass an igaming bill that would have legalized online casino, including poker.