Andrew Yang, Democratic presidential candidate for 2020, announced his support for federally regulated online poker in a Tweet published on Saturday (October 26).
"Online poker is legal in 4 states," Yang said from his official Twitter account. "The state-by-state rules are variable and push many players to offshore sites.
"We should clarify the rules and make it legal in all 50 states. US players and companies would benefit and new tax revenues could be used to mitigate addiction."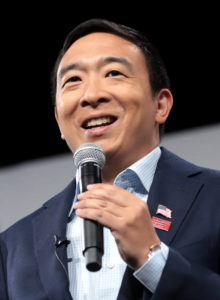 In polls conducted in October, between 1% and 6% of Democratic primary voters have expressed intention to vote for Yang, placing him between fourth and seventh in the race for the party nomination and between 22 and 33 percentage points behind current polling leader Joe Biden.
Yang filed his candidacy for president on November 6, 2017 on a platform centered on a monthly $1,000 "Freedom Dividend" to all adult US citizens.
Before running for president, Yang founded Venture For America, a nonprofit with a goal to support entrepreneurs and job creation across the country.
Yang has also worked as an attorney and in the healthcare industry.
Yang has reached both the polling and funding requirements to participate in the fifth Democratic primary debate on November 20.
However, efforts to pass federal gambling legislation will face significant roadblocks, with numerous states having passed their own regulatory frameworks and both operators and lawmakers generally resistant to the move.
Senator, and former Republican presidential candidate, Mitt Romney is understood to be working on a proposal for sports betting with Democrat Chuck Schumer.
This is likely to be similar to S.3793, the 2018 bill filed by Schumer and Romney's predecessor, Orrin Hatch. That bill died after it was not assigned to a committee.
S.3793 would have seen states required to apply to the Department of Justice for leave to develop sports betting regulations, which would have to meet certain standards to be approved. It would mandate the use of official league data to settle bets, and establish a national integrity watchdog.