Scientific Games has announced that investor Ron Perelman will sell a 34.9% stake in the supplier for more than $900m to a group of institutional investors.
Perelman's investment fund, MacAndrews & Forbes, will sell the stake to investors including FTSE 250 member Caledonia Investments for $28.00 per share,in a deal that will also see two Aristocrat Leisure veterans join Scientific Games' board.
"Scientific Games is well-positioned for future success given our industry leading portfolio of products and technologies, loyal customer base and talented leadership team," Scientific Games chairman Barry Cottle said. "We are pleased to have the support of our refreshed Board and new investor base as we continue to execute on our strategy to drive meaningful long-term growth and shareholder value creation."
In July, Perelman (pictured) filed a notice that he was considering divesting his entire stake.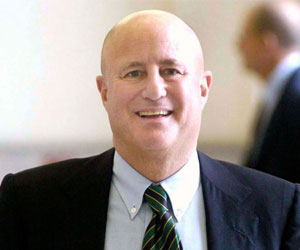 Following the purchase, Jamie Odell, Aristocrat's chief executive from 2009 to 2017, will become the executive chair of the supplier's board. "I am excited to become the Executive Chair of Scientific Games and work alongside the Company's world-class leadership team at such an important time for both the Company and the broader gaming industry," Odell said.
"The Company possesses a market leading portfolio of products and a differentiated position in the emerging digital gaming and sports betting industries.
"Scientific Games will have the support of a highly credentialed and experienced investor base, including Caledonia, as we implement transformative initiatives to optimize the asset portfolio and unlock the full potential of the Company's best-in-class collection of products and technologies."
Odell said a major focus for the new board would be to reduce the supplier's leverage as it deals with the effects of the novel coronavirus (Covid-19) In the second quarter of 2020, the supplier saw revenue decline 37.2% to $539m, but the business said its results were "better than expected" given the outbreak of Covid-19. The business recorded a loss of $56m for the quarter.
"We will be highly focused on rapidly de-leveraging the balance sheet and creating a flexible, agile company that is poised to capitalize on evolving industry and macroeconomic trends to deliver outsized returns to investors," Odell said. 
Aristocrat's market capitalization increased from $1.3 billion to approximately $7.5 billion during Odell's tenure with the supplier and Cottle said he would bring valuable insight to Scientific Games.
"Jamie is a true leader and visionary in gaming and has been a trusted advisor to the company and the Scientific Games board," Cottle said.
Toni Korsanos, formerly Aristocrat's chief financial officer and currently a non-executive director on Crown Resorts' board, will be its executive vice chair. 
A further independent non-executive director will also join the board, while Perelman and the two other MacAndrews and Forbes representatives, Barry Schwartz and Frances Townsend, will resign.
"I am thrilled to partner with Jamie and Toni to shape a bright future for Scientific Games," Cottle added. "Their support is a testament to the faith they have in our business and team. I want to thank Ronald and MacAndrews & Forbes for their support since 2003 and Barry and Fran for their contributions as directors."