Q3 is traditionally a quieter time of year and this was reflected in the sector's modest 0.4% growth during the period. In a somewhat subdued market, only SG Digital and Playstudios showed any kind of standout form. Adam Krejcik from Eilers & Krejcik Gaming delves deeper into the numbers
We estimate the global social casino game market grew 0.4% quarter over quarter or 11.7% year on year in Q3 of 2018. We estimate social casino revenues generated on Facebook were down 2.4% quarter on quarter, while mobile was up 1.1% quarter on quarter.
For the trailing 12 months to 30 September 2018, we estimate a total market size of $5.06bn or +17.7% year on year. After a strong first half of the year, there was a notable slowdown in Q3. Nonetheless we still believe the social casino market is on track to meet or exceed CY18 estimate of +15.8% year on year growth.
Performance among the top 15 social casino publishers was mostly weak. There were a few key standouts this quarter, with both SG Digital and Playstudios demonstrating strong sequential growth.
The majority of publishers, however, saw revenues flat-to-down on a sequential basis. In our ranking charts Novomatic moved up a place to 13th position and is now ahead of Boyaa (see chart below).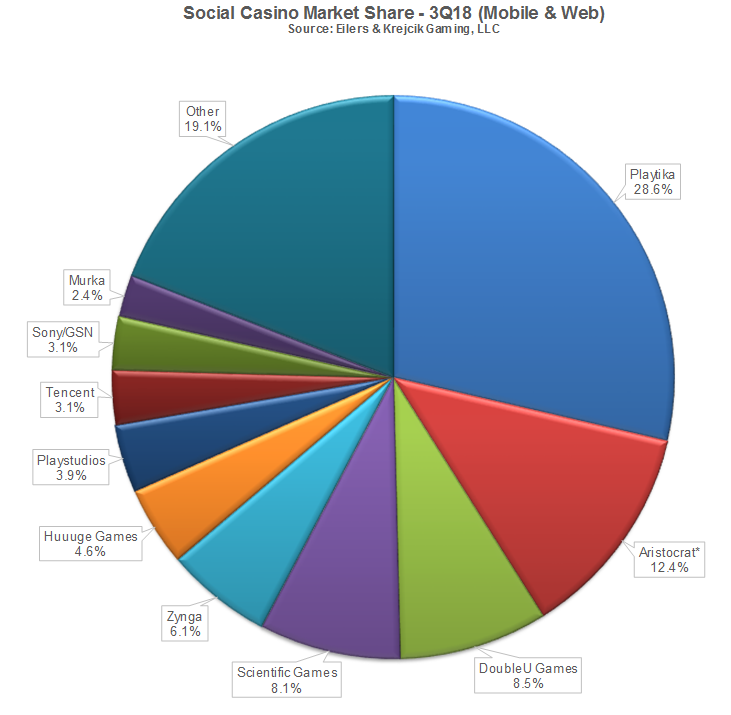 *Pro-forma: includes Big Fish Games social casino revenues + Product Madness
Company highlights
• Playtika saw its revenues remain broadly flat quarter on quarter and up 21.6% year on year. This marks the first real deceleration for Playtika in some time, as the company had been enjoying closer to +30% year on year growth for the last 12 months. The slowdown was largely due to some weakness in its franchise game Slotomania, the biggest social casino game in the world. We don't believe the decline in Slotomania is of any major concern and is more related to seasonality and the release of new features and content. House of Fun revenues were stable, while Bingo Blitz and WSOP both enjoyed healthy sequential growth. In terms of KPIs, we believe Playtika's consolidated DAUs and ARPDAU was essentially flat this quarter.
• Aristocrat (Product Madness + Big Fish) remains the number two publisher worldwide with 12.4% market share, which assumes a full quarter contribution from Big Fish (social casino only). Pro-forma gross revenues were up 2.2% quarter on quarter and 10.6% year on year. In terms of breakdown, we believe Product Madness was up 3% quarter on quarter or 11.5% year on year with sequential growth driven by FaFaFa (now wholly owned by Aristocrat) and a full quarter contribution from its latest standalone game, Lightning Link. Big Fish social casino revenues were up an estimated 1.8% quarter on quarter and 9.9% year on year, largely driven by growth from Jackpot City Slots (we estimate +13% quarter on quarter). Looking ahead we believe the majority of growth in CY19 will be driven by newer games such as Cashman Casino, Lightning Link, FaFaFa and Jackpot City Slots.
• SG Digital saw total social casino revenues (B2C only) increase 5.7% quarter on quarter or 10.8% year on year. In terms of individual game performance, we believe Jackpot Party Casino was up double digits on a sequential basis thanks to a major relaunch of the game in late 2Q18 (this marks the second major iteration/relaunch of this franchise; the last one occurred in 4Q15). Additional growth-drivers included Bingo Showdown, which has been gaining market share in the bingo category and has been a very beneficial acquisition for SG. Finally, Monopoly Slots, which officially launched on a worldwide basis in early Q3, provided incremental revenues for SG Digital. Importantly, this meta-rich game does not appear to be cannibalizing its existing portfolio of slot games.
• DoubleU Games, which owns Double Down Interactive, is the third largest social casino publisher worldwide with total gross revenues up 0.6% quarter on quarter and 16.3% year on year (note: all of our numbers in this report are on pro-forma basis). We estimate Double Down Interactive revenues on a standalone basis were up 1.0% quarter on quarter or 10.8% year on year, largely driven by its franchise game, Double Down Casino. We estimate DoubleU Games revenues on a standalone basis were flat sequentially and up 26.3% year on year, largely due to DoubleU Casino. This marks the fourth consecutive quarter that pro-forma revenues have grown on a sequential and year on year basis, and it appears the recent round of strategic changes at Double Down is starting to pay dividends.
• Zynga's social casino bookings declined 2.0% quarter on quarter and 8.5% on a year-over-year basis. Zynga Poker was essentially flat quarter on quarter, while the company's slot portfolio performance was mixed. Notably, the company's franchise slot titles, Hit it Rich and Wizard of Oz, were up on a sequential basis, but overall slot revenues were down due to weakness from its legacy games such as Black Diamond and Spin it Rich. Overall, it was a fairly uneventful quarter for Zynga's social casino business and once again a market share loser. That said, we do believe the margin profile of Zynga's social casino business continues to improve and we believe Zynga Poker remains one of the company's key cash flow generators.
• Huuuge Games saw its revenues increase 0.8% quarter on quarter or 40.8% year on year. The sequential slowdown was largely due to some technical issues it faced in July and August and negative seasonality. Growth in Q3 was led by Billionaire Casino (we estimate +18% quarter on quarter), which helped offset a small sequential decline from its franchise game, Huuuge Casino. Overall, we believe the company is well positioned for future growth in the social casino sector and is now looking at adjacent verticals to help fuel further gains. For example, it announced last quarter it was entering the casual games space through the launch of Tap Tap Games, a new publishing label focused on hyper-casual mobile games.
• PlayStudios saw revenues increase a healthy 9.7% on a sequential basis or 17.2% year on year. Growth in Q3 was driven by POP Slots, which has become its largest game and continues to demonstrate very positive growth and strong underlying KPIs. Additionally, Konami Slots saw a major growth resurgence this quarter, while its My Vegas franchise was essentially flat. The company's new game, Royal Charm Slots, developed in partnership with King Studios (owned by Activision Blizzard), remains in beta as the company continues to refine and improve retention metrics. Playstudios did a good job of bucking the negative seasonality trend this quarter, which we put down to strong execution and some strategic realignment among its studios. Specifically, we note the company has made a number of key talent hires over the last six months, which we believe are now paying major dividends.
Disclaimer: Eilers & Krejcik Gaming, LLC is an independent research firm and is neither a registered broker dealer nor a registered investment advisor.  No information contained in this report shall constitute as a recommendation or solicitation to buy or sell a security.
About: Eilers & Krejcik Gaming, LLC is a boutique research & advisory firm focused on servicing the gaming equipment, technology, and interactive gaming sectors within the global gaming industry. For more information about our firm and services please visit www.ekgamingllc.com