Betr is aiming to make a splash in sports betting, based on a belief that customers are looking for a more simple sports betting product. Cole Rush looks into whether this theory could lead to serious success.
There's a new sports betting disruptor on the scene: Betr.
Helmed by founder & CEO Joey Levy alongside founder & president Jake Paul, Betr calls itself "the world's first microbetting app." Now in beta and currently free-to-play, Betr has big expansion plans. The company has its sights set on real-money sports betting with a hyper-focus on what it calls "micro-betting".
Betr's deviation from the typical sports betting model springs from numerous factors, chief among them the user experience and the proclivities of sports fans. 
Mike Denevi—Betr's head of media—and Alex Ursa—head of product—were two of the company's first hires. They both offer fresh insights into the sports betting world and how Betr hopes to redefine what it means to be a sports bettor.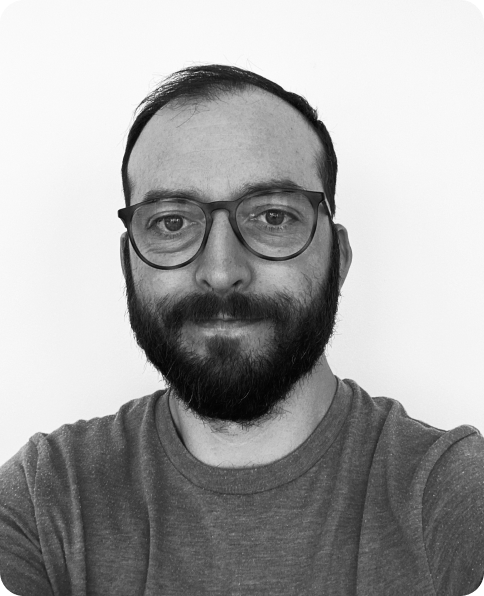 Betting Made Simple
Alex Ursa and Mike Denevi both extoll the virtues of a betting platform made for everyday users. 
Traditional sports betting sites have barriers to entry. Users need to understand odds to some degree, and what they mean. Terms float around the sportsbook orbit willy-nilly, and an average sports fan who has never placed a bet might not understand the intricacies of the admittedly insular gambling world. 
"The opportunity here is about simplifying the user experience," says Alex Ursa. "Look at the ads before NFL Kickoff or during the Super Bowl. All the big operators, their TV offers will be multipliers. American odds don't speak to the customer in the right way. They speak to a specific audience, but not the mass market."
It's a lot of jargon, Ursa admits.
"It's intimidating for a consumer. You see something and you don't understand it. You see an ad saying 'bet and win 40 times your wager' but then you sign on and see odds of +5000. It doesn't translate well."
That sort of problem, a jargon-language barrier, if you will, is part of what Betr aims to eliminate. Ursa and the team take it a step further, though. 
"Another facet is the way we present markets," he says. "It's less about transactions and more about conversations. Everyone loves sports; everyone has a favorite team, a favorite player. They think they have a betting edge because of that knowledge. 
"Our product makes it easier to understand related bets, such as props, without alienating users who may not be familiar with the terminology of traditional apps."
Mike Denevi jumps in with an overview of microbetting — Betr's primary offering — and what sets it apart. Other sportsbooks offer similar markets, but they aren't the primary focus of, say, DraftKings or FanDuel.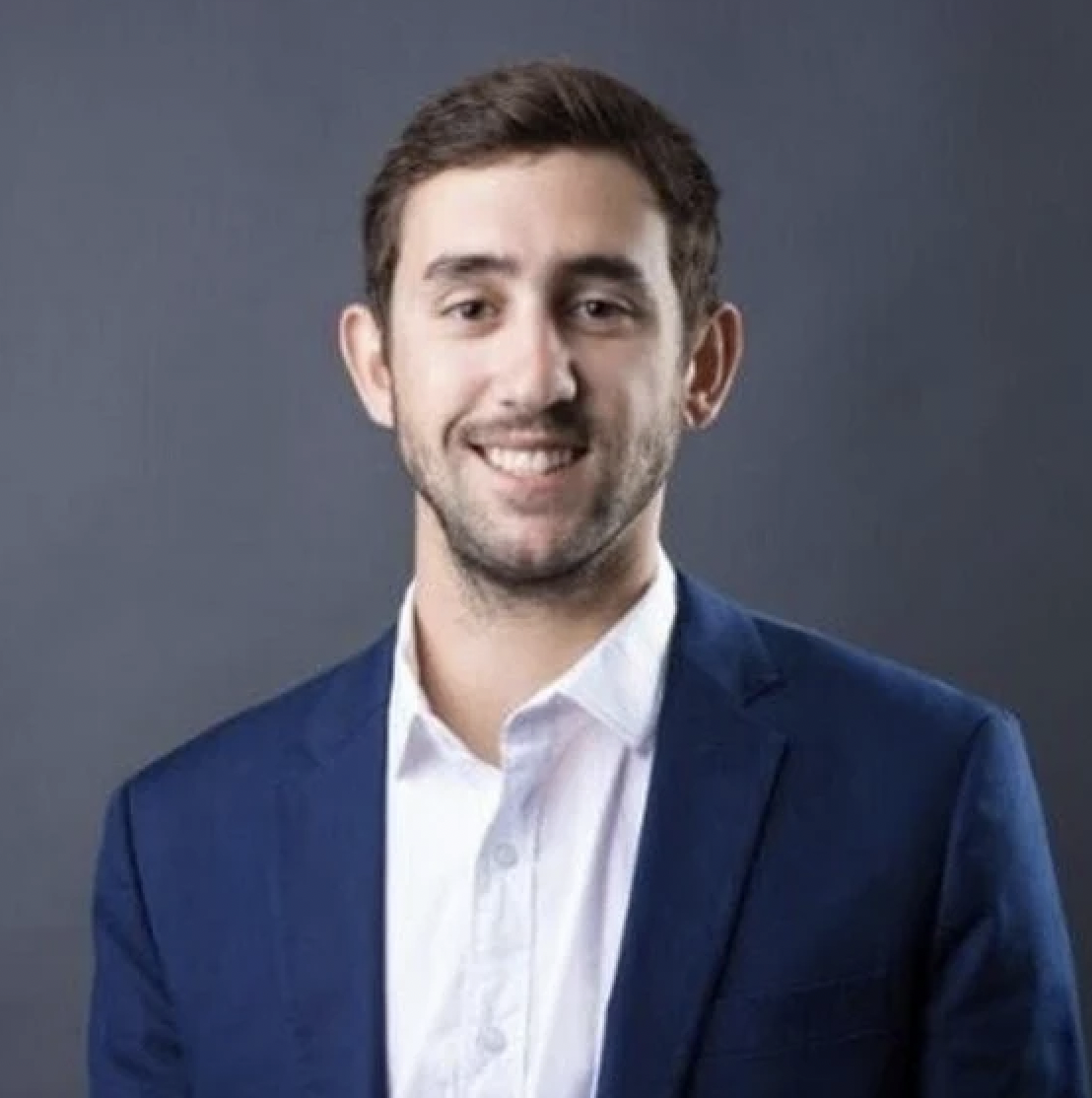 Denevi says: "Whether you're a casual sports fan, a hardcore fan, or not a sports person at all, but you want to engage in a more meaningful way, this is going to be the way of the future. Will Steph Curry make his next shot? Will the next pitch be a ball or a strike? 
"Our markets are easy to understand. Easy to digest. Plus, the bets resolve quickly and you can move right on to the next one. When I heard the product vision, it almost made too much sense."
Ursa adds: "Microbetting is betting on specific events in a game. You can have micro-moments, such as the next pitch or play, or slightly longer ones like the outcome of a specific inning. It's all about moments that get fans excited."
Surveying The Competition
An industry-savvy reader or Betr user might ask: Could the big names not simply replicate this? 
Turns out Betr has asked the same question. 
"There are already apps offering similar markets, like DraftKings," Denevi says. "But the experience is quite hidden. Meanwhile, the big guys are competing in other areas. DraftKings is playing catch-up with FanDuel same-game parlays, for example. In other words, I don't think they're focused on us right now. I don't think they see us as a threat."
Denevi also emphasizes that Betr identifies itself as complementary to the bigger oddsmakers. Betr is trying to bring a new audience to the betting market, which could actually serve to help the major competitors in the space.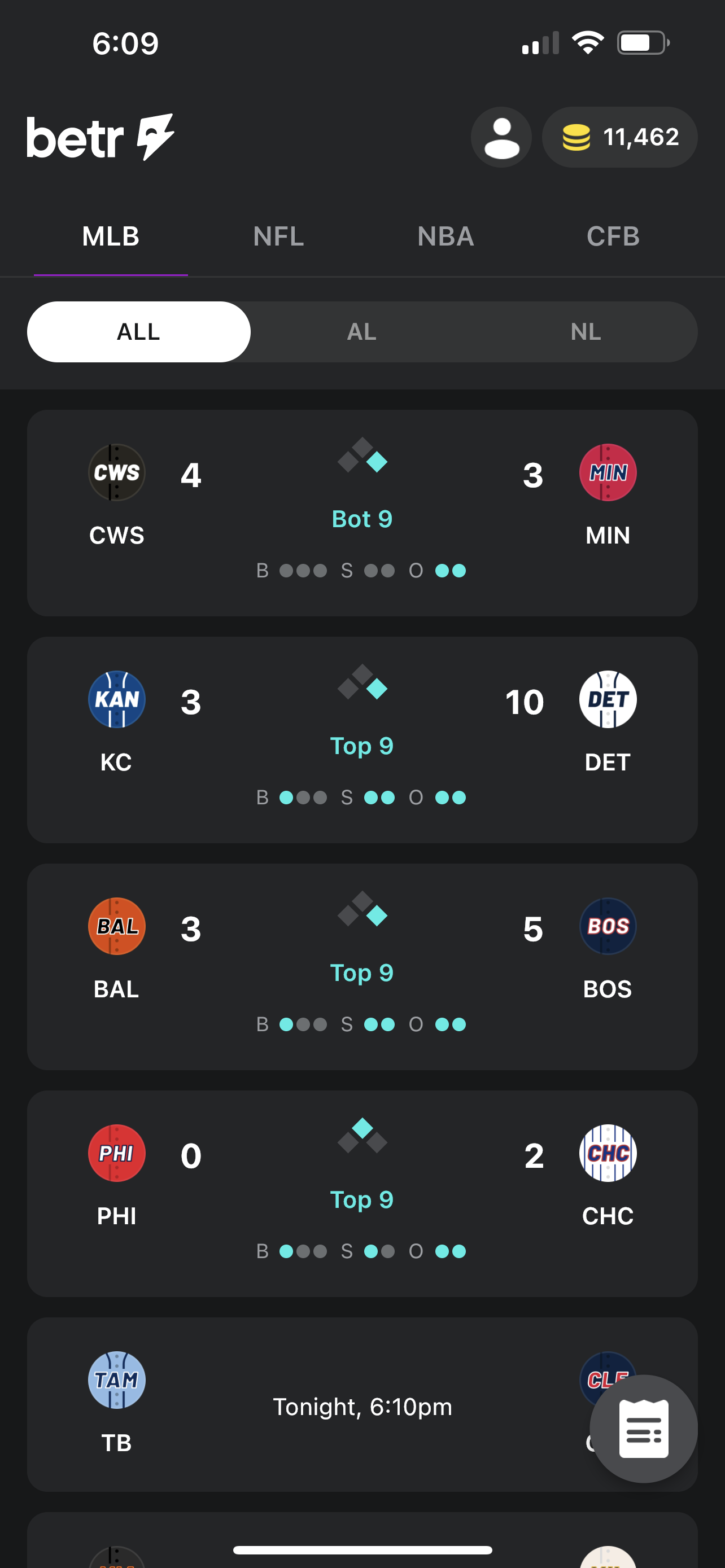 "Yes, they could copy us in specific areas," Denevi says, "But they'll face challenges on the user experience side. Just the way we're showing prices would be hard to replicate because it would require big operators to make a major switch in their current approach. They'll be cautious about it. They aren't going to fix their model if it isn't broken."
Betr has its own suite of strengths, Denevi believes. And again, those deviations from the typical will serve to lift up the entire industry. 
"We're aiming for no bad delays for our in-play markets when we launch real money. There's risk involved because we need to prepare for people betting in a stadium or all in one place. But we also want to offer the best experience for 99% of customers who aren't at the game, who just want to enjoy the game at home or at a bar."
Making The Real-Money Leap
Betr is available for iOS and Android devices in beta as of this writing. It's free-to-play, but the company aims to take the real-money sports betting world by storm soon. 
Ohio is on the company's list, and it's aiming for a January 1 launch (the first eligible day for licensed operators to go live in the state). 
"We have a growth trajectory in place for market launches and access," Ursa says. "We're really disciplined in the way we seek out market access. It's about going live and making sure we cover the customer Mike is generating in the media, bringing that excitement to life in the app and building from there."
Betr's leadership looks to the differentiation within the app to make a mark in already-crowded legal markets and not-yet-legal markets in equal measure. 
"We're translating the typical markets into something easier to digest," Ursa says. "Will the Broncos win by more than five points? That doesn't dilute the offering—our micro-moments—but it still gives traditional bettors the same information in a more legible manner. Again, if you go talk to 10 people, eight of them probably won't know what a point spread means, or how it works. I think that's big."
Small differences can make a big impact, in other words. Ursa and company believe a few other key differences will make Betr an easy choice for sports fans, even in those packed real-money jurisdictions. 
"For the odds, we're going to lean into multipliers," he says. "So instead of -200 or +150 we'll see multipliers; win 5x your bet, for example."
Another big departure for Betr? The display and user interface. Real-money sports betting apps are homogenous. The look and feel may differ from one app to the next—my non-sports-betting friends know Draftkings and FanDuel as "the green one" and "the blue one" respectively—but the menus, odds displays, and navigation are strikingly similar.  
Betr looks to disrupt that approach with a streamlined UI. 
Ursa shares some evidence, though he admits it's anecdotal. 
"I had some friends over, and they asked me what I'm working on. They knew nothing about sports betting, but they were huge sports fans. I gave them the DraftKings and FanDuel apps. They had no idea what they were looking at. Then I gave them our app, and within 20 seconds, they understood how it worked."
Ursa carefully identifies his own bias in this scenario. They were his friends, after all, but he aims to replicate that sentiment with the everyday Betr user. The app should be easy to understand and easier to use.
Making A Media Mark
Betr aims to do everything a tad differently. That extends to the company's approach to media. 
Mike Denevi says he wants to go beyond the typical meme-posting social presence and strike at the heart of sports fans. Jake Paul has been integral to this approach. 
"Whether it's Jake Paul or a TikTok influencer whose voice and style we really like, we want to work with creators. We're very focused on short-form video, long-form content, and original shows. We've already started to build out quite a few of those," Denevi says. "It's about the people in front of the camera as opposed to a person behind the keyboard. That's the old model. We're here to disrupt legacy sportsbooks and legacy sports media."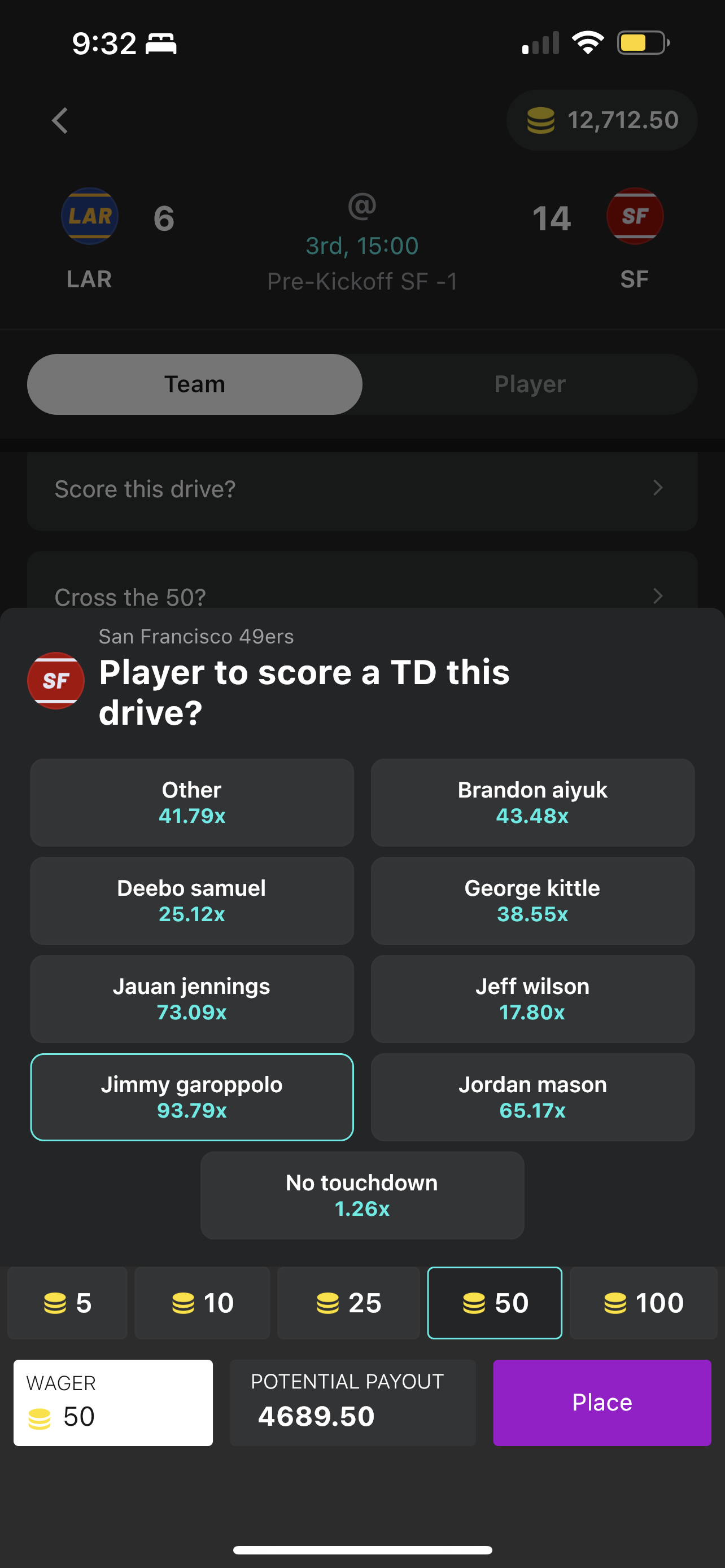 "Sports betting picks and predictions are so social," Denevi continues. "There's so much camaraderie involved from the prediction to your friends ripping on you for a bad pick to the moment that the bet resolves. Those are the stories we'll tell through our talent and our influencers and creators."
As for Jake Paul's involvement, Denevi says "he's the smartest marketer I think I've ever met." Denevi notes Jake Paul's commitment to and understanding of content, marketing, and speaking directly to an audience. 
And although Betr is making great progress, there's still a long way to go. "We're two percent of the way there," Denevi says, though he doesn't say exactly what 100% will look like. "We need to continue to scale this out."
Part of that constant scaling approach is Betr's slate of original content. One example is the 100x Club podcast, hosted by Marco Piemonte and Anthony Damato. The show focuses on longshot parlays, leaning on the hosts' personalities to carry the program and engage with bettors who love an unlikely but potentially massive chance to win. 
A Betr Future
With its proverbial ducks in a row, Betr looks toward a bright future. 
"In a year, we hope to be the number one sports betting brand in the space in terms of followers and engagement," Mike Denevi says. "Those numbers are great, but we want to build a really deep connection with our audience as well. We're looking for brand loyalty and engagement. But first thing's first, we need to capture that audience and get them onboard."
From the product side, Alex Ursa has a few goals in mind. 
"A year from now, we want to be live in several real-money gaming markets in the US," he says. "But we're looking at quality, not just quantity. So we're looking for solid app store ratings. Our end goal is to become a significant player in the US sports betting landscape, competing with the top players, the likes of BetMGM, DraftKings, and FanDuel."