Boyd Gaming has revived the Stardust Casino brand as a modern social gaming experience. Blake Rampmaier, Boyd's Chief information officer, discusses how the company brought a well-known brand from the past into the modern gaming landscape and shares the company's outlook on the future.
By Cole Rush
The Stardust Resort and Casino opened its doors to the Las Vegas Strip in 1958. An iconic Las Vegas property, the it operated for 48 years before its implosion in 2007. 
In its nearly 50-year lifespan, the Stardust accumulated a rich history leading to its eventual purchase by Boyd Gaming. Now, 62 years after the Stardust opened and almost 15 years removed from the brick-and-mortar property's demolition, Boyd Gaming has brought the brand back to the gaming world as a full-fledged social casino. 
Blast from the past
To say the Stardust Casino boasts a colorful history is putting it lightly.
Today's gamblers may remember the Stardust as the inspiration for Martin Scorsese's 1995 film Casino. Others may recognize the Stardust as Siegfried and Roy's first headlining venue in Las Vegas. Simply put, the brand resonates in the industry to this day, and Boyd Gaming has injected that history into its Stardust social casino.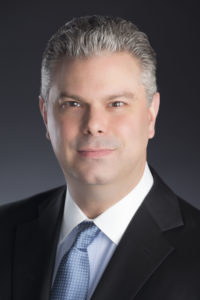 According to the operator's chief information officer Blake Rampmaier, this checkered history led to Boyd taking charge of the venue: "There was a time when the government stepped in to investigate the Stardust, which was under the mob's control. 
"Eventually, the mob was ousted and [Boyd Gaming] was requested by the government to come in and run the property. We did, and about 18 months later, in 1985, we had the opportunity to purchase the property. Of course, we did."
The Stardust continued under Boyd's ownership until 2006, when the casino took its final bets. Six months later, on March 13, 2007, the Stardust was imploded, ending its 48-year run of continuous 24-hour operation. 
But the level of brand recognition that remains even today set the stage for its return.
Stardust returns
Fast forward to 13 years later, and Boyd Gaming resurrected the Stardust brand as a social casino on in July this year. According to Rampmaier, the return of the Stardust brand was inevitable.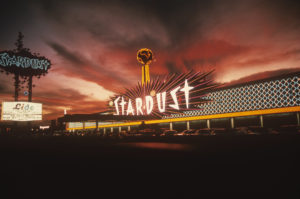 "We always knew the Stardust casino brand was going to come back, but we didn't necessarily know how," he says. "We wanted to move into the social casino arena, so we started looking at a couple of brand names. And one, of course, was Stardust."
In those discussions, Rampmaier says, Boyd Gaming came to some surprising conclusions about the longevity of the Stardust brand.
"I've got to be honest," he says, "we were a bit shocked at how strong the Stardust brand recognition is. It crosses generations. Once we realized that, we knew we had a winner and decided to relaunch Stardust as a social casino." 
In 2013, Win Interactive and Boyd kicked off a short-lived attempt to revive the Stardust brand. The social casino went live on Facebook, but became defunct shortly thereafter. 
Rampmaier notes that the latest iteration marks a significant change in outlook for the brand: "I think the current app is already much different. The Win Interactive version wasn't live for very long. We view this 2020 launch as the first time we have a nationwide Stardust brand that players will recognize and enjoy."
That brand recognition has extended beyond the Stardust name, too. Rampmaier believes the content will be a key distinguisher for the social casino. Players can find unique titles they may recognize from the land-based properties that aren't readily available on other apps or real-money sites.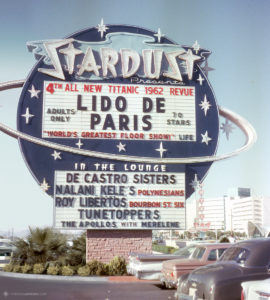 "Games like Miss Kitty, Lepre'Coins, Wonder 4 […] are games that people play on the casino floor, and we think that's a differentiator," he explains. "We also have some built-in agreements that give us exclusivity based on time frames and locations to set us apart from competing sites."
Stardust's differentiating factors extend beyond the game library, Rampmaier continues. 
Integration with the B Connected loyalty program and a roadmap packed with upcoming features are both expected to draw new players to the app and keep them engaged long-term. 
"Linking to a brick-and-mortar loyalty system is not an industry standard. Some social casinos have it; others don't. Stardust players receive the same type of rewards via social as they do in the brick and mortar. 
"They're saying 'I can stay with the company I know, the games I know, the brand I like to play, and I'm part of the Boyd gaming ecosystem no matter where I am'." 
Rampmaier also notes that a fleshed-out roadmap keeps players happy. "We have a full roadmap, and changes are coming in Q3 and Q4. We didn't want to launch with perfection right out of the gate. We wanted to get out there and show players that we're constantly adding new capabilities and offers. If players love Stardust now, they'll love it even more in six months."
Now, more than one month removed from launch, Boyd's claims this strategy is paying off. Though it won't share specifics just yet, Rampmaier attributes some of the initial success to marketing: "We're being meaningful with our marketing and how we roll the brand out. We're being thoughtful in how we engage customers with our campaigns.
"Performance is strong, our daily active user numbers are strong, the financials are strong." 
Onward and upward
The Stardust has come a long way. From demolished casino property to social casino app, the name has lived on for more than 60 years.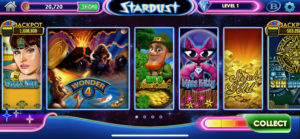 That trajectory looks set to continue; Rampmaier hints at many future plans for the Stardust brand: "We see the social casino as a stepping stone," he says, "igaming is a growing component of our industry."
Rampmaier notes two key strategic decisions in August of 2018 that set the stage for many of the company's future plans: deals with FanDuel and Aristocrat. 
"Both strategic partners help us move forward in the igaming, sports betting, and brick-and-mortar arenas. We work with both FanDuel and Aristocrat for real money gaming and sports betting in Pennsylvania, and we're looking to expand into other states. So there's a lot of thought there about how Stardust plays into those plans."
As Boyd lays out those plans and looks to the future with Stardust at the forefront, Rampmaier cites one trend that will undoubtedly carry the industry forward. 
"Convergence is the big thing right now. Digitizing the customer experience. Customers are seeking a cohesive experience, one destination for everything."
For inspiration on how to drive that convergence, he urges industry leaders to explore spaces outside of gambling. "How are other industries digitizing an end-to-end customer experience? That's what we're working on. It's a truly intriguing time within the gambling space, and tech is pushing us forward."
And in many ways, technology's place in the industry mirrors the story of the Stardust. Rampmaier's simple closing statement rings true for both igaming technology and the iconic Stardust brand: "It's here to stay."