For EveryMatrix, the launch of a new US arm will be a brand new experience. For Erik Nyman, tasked with leading that arm, it means establishing a business in the market for the second time, after leading NetEnt's US launch.
Nyman tells Daniel O'Boyle what it will take for EveryMatrix to succeed in the US market
As EveryMatrix looked to enter the US market, it sought out someone who had brought a supplier across the Atlantic before.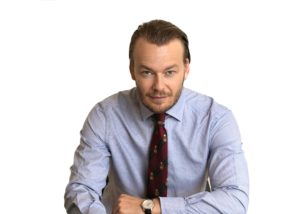 The supplier chose Erik Nyman, former managing director of NetEnt Americas, to serve as president of EveryMatrix Americas, hoping his prior efforts could be replicated.
Nyman's previous venture is emerging as a growing element of the wider NetEnt business. For the first half of 2020, the Americas accounted for just under 10% of the slots studio's first half revenue, breaking the 10% mark in the second quarter.
"To enter the US is a massive undertaking, regardless of what products or services you offer, and online gaming is no exception," Nyman tells iGB North America. "I have the experience of a previous thoughtfully planned, well-executed successful entry.
"My knowledge from this experience and the connections that I made during that time are important for what EveryMatrix aims to accomplish—to become an industry leader."
He's certainly optimistic about the US market, believing it could be EveryMatrix's largest within five years. The sheer volume of potential US online gaming revenue when the market matures makes that a possibility, but that will take more than following NetEnt's path.
In slots—which until 2019 were only available in New Jersey—the US lacks established suppliers, creating room for an experienced European business to carve out a foothold.
With sports betting and casino, however, a few operators with an existing presence in the country—whether through daily fantasy sports or the land-based market—have taken up much of the share. Nyman says there is a similar incumbency effect among platform providers, meaning EveryMatrix must prove itself as an option in the new market.
"The ability to build a brand is a key aspect in the US market," Nyman says. "In the early days, we've seen that the existing operators and suppliers had an advantage as the US players were most familiar with them. That's mainly true for operators, but also expands to suppliers, as it takes time to be familiarized within the market.
Still, Nyman is quick to stress that the market is still open and any inroads the competition have made are far from insurmountable. The potential for 50 different regulatory landscapes to manage has meant that only a few businesses have been equipped to have a serious impact in the market.
"The barrier of entry is high when compared to other markets, but the competition is quite limited," he says. "This presents many opportunities for those who are able to navigate and overcome the challenges of entry, including complex regulatory frameworks, hiring personnel, often from both the US and Europe, and organizational changes.
"Every country and state has their own unique characteristics in terms of market and regulation, and the frameworks in the US are significantly different to Europe. This requires a keen eye and even greater attention to compliance."
Dual focus
A key part of any new market entry is tailoring content, something Nyman says will be an "integral part" of EveryMatrix's US offering. But despite Nyman's predictions about the importance of the US to the supplier once it establishes itself, he says it's important that the American arm must still act like a part of EveryMatrix, rather than a distinct entity.
"Another challenge is to ensure that a US market entry does not harm existing company initiatives," Nyman says. "It is important to find the right balance between making the US part of the organization, while at the same time facilitating existing functions and fitting into the EveryMatrix Group as a whole."
While sports betting has taken the US by storm since the repeal of PASPA, online casino has been moving a lot more slowly, with igaming only fully legal in New Jersey, Pennsylvania and West Virginia—with Michigan to follow. Naturally, that's led to the biggest players in the market being focused on sports, but Nyman isn't so sure that this will continue.
In his view, a strong casino offering will be integral to succeeding in the States as the market grows.
"I firmly believe that operators who focus on both sports and casino as their core offering will experience the most success. This is exactly what EveryMatrix has focused on for many years now and is what we do best.
Because of this dual focus, EveryMatrix plans to focus on markets in which both verticals are already regulated. As many new players to the market have done, it will start in New Jersey, with eyes on Pennsylvania and Delaware.
"It brings the largest value as a company, and it fits well with our offering and value proposition," Nyman said. "We've seen early adopters take a large part of the business, but that will change over time as new companies enter and competition grows.
"The potential within the US market is huge, and the timing is right for EveryMatrix to expand."