The sports betting world is ever-expanding. New states, new platforms, new bet structures. As a bettor, it's easy to feel left in the dust.
And as much as sportsbooks and operators talk about bettor education, they continue to trudge forward with features and growth initiatives at a breakneck pace.
Alex Monahan, a Stanford grad and former quantitative trader, saw the need for a platform that could educate and assist bettors. He wanted to fill the gap between sportsbooks themselves and sites that offer picks.
Enter OddsJam.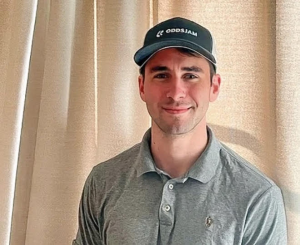 "We strip out the BS," says Monahan. "There's no touting. Everything is based on real-time odds."
"We also heavily invest in educating sports bettors. Most people have zero clue what they're doing when they get started. That benefits the sportsbooks in many ways—they don't want bettors to be educated. We focus on teaching bettors core concepts, like line shopping, which ultimately gets them into our community."
The OddsJam platform gives bettors an easy-to-understand display that compares odds from multiple sportsbooks, showing the best lines for a given bet and shortening the time a bettor would need to otherwise spend shopping for advantageous lines. OddsJam users can sort by sport and league.
The product also offers various tools a sports bettor might use in one place. If you need to calculate hold, expected value, vig or parlay odds, OddsJam has tools for those and many more.
Users pay a regular fee – monthly, quarterly, and yearly plans are available – for access to OddsJam, with different subscription levels offering added benefits.
Monahan, who founded OddsJam with a college friend in 2022, has a background in math and data. He brought his trading expertise to the gambling world when he started the business.
"Trading is very quantitative, logical and data-driven. It's also just gambling in financial markets. Ultimately, I got into sports betting once it was legalized in Pennsylvania since most people I worked with were getting into it."
Honing the craft
OddsJam targets the bettors who want to learn and improve. The service aims to bridge the gap between novice bettors and experienced sharps.
"The sports betting market is rapidly growing, and a lot of people want a product based on data and not just 'picks,'" Monahan says. "OddsJam also has odds for every major market, like NBA player props. Most odds comparison sites don't have anywhere close to the amount of data that OddsJam has. OddsJam also updates odds every second, which is the fastest in the industry."
Part of OddsJam's mission is to build a community of like-minded bettors and sports fans, according to Monahan.
"We have a large presence on Twitter, Discord, and YouTube'" he says. "Our target audience is sports bettors who want to learn. They don't need to be rich. They don't need a college degree. They just have to want to get better."
A noble goal, considering how quickly the sports betting world moves and how hard it is to catch up.
"Even understanding how 'odds' work is confusing to many sports bettors. Also 'vig' and understanding how sportsbooks make money is not intuitive to most people at first. I know it wasn't to me."
For bettors who need a more personal touch, OddsJam offers 1:1 calls with experts.
"We do 1:1 calls," Monahan says. "A lot of the calls are about 'line shopping,' which means getting the best possible odds. [Our experts] are trained to basically handle any questions the customer has. Some users are beginners and don't know what odds are. Others are sophisticated and want to learn about profitable strategies."
The data angle
Tying the OddsJam model together is data. Monahan uses his expertise in the field to constantly improve the platform.
"OddsJam is all based on real-time data and odds," he says. "There's no BS projections or anything like that. We plan to keep the tools like that and invest heavily in our bet tracker. We don't want to add complex tools."
As for the future, Monahan keeps things simple. No frills, and no corporate jargon flooding his aims for OddsJam's future.
"We just want to continue to build data-driven, transparent tools and produce valuable content for sports bettors. I'd say that is really the only thing on our agenda."