Ultimate has struck partnerships with DraftKings and L Sports as it looks to build betting into its growth roadmap. Cole Rush talks to American Ultimate Disc League commissioner Steve Hall to find out how a niche sport is looking to break into the mainstream.
Professional sports are increasingly engaging with the betting world through massive marketing partnerships. The DraftKings and FanDuels of the world are locking in massive deals with the country's biggest leagues to boost visibility and engage bettors in new ways. 
But beyond the obvious, the big guys, up-and-coming sports are weaving their way into the limelight and garnering ever-growing audiences. One such organization, the American Ultimate Disc League (AUDL), has been hard at work making a name for itself, gradually spreading the sport's influence to new fans and players. 
Ultimate as a sport long ago dropped the trademarked "Frisbee" suffix, retaining the singular title and developing its own fandom over time. 
Steve Hall, CEO and commissioner of the AUDL, explains that Ultimate has come a long way. 
"Ultimate was created in the late 60s in New Jersey at Columbia High School, which has become known as the first real kickoff of the sport," he says. "It was designed for players, sort of a combination of soccer, basketball, and football."
He also notes the sport is ideal for someone with "hops, good hand-eye coordination, and speed."
Ultimate is played in a similar fashion to soccer. The goal is to move up the field with the disc. When a player catches it, they must establish a pivot foot (there's the basketball similarity), staying planted until they offload the disc by throwing it to a teammate. Catching the disc in the endzone nets one point, bringing the football similarity into the mix. 
Ultimate's play structure lends it a lot of flexibility; the faster you can get open, cut across the field, and snag the disc, the better chances your team has at scoring. 
Hall came to the sport in college. "I fell in love with the sport at Georgia Tech," he says, "during my sophomore year. I started off as a chemical engineer then moved to the finance world, eventually working with Goldman Sachs and Citigroup."
Throughout his financial career, he remained a casual Ultimate player. In 2015, he bought a team, becoming an owner. Three years later, he sat down with Rob Lloyd, AUDL chairman, and the opportunity to run the organization came naturally. 
"I thought I could do a good job as a numbers guy," Hall says, "and the CEO at the time was ready to move on." Soon enough, he was running the AUDL.
Under Hall's tenure, the sport has continued its growth, even transforming to be more fan-friendly. 
"We've made some tweaks," he says. "First, we made the game four quarters, so it's timed." Previously, Ultimate was played to 21 points, with games potentially running incredibly long or surprisingly short. 
"Next, we designed it with officials in mind. If two players are arguing over a point, you have the old schoolyard 'do-over' rule, which just doesn't fly with fans, not to mention watching players shout at each other isn't exactly a prime viewing experience."
This, according to Hall, checks a lot of boxes and makes the sport media-ready. Games last for two hours or more, they're officiated, and they're ready-made for fans. 
On top of shaping the sport to be more viewer-friendly, the AUDL cites other reasons for Ultimate's growing influence. 
"It's always been an alternative sport," Hall says. "It's non-contact or low-contact, and it's always low cost. That's going to help us with global growth."
In other words, Ultimate players don't need the bulk of lacrosse or football players, and the equipment cost starts and ends with a disc, which can cost $20 or less. Plus, the health implications of full-contact sports like football or rugby make players (or their guardians) hesitant. Ultimate, by comparison, is a safer sport. 
Those qualities may have slingshotted Ultimate to a new tier of popularity but this is just the beginning. Ultimate is now working to earn its place in the media and sports betting space.
"We've been with several media partners over the years," says Steve Hall, "Right now we're with Fox Sports, and we're hopefully about to sign our next two-year agreement with them."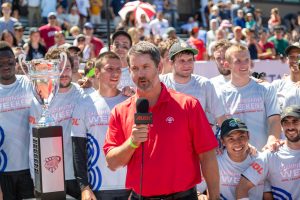 Sportsbooks came into the picture in August of 2021. At least, one sportsbook, in the form of DraftKings. The AUDL partnered with the sports betting juggernaut for free-to-play Ultimate pools, exclusive live streams, and eventually actual wagers on Ultimate. 
"DraftKings is looking for more new and interesting content," Hall says, which made the AUDL an excellent fit. "They distributed our games on their Twitch and YouTube channels."
Hall notes that DraftKings was the AUDL's first big step with a large-scale partner in the betting arena.  "It was great for us because we are looking for greater awareness from the general community. DraftKings gives us that first step toward making the casual bettor a fan. It's a new audience for us. 
"DraftKings was keen to know us," he continues. "Later in the season, they started offering betting lines on Ultimate matches. We're registered in five states so far, and we hope to grow that partnership in 2022."
To date, it's a betting sport in Colorado, Michigan, Tennessee, West Virginia, and Illinois. 
To further bolster its presence in the betting world, AUDL partnered with L Sports. "We signed a deal last year, and they got to know us, started analyzing our data," Hall says. "It's great to have that partner as well, so our sport is ready for the wide world of betting."
On a big picture level, Hall emphasizes the importance of the larger gaming and entertainment sphere. 
"We have a great action sport," he says, "We've made the ESPN top 10 with some of our highlights, but we know we need to differentiate. We see gaming helping us in a few different ways. One, the casual gaming area: video games, free-to-play pools, things the under-21 crowd can do. Then, for the over-21 crowd, add sports betting. It's important because, to me, it's another stream of entertainment."
As it stands, DraftKings offers the typical game lines for Ultimate: moneylines, point spreads, and totals. But the door is open for new bet types, especially considering AUDL's partnership with L Sports. 
"We're expecting DraftKings and L Sports to keep pushing the envelope," says Hall, "likely to create prop bets and in-game wagers as soon as they think it's reasonable."
Because Ultimate is a sport on the rise, Hall cites gambling as an opportunity for consumer education, too. 
"Sports betting can be logged as an expense within a budget," he says. "I've seen my bills go up; my youngest loves Fortnite, FIFA, and the little charges that come with those games. It's gaming entertainment on the casual side. 
"Gambling is a form of entertainment, too, and you need to budget for it. We've got to make sure we're educating the consumer because there are regulatory considerations to bear in mind, and we take it seriously."
Hall and the AUDL want gambling to be part of the league's ethos. But they also want to ensure they are abiding by regulations and working with partners like DraftKings or L Sports to keep this safe and workable for all involved, including bettors. "We need to understand our consumers and be smart about what we're offering to them."
As Ultimate continues to grow, Hall hopes more and more players and fans will get involved. 
"If you're 6'4'' and have a 40-inch vertical, I'm going to get you a try-out with a team," he says with a laugh. "But if you're interested in the sport on any level, come out to a game in one of our 25 team cities. That's the best way to experience the unique entertainment Ultimate can provide."
As for what the future holds, Hall points to various ways of differentiating the AUDL and creating a unique ecosystem. 
"We're working in-house on the first-ever Ultimate console video game, think like FIFA or Madden. We've already dropped NFTs, and the gambling angle, getting our lines in casinos and more bets on DraftKings."
Overall, though, Hall values entertainment above all else. "We want you to have a good time getting into our sport and enjoying our league."