Alex Windsor, director and owner of Apps4 Web Media, made his move into the US affiliate market on the back of the PASPA ruling four years ago. Here he offers his take on the opportunities and pitfalls that await the intrepid affiliate Stateside, from finding your own igaming niche to navigating the intricacies of state-by-state licensing.
Tell us a bit about yourself, Alex. What's your background?
I have been involved in igaming since 2012. I stumbled into the industry by chance when working in B2B sales for a telecoms provider. I instantly fell in love with the industry and everything that goes with it.
While I am not a big gambler myself, I love the SEO and marketing side of running a company. The industry certainly keeps you on your toes; there are new markets, legislations and products coming out all the time. It really is 24/7 work.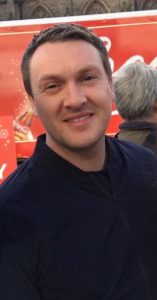 How did you get involved in the US market?
We had been focused on the UK and Italy for several years and always kept an eye on new markets that were opening up.
When PASPA was struck down in 2018 and the US opened up to sports betting, the opportunity was too good to miss. Americans are so passionate about sports (and gambling) that I just had to get involved. 
The first state we started to work in was New Jersey, and having to apply for a license to operate in a state was a bit alien to us at first but now it is widely accepted. If a new state opens up, there is an 80% chance we will need to be licensed to work in that jurisdiction. 
We got our NJ license quite quickly and set about working on the site. 
What websites do you target US customers with?
We launched our first site Gamble-USA.com in June 2019 so we were a little late to the party by the time we got our content and plan ready. A lot of the huge affiliate companies already had a big head start and had created sites in all states, even those that weren't even looking at regulating sports betting anytime soon.
The Gamble USA site featured sportsbooks and online casinos, but we saw a gap in the mobile casino market and subsequently launched Mobileuscasinos.com, which is focused on mobile casino apps and mobile gaming. The site is smaller than our main site, but online casino gaming is still only available in a handful of states compared to sports betting.
There are now over 14 states offering online and mobile sports betting and this number is only going to grow. We also have some smaller state-specific sites focusing on specific jurisdictions, but our newest site is Gamblingpromocodes.com. Americans love a good bonus and promo code and a lot of new players know there are bonuses and coupons out there to get them a good bonus when joining as a new player.
Is the US market a lot different to other markets you have worked in?
Yes, we find the US market a lot different to, say, the UK. As sports betting is still so new to most people in the US, especially betting online or on mobile, a lot of the content we produce is educational.
Sports betting still isn't available in all states, and those states it is legal in, it may only be legal in brick-and-mortar casinos. States such as Tennessee, for example, have no casinos and only offer sports betting online and mobile. Each state has its own rules about what is and what isn't allowed. This can be down to simple things such as what bet types are allowed, all the way through to whether betting on college sports is allowed or not.
As a UK business, what are the challenges you face working in the US?
Licensing is definitely the biggest headache we face as a UK company. I imagine even as a US-based company it is hard as some states require a registered business name and address in that state. As a UK business this was all strange to us, but it is something we have become accustomed to.
However, with a lot of work we are now licensed in all available states, and we have just launched a network allowing affiliates to capitalize on our strong commercial and licensed capabilities to drive revenue for their business. For more information on this, contact us at info@apps4webmedia.co.uk.
How easy or difficult is licensing for the various states?
In some states, New Jersey for example, the licensing process was quite easy and wrapped up in a short space of time. Pennsylvania and Arizona were more difficult. Some states require you to send in your fingerprints, which during lockdown was hard as the UK police stopped taking fingerprints – unless you were in trouble, of course. I was keen to get licensed but not at the expense of spending a night in a cell!
Do you have any tips for other UK affiliates looking to enter the US?
It's crazy how competitive the US has become over the last 12 months. It was always going to be difficult when you see the big names with what seems unlimited sites and budgets taking over the SERPS. Add to that the big newspaper and media companies pairing up with these large affiliates and the space to operate in becomes very tight.
It's not impossible and with more states opening up, new affiliates should find a niche and become an expert in it. Look for those areas the big guys aren't in and pick up the crumbs they aren't going after. The American dream is still there and achievable, it just takes a lot of time, dedication and a healthy budget.
Licensing is a bit of a pain and that is what puts off a lot of affiliates from entering the space. I am happy to offer help and advice to any affiliates who want to chat about licensing and see how I can help them out so please feel free to reach out.
What do you expect to see happen in the US in the next 12 months?
There are a couple more states which should go live this year which is really exciting. New York went live in January and Louisiana back in February and the take-up in those states is only expected to grow. 
I expect to see a lot more media partnerships with large new sites and media organizations partnering with the larger affiliates which will no doubt have a knock-on effect for the smaller guys. But the US is huge and only at the start of its sports betting journey so it's still a very exciting place to get involved in. 
Alex and Apps4 Web Media will be attending iGB Affiliate London on 13-14 April 2022 at the ExCeL London. To meet the likes of Alex and 5,000+ other affiliates you can register for iGB Affiliate London here.