The past year has seen the Keystone State significantly expand its gaming market with the launch of online casino and sports betting. Kevin O'Toole, executive director of its Gaming Control Board, talks Robin Harrison through the process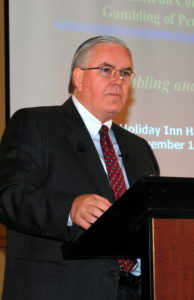 Pennsylvania is nearing two years since Governor Tom Wolf signed into law a package of gambling expansion legislation, but 2019 feels like the year things really started moving forward. Following the launch of retail wagering late in 2018, the state's first online sportsbook went live in May 2019, with six mobile offerings launched to date to complement the 12 retail books, while three igaming platforms have followed. Kevin O'Toole is the man tasked with managing the regulatory process. 
How have you found the process of preparing for, then launching, online sports betting? Has it thrown up any surprises?
Well, it's not so much a surprise. For it to be a surprise you have to have a basic idea of what you expect! It's been a very good learning experience for our staff, and what's challenging in the sports wagering area is there's a lot of very competent firms out there that provide valuable services in the sports wagering arena. 
And how is the igaming market performing?
It's going well. We launched three igaming platforms in July and they have gradually increased their business. We are hopeful that we will have another group of platforms up and running as well in the next couple of months. 
What was the reasoning behind the launch dates? With igaming it was a defined date (July 15) but for sports betting it was as and when operators were ready. Why?
It's really based upon when the casino operators felt that they were ready. We set a date in the middle of July because we wanted to make sure that we would get launched by then. And so three properties were committed to it and they got launched. 
I think that the emphasis to have things started on sports first was because we were approaching the NFL season, which is the most robust period of the year because it leads right into the basketball season and March Madness. 
That uptick of activity starts September, then isn't over until April or May of the following year. Properties wanted to make sure they had their branding out there and an opportunity to begin developing the database. They've been successful in that regard, but now they're turning their attention to getting their igaming platforms ready to go. 
How has your team found the process?
It's been challenging, but fortunately, we've had some employees who have been with us for more than 10 years. They're clearly experienced regulators, they understand the various processes of equipment testing, internal controls, the licensing process. There are certainly some new concepts that had to be learned, but they were excited about being able to increase their own knowledge of legalized gambling in the area of both sports and internet. 
Talk us through managing licensees through the licensing process and beyond.
Our legislature, when they passed this gambling expansion bill, put significant emphasis on having these new options for gambling activity to benefit those land-based operators who have invested millions of dollars in building these facilities and creating entertainment centers in some of the more populous areas of Pennsylvania. 
In our efforts to get these new gambling activities up and running, we're dealing with the operators who we have already dealt with for 10 years. So there's a comfort level from our perspective in knowing the casino teams and I'm sure that the casino teams have a comfort level in knowing the regulatory scheme in Pennsylvania because they have successfully managed their relationship with us over an extended period of time.
The high taxes and fees associated with the Pennsylvania market have attracted a lot of attention. Do you feel these are justified?
I think our legislature acknowledges that the fees are fairly high and our tax rate to some extent is fairly high. 
On the tax rate, we still offer a modest tax rate on table games, on poker, on fantasy contests. But when we translate it, when the legislature decided to allow online slots, they wanted it to be comparable to the land-based slots. 
That's why the slot rate is high as it is and why they settled on a 36% tax rate for sports wagering. 
All of these tax rates do include within them an allocation of that tax to local share assessments which allows communities within Pennsylvania to participate in receiving tax revenue from the casino industry, and that has allowed municipalities and counties to gain a better appreciation for the economic benefits of the casino industry. This now means that our casino operators have excellent relationships with the communities where they operate. 
What about responsible gambling? How are you integrating this into the roll-out?
Pennsylvania is a leader in that area. There are challenges in the casino industry with respect to responsible gambling and making sure that people have the ability to monitor their own play so that they don't get into a problem- gambling situation. That's an issue that the casino industry and regulators will always have. But with the technology that comes with an online product, we can now use that technology to improve our ability to help gamblers set limits on their own. 
How effective do you feel voluntary limit setting is?
Limit setting can cover how much money you can deposit in a session, how long you can play for, or the aggregate amount of wagers that you can make in a single session. In addition to this we also have a self-exclusion list and we are applying that in the online systems. 
We know those land-based people who wanted to curtail or eliminate their ability to enter a Pennsylvania casino for either one year, five years, or a lifetime. And we will separately maintain a list for online customers who want to be precluded from establishing an account. Right now, the approach we're taking—and I think it's an approach fairly similar to other jurisdictions in
our area—is let's see how those self- imposed limits work. 
It's too early to say whether they are effective or ineffective. We don't have enough data to say that they're ineffective, or modestly effective, or very effective. But it's still true that we all have individual responsibilities to control our activities. If we feel that we're spending too much time gambling, we're spending too much money gambling, it's our individual responsibility to try and cut back on that. Hopefully it works that way in the vast majority of cases.