The Pennsylvania Lottery has just reported record sales and profits for the financial year ended June 30, 2019. Executive director Drew Svitko discusses its first full fiscal year online—and the challenges that has brought.
Amid the excitement at the prospects of online casino and sports betting when Pennsylvania's gaming expansion omnibus was signed into law late in 2017, it was easy to overlook the online lottery provision. 
But since the launch of iLottery in June 2018, the Pennsylvania Lottery has arguably been the biggest benefactor of gaming expansion efforts. The state's fantasy sports market is dominated by DraftKings and FanDuel. Igaming is in its infancy, as is sports betting, with most operators only recently launching mobile products. 
It generated new sales of $381m from the PA iLottery site, plus $47m from the monitor-based Keno and XPress Sports games. The full-year profit of $1.14bn saw 2018-19 break the earnings record of $1.12bn set in 2015-16.
Pennsylvania Lottery executive director Drew Svitko points out that this first-year growth trumps that of other states to move online. "iLottery is a big part of the Pennsylvania Lottery's effort to  modernize its business and meet its players where they already are, which is online, while generating new funds to benefit older Pennsylvanians," he explains. 
Record-breaking year
Furthermore, he reveals, iLottery's emergence hasn't come at the expense of its traditional retail offering. For the 12 months to June 30, 2019, total sales were up 7.2% to $4.5bn, driven predominantly by scratch-off sales, which alone grew 5.9% year-on-year to $2.9bn. Draw-based games reported an 8.7% increase in sales to $1.4m. The full-year profit of $1.14bn saw 2018-19 break the earnings record of $1.12bn set in 2015-16.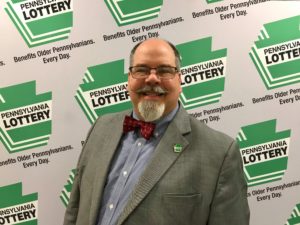 "There's no evidence in Pennsylvania or anywhere else in the lottery industry that selling online cannibalizes traditional lottery sales," Svitko concludes. 
Furthermore, there's significant room for growth. The PA iLottery site currently only offers a selection of instant win, or 'e-scratch', games, unlike other online state lotteries. These games, he says, look, feel and play differently to the physical games sold across the lottery's 9,700 outlet-strong retail network, creating a new experience. 
However, it's the same team that manages both online and retail instants. 
"[We] work hard to launch new and unique scratch-offs every month," Svitko says. "We constantly review new scratch-off trends, seeing what we can do better and work to create new games that will excite our players. 
"There is definitely analysis, hard work, innovation and expertise that goes into managing the scratch-off game portfolio." 
This product range could soon be expanded with new online games, in new verticals, as part of the lottery's drive to create a "robust" online portfolio. 
Controversy in the Keystone State
However, the move online has not been without controversy, especially as a result of the lottery's early focus on instant win games. The launch prompted a lawsuit from seven of Pennsylvania's 13 casinos, which claimed its instant win games were too similar to their online slots, and that the games should be outlawed as the lottery has an 18+ age restriction, compared to the 21+ limit imposed on casino gaming. 
However, in July, around the time of the launch of the state's first igaming products, Judge Renée Cohn Jubelirer threw out the septet's request for an injunction. 
All signs suggest they will continue their battle through further court action. It's an unusual situation—normally it's the lottery operators looking to shut down commercial operators. 
All Svitko will say is that the games are authorized by the state's gaming expansion legislation, and that they are being operated "in accordance with the law." 
He adds that as a result of the same legislation that allowed online lottery, the lottery is facing fiercer competition than ever before for a share of consumers' discretionary entertainment funds. 
This heightened competition comes in the form of both legal and illegal offerings.
"For example, so-called 'games of skill' machines are a significant threat to the Lottery and the vital senior programs that it funds," Svitko says. 
These machines look similar to slots, though there is at least some element of skill in how they are played. While their legal status remains murky, they are widely available throughout Pennsylvania, in liquor stores, strip malls and convenience stores, among other venues. 
"According to our analysts, as of July 15, 2019, the known count of 5,746 games of skill machines in PA Lottery retailers has a negative impact on statewide yearly scratch- off sales of approximately $185.2m," Svitko says. "Games of skill have also had an impact on the Lottery's efforts to encourage retailers to offer our monitor games, Keno and Xpress Sports." 
Efforts to remove any uncertainty around these machines' legal status are underway, with Senator Tommy Tomlinson filing a bill, currently with the Senate Judiciary Committee, to declare them a form of illegal gambling. Following this interview, a court ruling declared that these machines were in fact slots, which has led to campaigners renew their calls for all such terminals to be taken out of service.
Further headwinds may come in from federal law enforcement, following the Department of Justice's reinterpretation of the Wire Act. While this has been set aside by a New Hampshire court ruling, the Department is preparing an appeal. 
"The Pennsylvania Lottery agrees with the district court's interpretation of the Wire Act in the New Hampshire case," Svitko says. "[And] hopes that the US Court of Appeals for the First Circuit upholds the lower court's interpretation."  
While these issues provide a slightly gloomy backdrop to the most successful year in the Pennsylvania Lottery's history, they may ultimately prove minor setbacks. As a fundraiser for th elderly, the lottery has a strong social and legal footing. After a stellar first 12 months for its online offering, plus the prospect of additional games  going live, few would doubt the sales and revenue records set in 2018-19 may soon be broken.