Sporting arenas are evolving into technologically advanced entertainment platforms, rather than simply venues where people gather to watch live sport. Now, with more and more states opening up to sports betting, a number of positive developments are converging to create a potentially lucrative platform for betting operators. By Robin Harrison 
In two of the past three months, sports betting handle in the Garden State overtaken that of Nevada. Many believe it's only a matter of time before it will be firmly established as the leading state in terms of amounts wagered. 
Other states, with the notable exception of New York, have been quick to embrace mobile wagering, arguably inspired by New Jersey's rapid growth. The launch of legal wagering in Iowa marked the first time that mobile was rolled out on a state market's first day of legal sports betting. Maine, depending on Governor Janet Mills' deliberations, may even become the first state to allow mobile operators in without a land-based partner. 
Against this backdrop the concept of in-stadium betting could be seen as almost archaic. Its inclusion in Washington DC's sports betting legislation is viewed by cynics as a way to offset criticism of a controversial process to hand lottery technology partner Intralot an exclusive citywide contract. In New York, it was a last-minute addition to Senator Joseph Addabbo's S17, in an attempt to incentivize lawmakers to allow mobile wagering. 
In short, in-stadium betting requires customers to travel to a specific location to place bets, and requires buy-in from the stadium operator and most likely the sports teams playing in that venue. 
And without geofencing, customers in a mobile betting state will still be able to bet with competitors. 
Stadium as a platform 
But this fails to acknowledge a number of key factors, which suggest the stadium is more than simply another betting venue, it's a new channel entirely. First, there are the fans, who will be flocking to watch their team whether they can place a bet or not.
Going to a casino is not a daily, weekly, or even monthly activity for most people. Travelling to a location to spend time and money gambling is not a regular activity. Going to watch a sports team certainly is. It's not a case of "if we build it, they will come." More, if it's built, they're already there.  
Furthermore, the infrastructure is in place now. The stadium of today is less of a brick-and-mortar venue where people watch sports, and more of a technology platform that interlinks the viewing experience with commercial opportunities and additional entertainment options.  
"It is no longer enough to only consider the role of sightlines, seat width and the price of beer," Deloitte explained in its 2016 report The Stadium as a Platform. "Teams need to engage their fans and event-goers to encourage them to shape their own experience."  
In Deloitte's eyes, the stadium of tomorrow comprises three layers, starting with the technology infrastructure of physical hardware, networking equipment and software that provides the basis for all in-arena experiences. 
Layered on top is an enabling technology that provides the tools, protocols and data through which the team or venue owner connects fans, partners, and sponsors to the base layer technology. 
On top of this sits the experience layer. This ranges from the games played in the venue, to third party experiences. This could be as simple as the food concessions and a merchandise store. Or, as stadia become more technologically advanced, digital tickets on  mobile devices, and promotions or competitions that fans can take advantage of within a defined radius in or around the venue. 
Let's take the Mercedes-Benz Stadium in Atlanta, home of National Football League franchise the Atlanta Falcons, as an example. 
The technology layer is comprised of thousands of miles of cabling beneath the stadium. The enabling layer, a dedicated stadium app, features a natural-language artificial intelligence persona known as Arthur, similar to Amazon's Alexa, developed using IBM's Watson platform. At an experiential layer, this allows fans to navigate the stadium and carry tickets—all ticketing at the Mecedes- Benz Stadium is ticketless. 
In states where legislation has been passed, operators, teams and stadia are already getting in on the action.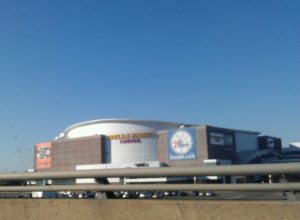 Most recently we've seen Rush Street's SugarHouse partner the the Philadelphia Flyers hockey team and its arena, the Wells Fargo Center.
The multi-year deal will see two SugarHouse-branded sports lounges opened in the stadium. While there will not be any in-stadium betting kiosks, the deal takes advantage of mobile legislation to allow fans to bet via smartphones while following the action on nearly 100 screens. 
"With Pennsylvania on the forefront of legalized sports gaming, we and our SugarHouse partners are excited to elevate the game day experience at the Wells Fargo Center in a unique way," Philadelphia Flyers president of business operations Valerie Camillo explained. 
"These new lounges will bring the energy and excitement of PlaySugarHouse.com, a market- leading sportsbook, into the arena and introduce another step in our transformation to become one of the most technologically advanced arenas in the world." 
Preparing the ground
Of course, for sports betting, there is an additional, external, enabling layer: state regulation. But there are a host of technology providers helping to prepare the ground for legal wagering.
California-based National Basketball Association team the Sacramento Kings has partnered Swish Analytics to launch the Skyloft Predictive Gaming Lounge. 
"Predictive gaming is incredibly disruptive and will only continue to gain popularity in the NBA and beyond," Kings owner and chairman Vivek Ranadivé said. "Working with industry leaders like Swish Analytics allows us to test and perfect this technology to give fans the best experience in future seasons." 
And then Sportech's Bump 50:50 subsidiary has been providing raffle technology, allowing partners to run prize raffles to raise funds for charities. A host of high-profile teams use its technology, including the Dallas Cowboys, the Cleveland Cavaliers and the Los Angeles Dodgers. 
Bump 50:50 president Dan Tanenbaum says its technology acts as a key engagement tool for fans, giving them both a chance to win significant cash prizes (of up to $250,000), and to contribute to charitable initiatives in their communities. 
"[While] we don't really view Bump's charitable raffles as 'gambling' per se, in the US and Canada it is the only way to legally win money at a game right now," he explains. "And, in cases where the activity is permitted, raffles prepare the stadium and its staff for betting activity." 
Tanenbaum says "a significant portion" of Bump 50:50 raffle sales come through kiosks or roaming sales agents, but adds it also provides sales via web and mobile devices where permitted by law. 
"In-stadia betting must be viewed as part of the broader product opportunity," he explains.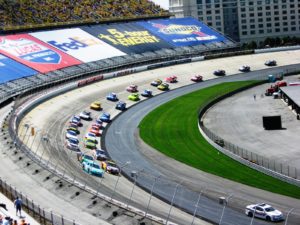 The launch of legal wagering at Dover International Speedway could be seen as a step up from predictive gaming and raffles in terms of implementing in-stadium wagering. The one-mile track surrounds the Dover Downs hotel, casino and racetrack complex in Dover, Delaware.
The track has been operated by Dover Motorsports after its split from Dover Downs Gaming and Entertainment (owned by Twin River Holdings since a reverse merger in March this year) in 2002. However, the gaming business offers betting around two National Association for Stock Car Auto Racing (NASCAR) events held at Dover Speedway each year, starting from the Tripleheader Weekend in October 2018. 
The track's VP of marketing and communications, Gary Camp, points out that it's a case of Dover Downs offering betting as one of the entertainment concessions at races, meaning there is currently no real monetary benefit. However, he adds, there is significant potential upside. 
"There isn't any other track that holds NASCAR races that allows customers to place bets on the activity happening right in front of them," he says. 
"As we think through ways to further engage with fans, we're excited about the chance to offer another entertainment opportunity," Camp explains. "So in our marketing and advertising efforts we include tags about $5 bets and on-site sports betting, so they can see this is another thing they can do to further enhance their enjoyment." 
Track operators must build out the entertainment experience, he adds: "When you attend a NASCAR race it's more than just the race itself. A lot of our fans will be there for the entire weekend and build their vacation around these events, so we have a large contingent who camp or stay in RVs, and once they become acclimated to betting as something they can do, we will see an increase in activity." 
The mobile question
While Dover International provides an example of how a partnership between a venue and an operator could look, it is, as Camp says, in its very early stages. The sort of integration that could be achieved using the technological infrastructure being built into stadia remains far off. And there's the ongoing issue of how such an offering could work when faced with competition from widespread mobile access. 
For example, in New Jersey, a fan watching a game at the MetLife Stadium, home of the New York Jets and Giants, could place a bet on the DraftKings app. They'd be doing this while sitting in a venue that is part of the Meadowlands Sports Complex, whose racetrack is partnered with DraftKings' main rival, FanDuel. Of course, other territories have factored this into their planning.
In Washington, DC, Monumental Sports & Entertainment's Capital One Arena, the Audi Field soccer stadium, baseball arena Nationals Park and St. Elizabeths East Entertainment and Sports Arena will all be eligible for Class A licenses. Each will be granted a two-block exclusivity zone, in which access to all other mobile wagering products is to be blocked.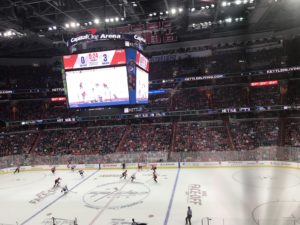 Since this feature was published William Hill has struck a partnership with Monumental Sports & Entertainment, to allowing the operator to open sports betting facilities and launch mobile wagering in the Capital One Arena when regulations permit.
"This sportsbook will be a flagship venue for the industry and will serve the sports fans of the Washington D.C. area unlike any other," William Hill US chief executive Joe Asher said of the deal. 
"Partnering with Ted Leonsis and the entire Monumental team was ideal. They share our vision and principles for bringing innovative sports betting opportunities to fans in a responsible way.
"This deal sets a new benchmark for how the industry will serve fans and how fans engage in sports."
However, Tanenbaum doubts that in-stadium betting partnerships will live or die based on such exclusivity provisions. 
"Most geo-locked implementations are the result of regulations that vary widely by state and province, which will always be a key factor in the delivery of products like raffles and other gaming options in stadia, as well as technical limitations of concentrated wi-fi demands," he explains.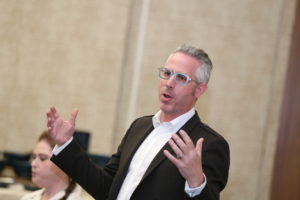 "Bump has developed core processes to mitigate some of the technical limitations, but the implementation of in-stadia betting in the US will be determined by the limitations imposed by regulators more so than by exclusivity agreements." 
In New York, Addabbo's S17 proposed allowing stadia in counties where there is not an existing off-track betting facility, franchised gambling outlet, racetrack or video lottery terminal facility to offer wagering. 
The Bronx's Yankee Stadium, Brooklyn's Barclays Centre, Buffalo's New Era Field and Long Island's Nassau Coliseum would all have benefitted, as well as Manhattan's Madison Square Gardens (MSG). 
Going by an application to the US Patent and Trademark Office filed in January, MSG's operator, Madison Square Garden Company, would jump at this opportunity. The application covered the use of MSG as a brand for "downloadable mobile applications for sports wagering, for organizing, arranging, conducting, and participating in sports wagering tournaments, for providing information related to sports betting." 
Madison Square Garden is an iconic brand in itself. If DraftKings and FanDuel have been the early winners of legal wagering, due to brand recognition from their daily fantasy offerings, think of the value of a brand that has existed since 1879, especially in bringing in new bettors. 
Other venues could benefit in a similar way. Stadia named for sponsors may not be as iconic as the New York venue but they do have a huge recognition factor, both from the prevalence of the brands themselves in everyday life and their association with sports teams. 
Widely available sports betting in the US is still at an embryonic stage, considering it has only just celebrated its first birthday. Having said that, the speed at which it is rolling out is unprecedented; it took six years for a second large state (Pennsylvania) to follow New Jersey in rolling out online gaming, after all. When the 2019-20 NFL season began on September 5, no fewer than 13 states had launched retail or mobile wagering—when legal wagering barely existed outside of Nevada before May 2018. 
This rapid adoption, coupled with buy-in from the leagues and teams, comes at a time when stadia themselves are changing. As Deloitte says, they're now a technology platform, rather than a place to watch a game. Considering the convergence of these factors, it feels only a matter of time before placing a bet becomes as much a part of the gameday experience as the tailgate party in the parking lot or the Dallas Cowboys cheerleaders.
Image credits:
Capital One Arena – KenGriffey24Fan