On 11 March, Representative Brandt Iden placed the first legal sports wager in the state of Michigan. Iden, who will participate in the iGB webinar Emerging stronger: Keeping ahead of an evolving sportsbook market on September 10, talks to Daniel O'Boyle about the start of legal betting in the state.
At the MGM Grand Casino in Detroit, one of the state's three commercial casinos which all offered betting from 1 p.m. that day, Iden put $100 on the Michigan State Spartans to win the Big Ten Basketball Tournament.
It seemed a fitting reward for the politician who spearheaded efforts to legalise both sports betting and igaming in Michigan for more than five years. 
In 2018, Iden saw his bills on the subject passed by the legislature only to be vetoed. The next year, his attempts to pass new bills at one point looked at risk of suffering the same fate, but Governor Gretchen Whitmer ultimately signed them into law, legalizing sports betting and online casino games in Michigan.
Had the bills passed the first time around, the same bet on the 2019 tournament would have been a winner. Instead, it was voided as the tournament was cancelled the next day due to the novel coronavirus (Covid-19).
"The retail launch went great," Iden says. "Unfortunately, less than one week after the launch of sports betting, the pandemic hit and with that, the closure of basically every major sport around the whole world. So as a result, there weren't any sports to bet on and shortly after that the casinos themselves closed."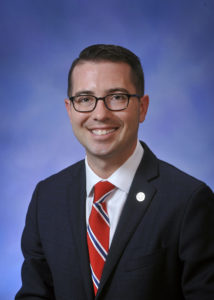 More importantly to the industry and prospective bettors, had the bill been passed a year earlier, Michigan almost certainly would have had online betting and gaming as land-based casinos across the state closed.
Iden acknowledges the unfortunate timing of the unforeseen circumstances, but says the state has been making excellent progress to ensure an online product will be available in 2020.
"Obviously it would have been great to have online gaming during this pandemic," Iden says. That would have given a lot of revenue for the state, but all things considered I think we're doing really well."
Iden adds that the pandemic has unsurprisingly increased the appetite for online gaming, pointing to the growth of ilottery in the state during the lockdown period, as well as significant online casino growth in New Jersey and Europe. However, rather than looking back on the lockdown period, the Representative says he is looking to the future.
"I just have to not think about the money that went offshore or to underground platforms in the state of Michigan during that time and think instead about the revenue we can collect in the future as we look forward," he says.
"We are in the process of making the rules for our mobile and online internet betting and gaming. I think that process is going really well," he continues. " The Michigan Gaming Control Board has expedited the process: They got through the drafting of the rules very quickly. Later this month there'll be a public hearing on the rules where people can provide their input. I think we could be looking at right around the Thanksgiving holiday for launch. 
"Of course providers will have to get things ready, it'll take some work to get things up and operating, but I absolutely think that, given this legislation was signed at the end of last year, we could be looking at the rollout of online and mobile less than ten months later."
The pandemic has, of course, slowed the growth of retail sports betting drastically in Michigan, with the state's three commercial casinos taking in $105,548 in betting revenue in their first six days before the shut-down. Operations resumed from August 5, which the state has not yet released revenue figures.
Tribal casinos, meanwhile, did not offer sports betting until August, when FireKeepers Casino in Battle Creek, operated by the Nottawaseppi Huron Band of the Potawatomi, went live with a Scientific Games-powered product.
That may mean it will take much longer for the state to reach its potential in terms of revenue, but Iden says he still believes expectations should be high when the market does reach maturity.
"We haven't had a lot of retail operations yet, so there hasn't been a ton of activity," Iden says. "But by the middle of next year, certainly by the fall of next year when sports are fully back, I think we're really going to see that growth.
"I've always thought that internet gaming and sports betting are going to be huge for the state of Michigan once we go online. Great not just for tax revenue and the industry, but for players as well. But there will be a lag time. 
"Once operators go online then there's the marketing time to attract players online, players have to get used to it, get signed up, even just know it's available. So it'll take some time before online reaches its full potential, but that potential is sky-high."
While the State of Michigan Fiscal Agency forecasted state tax revenue of $30-35m from betting and igaming combined in 2021, but Iden argued this figure was "conservative" and says figures in excess of $100m may be possible, though not necessarily by 2021.
"That may be a couple of years down the road, maybe three years down the road, but I believe that this will continue to grow," he says. "What may start out closer to $30m may, as players get more familiar and there's more integration, may experience very large growth."
While Michigan is one of many states that has introduced legal sports betting since the repeal of the Professional and Amateur Sports Protection Act (PASPA), it appears more of a trailblazer in online casino, where only New Jersey, West Virginia, Pennsylvania and Delaware are currently live.
The Iden says the success of igaming in New Jersey, where online casino operators took in revenue of $80.0m in April and $85.9m in May, ensured there was a clear model to follow, however, and now he looked forward to seeing other states follow Michigan's lead.
"New Jersey's really been the model," Iden says. They've done it well, they've been the model for a number of years. What we really need now is to see more states online. The more states that come online with internet gaming, the more of an option that it'll be for players and I think all states will benefit from it being an option in more jurisdictions."
Iden will not run for re-election in Michigan's 61st district this November, having reached the state-mandated three-term limit. Having spent the vast majority of this period working on gambling legislation, Iden now says an online launch before the end of his term would make for a good parting gift.
"I've had six years in the house. I've been working on this for five on the six. I'm sure there are changes that down the line it will become clear that they would help, but I have to pass this on to future legislative leaders. My time is running out.
"Once we get online that would be a perfect way to close out my career. I'd be very excited about that."
Representative Iden will participate in iGB's upcoming webinar Emerging stronger: Keeping ahead of an evolving sportsbook market on Thursday September 10, at 11am EDT/8am PDT.
Sponsored by Kambi, and also featuring the supplier's chief technology Kris Saw and Penn National Gaming director of new market operations Josh Saw, the panellists will discuss how the betting industry and consumer behavior will change to accommodate a new post-pandemic normal. 
The panel will also explore whether sportsbook suppliers and operators are ahead of the ongoing accelerated shift from retail to online and how the industry can play an important role in growth and job creation. Register here to book your place for the discussion.