Our next Pitch @ Sports Betting USA Digital start-up is Sports Social, which aims to offer a universal experience that appeals to avid and novice bettors alike. Founder Sean Malek explains the process, and the how the business adds a social element currently missing from the betting experience.
If Sports Social has your vote, make sure to help it get to the final three at the show!
What does One Click Bet do? 
As sports betting grows in the US, we believe in needs to break out of the Las Vegas mold and find a way to fit a big nationwide approach while appealing to the modern consumer. This means less work, quick action, better results.
Our process allows the consumer to take advantage of some of the best available research with ease. We make the picks made by top analysts available in actionable form so the consumer can place their bet with confidence and no technical mistakes.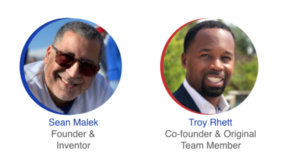 In addition, betting needs to have gamification, competition, and social interaction. With today's available technology it should no longer be a lonely activity between bettor and the house. So we allow bettors to earn points by being active on the app, then allow them to turn those points into discounts and freebies offered by consumers goods companies. The users can compete and win each other's points.
The users with a good degree of knowledge and success can form a following and become influencers in their own right.
We also have a patented responsible gambling tool. The user can set a monthly budget. Once he surpasses that budget his bets will seamlessly be made on points-only basis. This way he will remain fully engaged and never be forced to quit. This will turn betting into a budgeted form of entertainment that families will be at ease with. People can now openly partake in the fun of betting without fear of judgment. On the other hand the sports book will always retain that customer and have a steady stream of revenue from them. The budget setting will be very easy to increase during high seasons and big events. 
How did you come up with the idea? 
Often the best innovations come from an outsider. I am a huge sports fan and I always felt like the betting world was a club exclusive to those with special know-how. That intimidation kept me out of many social settings.
I have also seen people bet irresponsibly and ruin families and lives. Our socially responsible platform will increase the overall betting revenue by making it easily acceptable to families and social groups to partake therefore increasing the number of customers nationwide and appealing to a much bigger demographic than it does in current form. 
Who is your target customer? 
Our target audience is every sports fan of betting age. By making betting easy and more socially acceptable and family friendly, we believe some traditionally non-bettors will begin to partake. Also for the same reasons those who already wager, will do it more often. 
How do you see the business developing going forward? 
We have a couple of patented ideas that will make a big splash when we launch them.
1- A database of expert (any relevant third party) betting performance and win rates.
2- A show in any format where the pundits analyze all the previous weeks tips and picks doled out by sportscasters and other top professionals in media. 
This will create an urgency to do more accurate research and make more careful picks. The plan is to create an environment of fun competition and have many sports talk shows actually discuss our program and our app in regards to their own standing. 
What sort of challenges does One Click Bet face? 
What we are offering is unique and never done before. So this may create some head scratching at first. However we have discussed and vetted our processes with many top Vegas professionals in depth and have seen much praise and enthusiasm. 
What sort of funding have you raised? 
Only self funding so far. 
One Click Bet at a glance: 
Product: One Click Bet, FeeNix Bet, Stadium Experience.
Founded: October 2019
Founders: Sean Malek: inventor and founder; Troy Rhett: original team member. 
Launch date: Seed stage
Markets: US
Website: www.oneclickbet.com
Location: Las Vegas, NV 
Sports Betting USA Digital takes place over November 12-13, featuring panels, presentations and exclusive insights from leading US operators, sports teams and lawmakers. Register here for your chance to attend.