While betting businesses may dominate the Pitch @ Sports Betting USA Digital line-up, this is a competition open to all aspects of gaming and related services – of which hospitality is a key part. This makes TendedBar, an automated drinks dispensing system, an intriguing – and innovative – prospect. 
If you think that TendedBar's tech could become a key part of gaming businesses around the world, vote for the business to make the final three!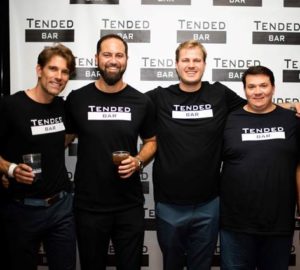 What does TendedBar do?
TendedBar provides an automated cocktail, beer, and wine dispensing system that can be installed in both mobile and permanent placement applications. Our is to serve cocktails fast, safely, and securely in high-volume and fast-paced environments. TendedBar's machine as a service model provides the most efficient way for today's consumer to access alcoholic beverages on the market. 
How did we come up with the idea? 
Jay Perkins had a senior design project while finishing up his engineering degree at Purdue University and decided to build a bar for his fraternity house. The project might not have been the prettiest of things, it might not have been the highest grade either, but it did catch the attention of a lot of people.
After being selected to present at Vegas College Invention contest called Recess, Jay Perkins explored the idea further and brought in Mark Cuban as a seed investor to build the first working machine making his idea a reality.
Shortly after this Jay brought in his brother Justin Honeysuckle a designer to help create the foundation of TendedBar. They soon realized the average corner bar was not ever going to be the target market, so they decided to shift to high-volume venues due to the consumer focus on getting cocktails and not necessarily the person serving them. 
TendedBar's target customer: TendedBar's focus is on high-volume venues and hospitality environments. Our modular system is designed to be tailored to its environment whether that is huge crowds or steady traffic throughout the day. 
TendedBar going forward: TendedBar has recently teamed up with Lancer Worldwide as its manufacturing partner. The Lancer brand is known throughout the industry as a top beverage dispensing company around the world. They have immediately given TendedBar the opportunity to improve the current system and maintain the capacity to expand its footprint per market demand.
Currently looking at the analytically driven markets of the brick and mortar side of the gaming industry as a prime target for expansion. These are places where the speed of service, consumption monitoring, cost savings, and customer satisfaction are all top of mind. TendedBar's focus on these key elements all while maintaining industrial-grade machinery in its automation is what will allow them to take the Post-Covid venue experience to another level. 
What sort of challenges does TendedBar face? 
TendedBar's biggest challenge is the cost of our machinery, by far. We have very expensive machinery and this was done intentionally for reliability. We have seen others try similar machines in the marketplace and we wanted to make sure our failure rate was as minimal as possible.
The second challenge is getting industries to see that the cost of automation is not only well worth it but also an investment that pays for itself over and over. The standard service in concessions and bartending atmospheres has not changed in hundreds of years, but as the cost of spirits and employees continues to rise automation will be brought to the forefront. 
What sort of funding has TendedBar raised? 
TendedBar has yet to bring in any large institutional type investments. Our current investments are below. 
Self-funded by co-founders
Individuals: Our first $25,000 investment came from Mark Cuban, after sending a
cold email about the company. We have since raised another $55,000 from friends and family. This $55,000 was then used to pay Mark's investment back and regain the shares given to him in the process.
Crowdfunding: We raised $200,000 from a crowdfunding campaign with Indiegogo and MicroVentures to finance our first installation in Vystar Veterans Memorial Arena. 4% equity was given at this stage in exchange for the investment
How did you find the fundraising process? 
The process is kind of brutal. It is always hard to justify your idea's worth when no one else has done it. This is why betting on ourselves in a crowdfund made sense. It was always easier for the average Joe to take a flier on a few hundred dollars than it was for the venture fund to maximize their investment potential at such an early stage. 
Do you think the investor appetite for gambling products and solutions has evolved in recent years? 
Yes, undoubtedly so. I look at the acceptance in the marketplace and the legalization of casinos and sportsbooks across the country and there is no question.
When you look at the fantasy sports market and how they have infiltrated every neighborhood in America for over 15 years you have to think the investment community is ready. Casinos, poker rooms, and sportsbooks are so widespread they better be ready to invest or they will miss out. 
TendedBar at a glance: 
Product: Automated alcoholic beverage dispensing systems, for mobile and built-in solutions
Founded: August 1, 2014
Founders: Jay Perkins and Justin Honeysuckle
Management: 
Jay Perkins – CEO
Justin Honeysuckle – COO
Nathan Kauffman – CMO-partner
Jimmy Puckett – Director of engineering-partner
Launch date: August 29, 2019
Markets: High volume venues, casinos, hotels, cruiselines, convention centers, festivals, airports, and anywhere self-service is applicable
Website: Tendedbar.com
Location: Vystar Veterans Memorial Arena in Jacksonville, FL 
Sports Betting USA Digital takes place over November 12-13, featuring panels, presentations and exclusive insights from leading US operators, sports teams and lawmakers. Register here for your chance to attend.