BV1sion and iGaming Business are pleased to bring the Q2 2019 Soical Gaming Dashboard, tracking the development of the free-to-play gaming sector
The Social Gaming Dashboard is your quarterly overview of the social gaming sector in numbers and enables you to follow the evolution of the market.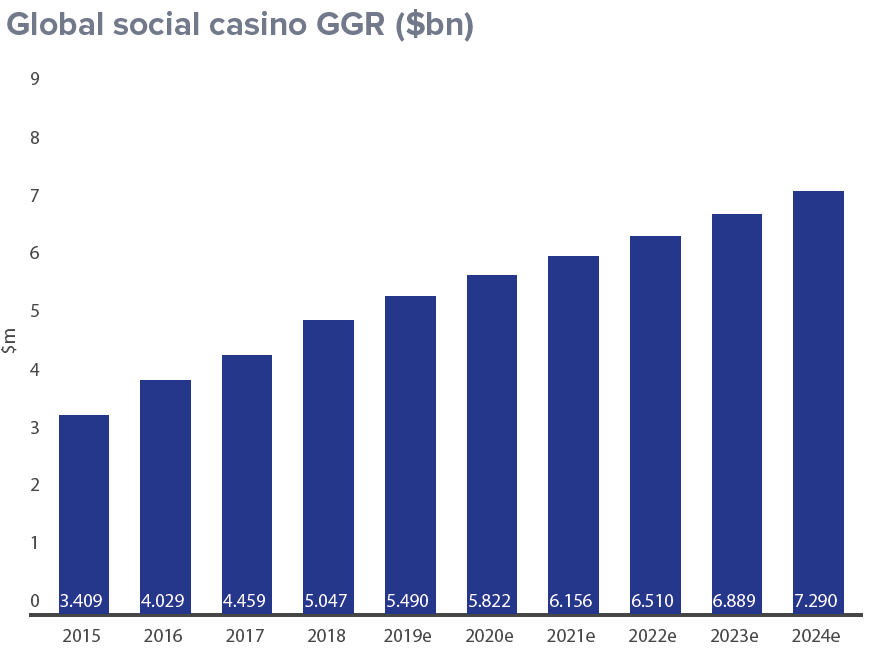 GLOBAL MARKET GROWTH FORECASTS
We forecast the global social casino market to grow by 9.8% in 2019 to $7.3bn – broadly in line with the growth reported in Q1. Growth is expected to slow in the medium term, with the market forecast to reach $6.9bn of GGR in 2024.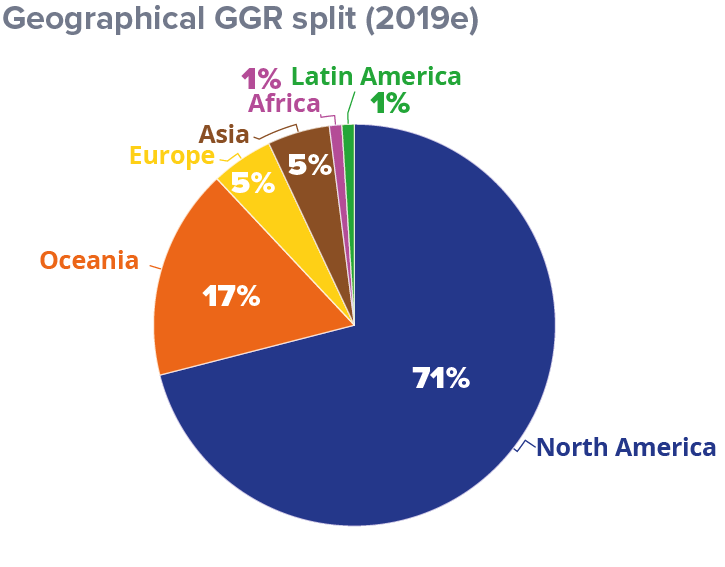 GEOGRAPHICAL SPLIT
The US is the largest individual market, with North America as a whole representing 71% of global GGR. Oceania is the second biggest market but growth in Q2 has been lower than in other regions, with Africa and Asia the fastest growing markets.
We forecast both Asia and Africa to grow at substantially higher rates than the more established North America and Oceania markets, however North America is still estimated to represent two-thirds of the global market in 2024e.


GEOGRAPHIC PERFORMANCE
We looked at 23 countries in terms of quarter-on-quarter revenue performance of Google Play social casino apps in USD. The top five and bottom five performing countries are shown in the table on the right. Korea continues to perform strongly, with Asia as a whole performing well, while India and Turkey are again two of the worst performing markets. The quarterly performance of each country can be relatively volatile, especially when looking at only one segment of the market, in this case Google Play app estimated revenues.
However, the trend of the higher performing markets is largely consistent with BV1sion's growth forecasts, with Korea consistently being one of the best performing markets. Australia's growth in 2019 is in stark contrast to its relatively weak 2018, which was something of an anomaly. Prior to 2018 the country had been one of the best performing markets.
MARKET IN FOCUS: TOP GROSSING US APPS
Unsurprisingly, Playtika continues to dominate the US market, with Slotomania by far the best performing app. Caesars Casino has re-entered the Top 10, taking the place of PlayStudios' POP! Slots app. The biggest mover has been Jackpot Party, which has gone up a number of places to become the second highest grossing app; this is consistent with the recent strong growth reported by Scientific Games' social casino division.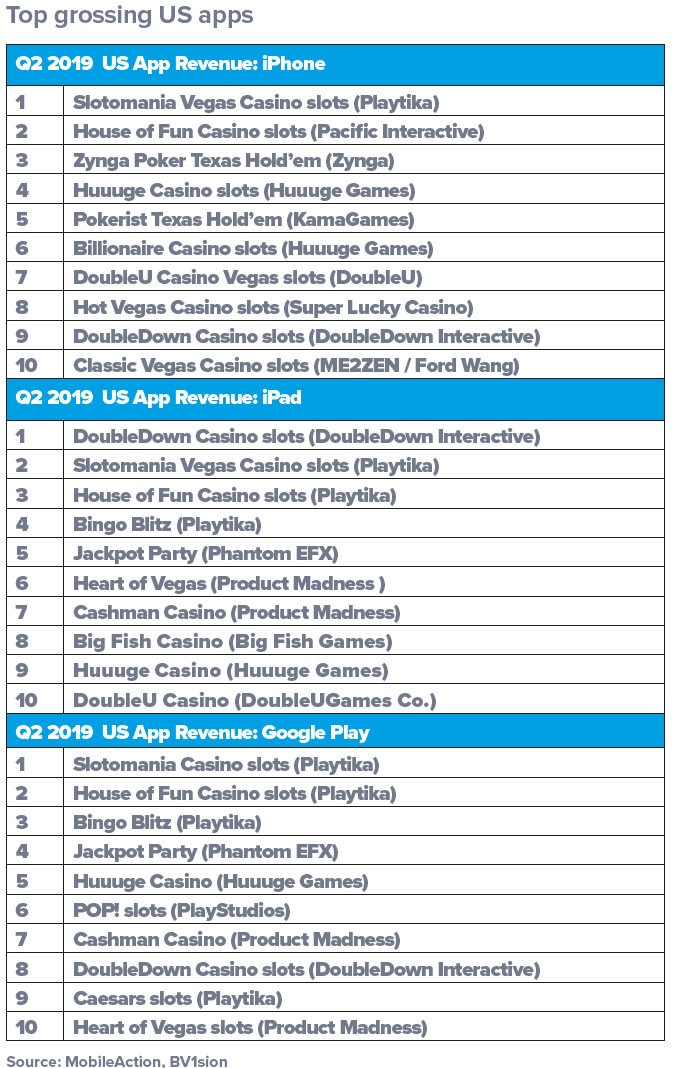 ---
BV1sion – The Social Casino Database is the social casino industry's leading market intelligence and data team. BV1sion has a partnership with H2 Gambling Capital, which has a track record of 15 years focused on the global gambling industry. Its projections have been influential in shaping legislators' and investors' views of the gambling sector across the globe.