This week's State of the Union, in partnership with Segev LLP, looks at legislative developments in Maine and New Hampshire, as well as the performance of the Delaware, Pennsylvania and Mississippi sports betting markets. 
Maine discusses sports betting regulation
The Maine legislature's Veterans and Legal Affairs Committee has made progress on developing a regulatory framework for sports betting in the state, though a number of key elements are yet to be finalized.
A working session was held yesterday (May 20) on Legislative Document 553, a proposal filed by Senator Louis Luchini, who chairs the committee. It currently contains no detail and must be fleshed out in committee before it can go before the state House and Senate.
NH bill heads for Senate Finance Committee
The New Hampshire Senate Ways and Means Committee has approved an amended bill to legalize sports betting, with the legislation now passing to the Finance Committee to work out start-up costs for legal wagering in the state.
House Bill 480 was passed with a number of amendments, most notably expanding the range of bet types permitted in retail betting facilities and setting a cap on the number of entities that may offer mobile wagering.
The bill, introduced by Representative Timothy Lang, would allow consumers to place bets at various retail locations across the state, as well as via online and mobile platforms. The New Hampshire Lottery Commission would be responsible for regulating the market.
Parx leads PA sports betting market in April
Pennsylvania has reported a 23.5% decline in sports betting revenue for April, with a weaker month for Rush Street's Rivers and SugarHouse venues allowing Parx Casino to take top spot in the market.
Total revenue fell to $4.2m (£3.3m/€3.8m), with handle down 17.4% to $36.8m, for a hold of 11.5%. This decline came despite full month contributions from betting at eight venues, up from six in March.
Leading the market was Greenwood Gaming and Entertainment's Kambi-powered offering at Parx Casino, though it saw revenue fall 7.8% to $907,298. A total of $6.9m was wagered via the venue.
Mississippi market declines in April
Mississippi has seen revenue from its legal sports market plummet in April, with basketball remaining the most popular sport for wagering.
Amounts wagered across all sports were down 40.8% month-on-month to $19.2m (£15.1m/€17.2m) in April, with $12.1m (63.0%) of this total staked on basketball.
The final stages of the National Collegiate Athletics Association's (NCAA) March Madness tournament were held during the month, with the National Basketball Association's postseason tournament then beginning on April 13.
Despite basketball's strong performance, it was significantly lower than the high level of activity seen in March, when the majority of the NCAA tournament took place.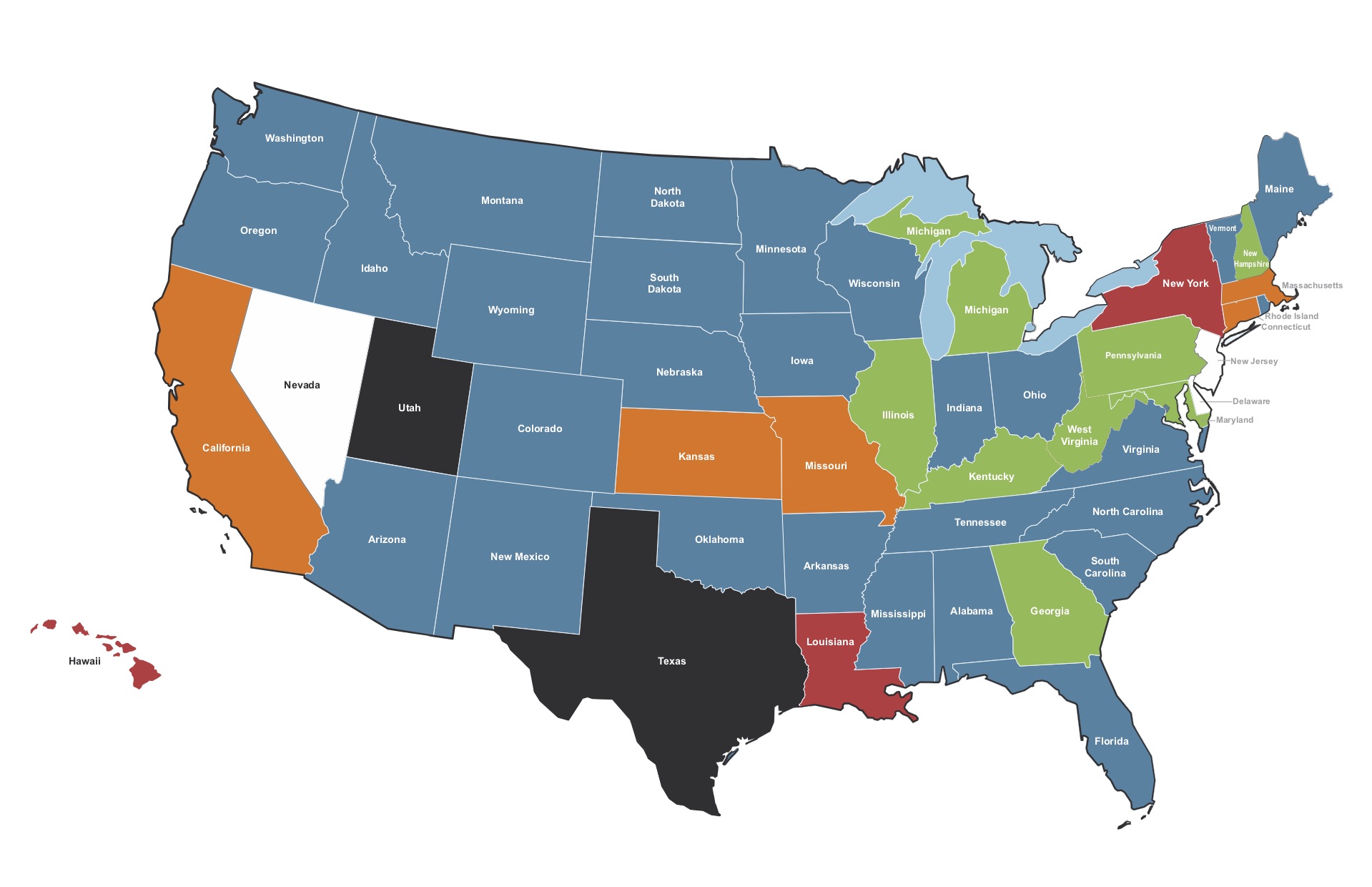 Delaware reports sports betting and igaming declines
Delaware has revealed a month-on-month decline in sports betting revenue for April, while online gaming revenue also fell to a yearly low during the month.
Sports wagering revenue amounted to $615,772 (£479,891/€549,244) in April, down from $1.64m in March.
Players also spent less, with April's total of $6.1m down from $10.5m in March, while punters won $5.4m compared to $8.6m in the previous month. However, March's figures were boosted by additional betting around the March Madness US college sports series.
PA fantasy market's first full year results in taxes of $3.4m
The Pennsylvania Gaming Control Board (PGCB) has revealed that the state has generated tax revenue of $3.4m (£2.7m/€3.0m) from its first full year of regulated fantasy sports contests.
Total revenue for the year running from May 2018 to April 2019 amounted to $22.5m, with DraftKings and FanDuel accounting for the vast majority of this sum. Operators pay a 15% tax on adjusted revenue derived from players in Pennsylvania, resulting in the $3.4m going to state coffers.
Mohegan Sun secures PA betting licence
Tribal casino operator Mohegan Sun Pocono's petition for a sports wagering certificate in Pennsylvania has been approved by the state's Gaming Control Board (PGCB).
The operator was approved at a PGCB hearing earlier this week, allowing the operator to move a step closer to launching a Unibet-branded sportsbook in the venue.
It still has to have its sports betting platform certified by the state regulator and complete a testing period before it can complete the roll-out.