Across the US lotteries are increasingly becoming involved in sports betting. But given the various different histories and aims of the two verticals, it's not always an easy combination. JOANNE CHRISTIE reports
A

s more US states legalize sports betting, more lotteries are becoming involved in the vertical, either as regulator or operator. It's fair to say there's been some debate about the appropriateness of lotteries' involvements on both fronts, but especially in relation to the latter.

In particular, the monopoly or quasi-monopoly mobile offerings of states such as Oregon and Washington DC have come in for heavy criticism for offering uncompetitive prices and poor user experiences.

But while not every US lottery may have gotten it exactly right so far, claims that they have no business entering the betting space are perhaps taking things a bit too far. After all, the concept is by no means unique to the US; there are operators all over the world running both lotteries and sportsbooks.

The key to doing so successfully would appear to be in recognizing that they are, in fact, two very different propositions and need to be approached as such.

"They are very different skills sets," says Marc Thomas, partner at gambling industry consultancy Propus Partners. "Running a successful sportsbook competing with all the dot.com operators is very different than providing lottery."

This is a sentiment Patrick Buffard, executive vice president of sales, sports betting, media, TV production and events at France's Française des Jeux (FDJ), would agree with. The formerly state-run company operates a monopoly business for lottery and retail sports betting but competes with private operators in the online sports sphere.

"Everywhere in the world, the player payout ratio for lottery games is significantly lower than for other types of gaming products (sports betting, poker, online casinos, etc.), but the maximum gains for lottery games are substantially higher. Only lottery games make multiple millionaires every year," he says. "France's online sports betting market is highly competitive, with 14 licensed online operators… our objective is always to propose competitive odds to our players."
FDJ's different approach to the different verticals would appear to be working well, as prior to the Covid-19 impacted year of 2020, its sports betting stakes were on a firm upward trajectory and indeed now seem to be recovering well from the worst effects of the pandemic.
Things haven't worked out so well everywhere, however, with the possible offloading of Tabcorp's wagering arm in Australia a case in point. While the lotteries business has boomed since the merger of Tabcorp and Tatts back in 2017, the betting arm has continued to lose ground to online bookmakers such as Sportsbet and Ladbrokes, which typically offer punters better odds.
Building on brand
However, not everyone thinks lotteries should try to compete with private operators on price. For example, Nicole Jordan, director of marketing and communications at DC Lottery, says that is not the aim of GambetDC, the lottery-operated mobile sportsbook.
"A lottery-operated sports betting model is drastically different than a private-operated sports betting model and our pricing should not be compared. Private operators treat sports betting like another casino game. In order to compete with other games like slots or blackjack, casinos need more competitive payouts to bettors in order to entice them to bet—a roughly 95% return to bettors.
"GambetDC is a lottery-operated sportsbook. It's not designed to pay out like a casino-model sportsbook. Our hold is higher because our mission is to maximize profit to the district. The higher odds are directly correlated to revenue generated for the city. Private operators do not 'return' or contribute to the district the same amount as GambetDC. Private sports wagering operators in the district are being taxed 10% of their GGR while the lottery-operated model returns nearly 50% of profits to the city."
Rather than pricing, Jordan says it relies on other aspects to pull in players. "For nearly 40 years the DC Lottery has been a trusted brand in the district. We operate in a manner that fosters public confidence and trust in the integrity in our games and that is our competitive advantage."
The brand power of lotteries is undoubtedly strong and this was a key consideration in New Hampshire when it started looking at how to run its sports betting market, says New Hampshire Lottery executive director Charles McIntyre. "One of the things we saw in our testing was that our brand was the most trusted by far and away, with no close second. So when we said 'who should be the ultimate operator of sports betting in the state?' and listed all the choices—DraftKings, Caesars and a whole bunch of them—New Hampshire lottery was chosen far and away.
"Folks who gamble just know that if they play with us they are going to get paid, they just know that is going to happen and I'm not saying that the operators don't have the same level of integrity, but it's not ingrained in the player base like it is with the lottery. For the testing we saw in our state we were the clear choice of people to be the ultimate operator of sports betting."
Thomas points out that lotteries bring other things to the table as well. "Maybe in comparison the value of their offering to their customers could be perceived as poor, but they are very good at probably all the other aspects of it, they are very good at retail and distribution and potentially marketing within their particular territory; all of those skills or facets are incredibly important for running a sportsbook," he says. "Responsible gambling and all the facets of that are incredibly important in the US and indeed everywhere, and lottery providers by their very nature tend to be very good at this sort of thing."
Knowing your audience
There are, however, a couple of counterpoints to the idea that lotteries can trade on their other strengths to attract bettors. The first is that there isn't actually a lot of crossover between lottery players and sports bettors.
"There is not as much as you'd think," says McIntyre. "[Sports bettors are] a very different customer, especially on the app—it tends to skew younger and male and our ilottery platform tends to skew older and female and there is not a lot of crossover."
Buffard has a similar view. "FDJ has a broad player base made up of 23 million customers aged 18 and up, who play at either lottery games, sports betting or both, but this last category of 'crossover' players remains a small minority. Sports betting tends to attract a younger, more male and more specific player profile than lottery games."
The other issue is that even where a lottery has a monopoly, there are almost always options outside the legal market.
Last year Propus Partners' Bookies Matrix site carried out a wide-ranging analysis of market overrounds on the 'match winner' market of a La Liga match, comparing the widest range of fixed-odds bookmakers that had ever been compared.
It found a clear pattern in that markets that featured monopoly operators also typically had the highest overrounds as they were not under pressure to compete with private operators.
The worst value for players was found in Turkey, where there is a sports betting monopoly, and Thomas says it's no coincidence there's also a thriving black market in Turkey.
"Within that territory there is a huge amount of offshore-related betting," he says. "There are organizations who have been active within the unlicensed market for years and years—it is almost above the line, with only occasional actions from the Turkish government."
Given the number of years where the US had no legal sports betting option, the black market is perhaps a bigger competitor than is the case in many other jurisdictions. And in smaller states in particular, neighboring states can also prove formidable opponents in the battle for bettors' spend.
A balancing act
Lotteries therefore need to work out how to maximize returns for the state but also make sure their offering is competitive enough to entice players away from the competition.
McIntyre says New Hampshire went into its sport betting research with "no preconceived notions of what we were going to do," before ultimately agreeing to grant DraftKings exclusivity on mobile betting in the state. Under the terms of the deal, New Hampshire receives 50% of sports betting profits, which goes towards funding education in the state.
But unlike some monopolies, McIntyre says player value was a key consideration. "When we were talking with them about doing this, we wanted to make sure we had the rates that the markets were for other states. There is someone else you can go to: it's called your bookmaker and so we knew we had to be competitive with the illegal market.
"We make sure our hold is in line with every other major market's hold. It's 7%, which is just in line with Nevada and with New Jersey so we are not being overly greedy. There is no question it would have be easy for us to tweak lines for gain but if we had done that I'm sure we would have been called out for doing that."
In New Hampshire's case, the idea of cutting out the competition was more about cutting down on marketing costs and gambling advertising. "When there are 10 players in a market and their acquisition costs are a multiple of what they are here, they are spending it to acquire customers and they are not profiting from the enterprise and the state is not profiting from the enterprise," says McIntyre.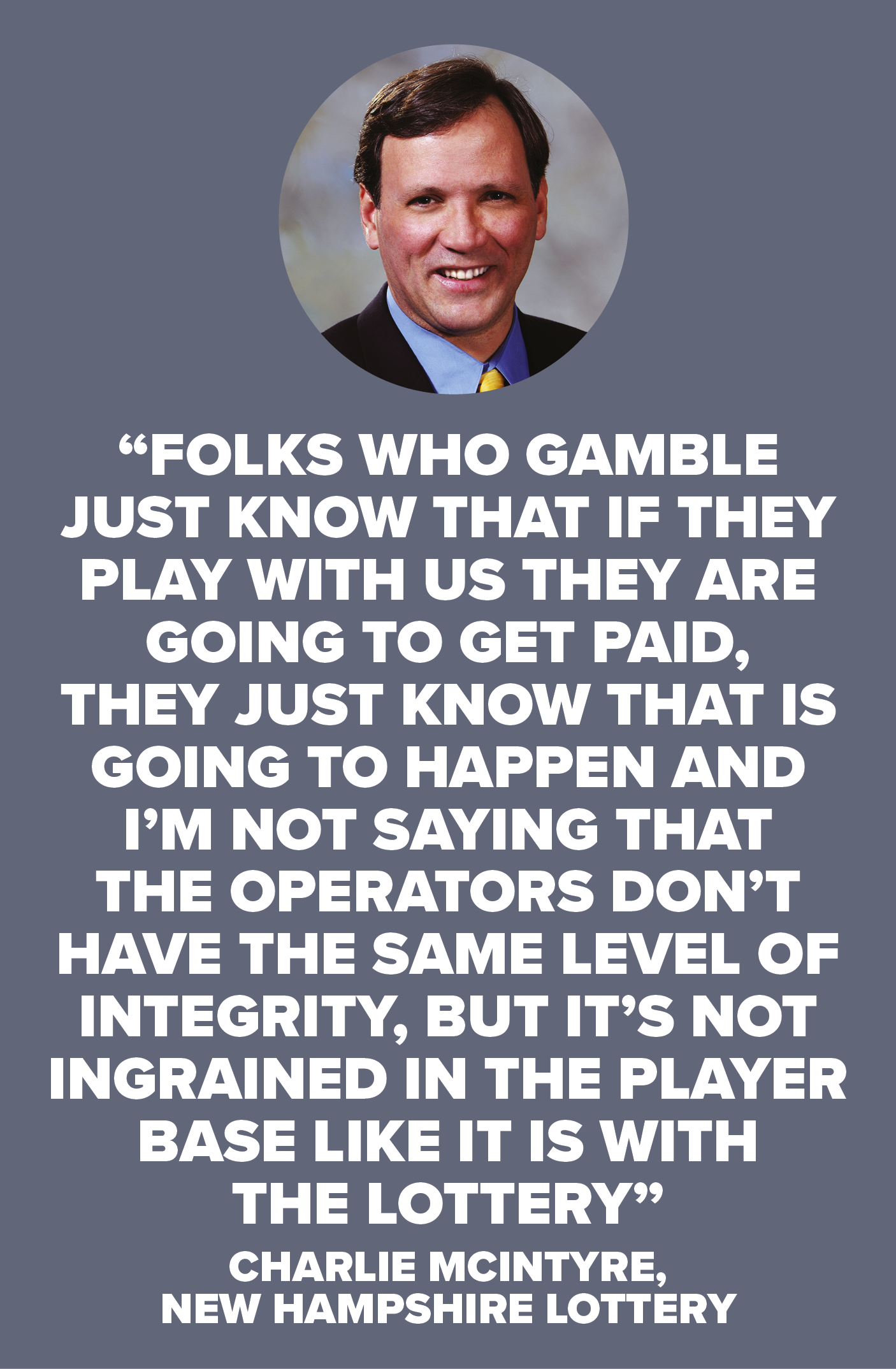 Though New Hampshire's first fiscal year (albeit it launched halfway through FY2020 in December 2019) of sports betting was negatively impacted by Covid-19, in the current fiscal year McIntryre says it is ahead of expectations.
As at the end of March—with three months of the reporting period left to run—handle had reached $392.3m, with returns to the state at $13.2m. Of course, this is a long way off the figures of a state such as New Jersey, but given New Hampshire's population is only about 1.4 million, its monthly stakes would appear impressive compared with say, the early takings of other smaller states such as Iowa, which has more than double the inhabitants of New Hampshire.
New Hampshire's $334.2m in online handle is certainly a long way ahead of DC's GambetDC, the only provider allowed to offer a city-wide mobile sportsbook (private operators can offer mobile only in and around their licensed retail venues).
Though DC's population is only about half that of New Hampshire's and its current fiscal year includes only seven months of takings as opposed to the nine of New Hampshire, DC's $28.2m in stakes so far would suggest it is lagging in terms of popularity among players.
In fact, since William Hill launched a retail betting venture in the Capital One Arena in July last year it has taken in more revenue than GambetDC in every single month, which suggests while the lottery may be set on offering a 'lottery-operated sports betting model,' it's the 'private-operated' model that players in the state actually want.
But clearly it isn't an either/or for players. For many bettors the world over the sporting arms of lotteries are their preferred option even when better odds are offered elsewhere—if this wasn't the case there wouldn't be so many lottery/betting organizations still in operation. The key would seem to be in knowing where the exact sweet spot is between price and everything else a lottery offers, but it's clear from the experience of lotteries so far that this is no easy task.
Expansion dilemma for Delaware
To some extent, many US lotteries have the luxury of trial and error when it comes to sports betting. While states inevitably want—and perhaps need for their post-Covid recoveries—extra revenues, in many cases these are new revenues so if they aren't as high as hoped, that's unlikely to prove catastrophic and strategies can be adjusted going forward.
But there's a lot more on the line for Delaware, says Delaware Lottery director Vernon Kirk. While it was one of only four states to have sports betting laws on the books when PASPA was overturned, and was the first state to allow legal single-game sports bets outside of Nevada after the ruling, it has yet to offer mobile betting.
"Moving to mobile is our biggest challenge right now," says Kirk. This challenge is mostly related to the fear it will cannibalize existing activities, namely its racetracks and parlay betting operations, such that returns to the state may decrease rather than increase.
"We could legally operate it ourselves, just hire a DraftKings or whomever to run it, but that could hurt the tracks," explains Kirk. "If we want to include the tracks, mobile player registration is problematic—Rhode Island demonstrated registering at a brick-and-mortar casino was far from optimal. We could tell the tracks, 'You do it': hire a risk manager, pay all the associated fees—geolocation, player identification, wallet and payment fees, etc.—and just give the state a percentage of the profits. Of course, they may hire someone other than the lottery's risk manager [William Hill] and then there would be internal line variances."
And since 2012 legislation allowed the lottery to expand sales of football parlay betting beyond casinos and sell in retail outlets, it has developed a huge business in this high-margin area. "How will mobile impact our retailer parlay betting," asks Kirk? "In round numbers, the state's share this fiscal year (July-June) will be $15m-plus, of which $9m-plus will be from the retailers' football parlay cards. Will the high volume of betting with low hold be enough to offset the high hold from the parlay cards? We don't know."