In the wake of new market launches in the US and a regulatory breakthrough in its native Canada, theScore is preparing a significant operational overhaul. Cole Rush talks to president Benjie Levy about its plans. 
It's been a busy year for theScore. In the first half of the year alone, the company has hit a number of milestones and made headway in various markets. February, for example, saw the company launch theScore Bet in Iowa, its fourth US market following Colorado, Indiana, and New Jersey. 
While an Iowa launch is certainly nothing to scoff at, it's only the tip of theScore's iceberg. This year marked the company's initial public offering in the US, a giant leap forward for its native Canada sports betting market, and now, significant steps to bring sports betting operations in-house.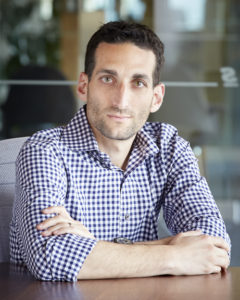 Benjie Levy, president and chief operating officer of theScore, is thrilled about the company's current prospects. 
"For us, 2021 has been a great year," he says. "We're coming out of Covid. We're seeing our users get back to where we want. We're seeing our engagement get back to where we want. 
"We're making tremendous progress on our tech stack; it's been our vision from the outset to bring our tech in house, and we've been gradually building it and bringing on pieces over the last two years, culminating with the complete migration to our player account management and promo engine in August."
Over the next twelve months, the operator will look to double its state footprint in the US, and prepare for legal betting and igaming in Ontario. 
"That's probably one of the biggest highlights of the year, the legalization of single-event sports betting in Canada," Levy says. "It's a tremendous event. It's Canada's version of a PASPA moment, happening right in our backyard, and we couldn't be more excited."
"So, yeah, it's kind of a sleepy time here," he jokes.
In its most recent results, the business reported record handle of $73.0m, including a single-month record of $30.8m in March. Its media business has rebounded strongly from a pandemic-addled 2020. Now, theScore has its sights set on the future. The company's plans are in place, and it's staged for immense growth. 
"We're focused on our integrated approach to media and sports betting," Levy says. "Our philosophy is that we should bring the bet as close as possible to the customer with unique integrations we have in our media business, plus focusing on our technology. 
"On a standalone basis, this was our best third quarter ever from a media revenue perspective, and things are coming along across all aspects–product, technology, marketing, and media. It's encouraging."
Of course, success doesn't happen in a vacuum. To ensure long-term growth, theScore is firing on all cylinders. This has seen it launch a significant overhaul of its technology.
Bringing it in-house
Levy and theScore have a vision for their products, and they're working toward that vision by fortifying the business with a healthy stable of in-house technology. 
First, the company is bringing its proprietary Player Account Management (PAM) system and promotion engine into the fold.
"Of course, in-house tech clearly has a financial element to it," Levy says. "But for us, it starts with the product, having our own PAM and promo engine, and then, ultimately, hopefully over the next year bringing risk and trading in-house as well. It allows us to innovate from a product perspective."
Levy is quick to point out that technology is especially crucial for an integrated media and betting business. "This isn't just a standalone betting platform," he says. "Our sportsbook platform is designed to work seamlessly with our media platform as users move back and forth between the two."
What, then, does that integrated approach require from a tech perspective? "A robust, flexible tech stack that can take inputs from the media side and the betting side, which in turn we can use to create a unique consumer-facing experience that wouldn't be possible with an off-the-shelf tech solution or, quite frankly, an in-house tech solution that we acquired but wasn't built for a specific purpose."
Among others, one benefit of theScore's ongoing initiative to bring tech in-house is shorter launch timelines in new markets. "We've done a lot of that process over the past year and a half, building up in-state infrastructure, to help speed up our time-to-market. As we control more elements of the stack, that will shrink our timeline even further."
PAM and the promotion engine only represent the beginning of an ongoing shift for theScore. There's much more on the horizon as Levy and theScore set their sights on new markets and expanding their audience. 
Next up: Risk and trading
With PAM and promotions now under one roof, theScore wants to risk and trading in-house as well. To this end, the company will welcome Patrick Jay, a veteran of Ladbrokes, the Hong Kong Jockey Club, and, most recently, chief interactive officer of Belgium-based Gaming1.
"Patrick is phenomenal," Levy says. "The next piece for us is to bring risk and trading in-house, and to do that, we need a world-class leader. Patrick Jay fits the bill perfectly. He's going to come in – he starts in September – and help us build out our risk and trading platform. He'll also be responsible for building out risk and trading team."
The appointment of Patrick Jay and the construction of a ready-made risk and trading team, Levy says, gives theScore excellent market positioning. 
"At that point, we're going to have a fully integrated PAM, promo engine, and risk and trading engine. In our view, that allows us to even further differentiate what we can do with all of these systems in-house, talking to one another. We're thinking about how we can create experiences across media and betting on a deeply personalized level."
That personalized experience can serve sports bettings and consumers of sports media in a way many platforms can't. Once all these services are under theScore's umbrella, Levy says, the sky's the limit in terms of what the company can offer to its users. 
"This will manifest itself in our market offering. It'll manifest itself in what we're able to offer our users, who enjoy both our media and betting platforms. It could be special promotions; it could be markets – specific, exclusive markets we're able to offer you to bet on. That's the magic of owning our infrastructure. It's totally in our control; whatever we dream up for our users, we are now capable of creating. We don't have to rely on third parties to do it."
It's almost as if in-house technology serves as a home-field advantage of sorts. And, speaking of home-field advantage…
Canada sports betting
Bill C-218 passed in June, bringing single-event wagering to Canada. The landmark measure was highly anticipated throughout the country, and Ontario-headquartered theScore is understandably thrilled. 
Though the provinces still need to put forth individual regulatory frameworks (mirroring the US market's state-by-state approach in a way), the country is eagerly awaiting the advent of single-event betting. And no market is more collectively excited and prepared, arguably, than Ontario. 
"Ontario is certainly furthest along from a framework and regulatory perspective, " says Levy. "Final regulations are going to be coming up before the end of the summer, and applications are going to start in the fall. 
"Then, the market's expected to open in December. Other markets might take different approaches, much like in the US. So, I think from that perspective, many Canadian provinces are looking to see what happens in Ontario." 
US betting enthusiasts may find that outlook familiar. New Jersey, one of the first sports betting markets in the US, set an example many newer markets use to inform their legislative framework. Like New Jersey in the US, Ontario could serve as an excellent benchmark for provincial sports betting success in Canada.
theScore, of course, is primed and ready: "We're set and able to play across the country as those [provincial] markets open. What gets us most excited about Canada, in addition to our user base, is our brand legacy. We were a sports network here for 25 years.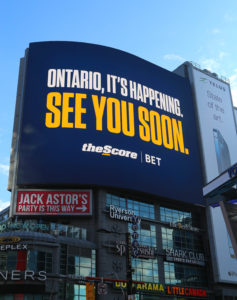 "Kids who were eight years old, falling asleep with the glow of theScore on their screens, are now 25, 30 years old. They're avid sports fans. They're using our app. And frankly, they're ready to engage with our betting platform. We think we're very well positioned with the combination of our brand, our user base, and our platform to do well in this market."
Levy is careful not to oversell theScore's positioning in Canada or Ontario specifically, however. And that's fair, considering the sheer size of the market. He is, however, excited about the competition at hand.
"Ontario is going to be the biggest online gaming market in North America," Levy says. "When you look by population, it's the fifth-largest jurisdiction behind California, Texas, Florida, and New York."
Ontario supersedes these markets by virtue of being the only one on the brink of an actual sports betting launch. Each of the other four markets has or is attempting to legalize online sports betting in some capacity, to varying degrees of success.
New York is arguably the closest, but the market's regulations are fuzzy at best, and progress is intensely slow. Ontario, by comparison, has a massive headstart on its biggest US competition, at least in terms of launch timeline. 
"We can see how those US markets have unfolded and then look at what Ontario has done. What a contrast. Ontario has been at this since 2019, but the province took the time and got it right. On the other side, you'll see a robust and healthy online gaming marketplace that's great for players and provides world-class market offerings underpinned by strong responsible gaming and player protection initiatives. It'll serve as a model to other jurisdictions not just in Canada, but in the US as well."
And with such a healthy market comes fierce competition.
Levy continues: "Ontario will have the most progressive, open online gaming and sports betting regulatory framework in North America. So it's going to be competitive. The offshore guys are going to come in. The big players from the US are going to be coming here. But there's no place I'd rather fight them than on my home turf."