Splitting from a high profile partner is not exactly new territory for Kambi – after all, its break from Kindred gave it the independence to make a push into the US. Those keen to write the supplier's obituary after the loss of DraftKings will therefore be sorely disappointed, says chief executive Kristian Nylén.
For Kambi, 2019 had a sting in its tail. On December 23, Diamond Eagle Acquisition Corporation announced that it had agreed a transaction that would see it act as the vehicle to combine DraftKings with SBTech to create a new, US listed gaming giant.
Yet this was hardly greeted with dismay by Kambi. The supplier was magnanimous, putting out a statement in which chief executive Kirstian Nylén pledged to provide the same level of service that had helped DraftKings become a US market leader as long as the relationship lasted.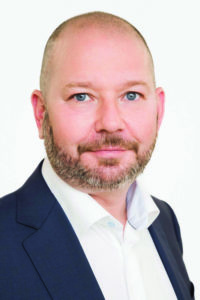 It wasn't hard to detect a note of defiance, too. Nylén noted that it was not up to him to comment on its partner's strategic choices, adding that Kambi had built itself into a supplier with a number of "high-quality, visionary" clients.
"Furthermore, we believe the combination of a competitor and a high-profile operator has the potential to strengthen the appeal of Kambi in future sales processes," he added.
Kambi's share price fell following the announcement. This was to be expected, though the shares have already risen 12.61% from the 52-week low set that day. Trading was suspended on the day, though this was only for the Nasdaq to ascertain whether a notice of termination had been issued (it has not).
The supplier insists its reaction is not damage control. It's more a genuine belief that the opportunities created by the shift for Kambi and its partners will more than offset any hit it faces from losing its highest-profile client, it says.
Speaking to iGamingBusiness.com, Nylén says he doesn't feel let down. DraftKings doesn't owe the supplier anything, he says.
"It's been a great relationship and has created a lot of success for both parties," he says. "It's put Kambi on the map as a leading supplier in the US market. 
"Of course, I'm disappointed. Disappointed because I couldn't convince them that they are making a mistake, as I still firmly believe DraftKings would be best served staying with Kambi as a supplier."
While he tells iGamingBusiness.com that he would "of course" have preferred to keep DraftKings as a client, it's just one of a number. This means it's not even a case of going out on the hunt for a similar partner that could 'replace' it.
"I think we already have a wonderful set of partners in the US, with a lot of headroom to grow," he says. 
Local heroes
These partners range from the national brands in Rush Street and Penn National Gaming, to the "local heroes" such as New York's Seneca Gaming Corporation and Pennsylvania's Parx Casino. Then there are those waiting for regulations to pass, Connecticut's Mohegan Sun and Ohio-based Jack Entertainment. Its erstwhile parent Kindred is also active in the US, having launched in New Jersey and Pennsylvania.
"So we already have a great customer base," he says. "We are firmly committed to the US and believe we are a very attractive potential partner, so I have no concerns regarding our position there."
He views the US as similar to Europe, in that there is a patchwork of different regulatory models, albeit without the added complication of language barriers. There are the multi-state operators, from DraftKings and FanDuel to Fox Bet, Caesars and the MGM-GVC joint venture Roar Digital, but these are few and far between, he says.
Aside from DraftKings, Kambi arguably already has two more of these multi-state clients in its partner roster: Rush Street and Penn National. 
This makes signing up more"local heroes", the operators with a strong presence in a single state, the core focus. 
And in his view going for these deals is going to be much easier. Nylén believes the DraftKings-SBTech deal has "weakened" a key competitor, which in turn can work for Kambi's benefit. 
This shouldn't be viewed as a way of talking up its future prospects at the expense of another, however – Nylén points out that he has first-hand experience of how "restricting" it can be to be part of a major operator. 
Kindred past
This, of course, refers to Kambi's beginnings as a subsidiary of Kindred Group, the operator formerly known as Unibet. 
"We founded Kambi in 2010 and at this time we had a clear picture of how to be successful, which was by becoming an independent company," he explains. "That didn't happen until 2014, and it was quite a different experience when we became a stand-alone company. 
"It became easier to gain that high level of trust required to be a true partner."
Suppliers have access to important, sensitive data, he says, and partners will be wary of providing this to what is essentially an arm of a competitor. Furthermore, suppliers that derive the majority of revenue from a single client could be viewed as being led by what that dominant partner wants or needs.
"Therefore, being an independent company creates a much better focus, and makes you able to take decisions that are good for your whole partner network and Kambi as a company, rather than the operator that owns you," Nylén says.
He points out that many major decisions taken since Kambi split from Kindred, such as its entry to the US, and targeting land-based clients to take them online, were only possible due to its independence from the operator.
Cost concerns
What remains to be seen is what happens next. The prospectus published by Diamond Eagle earlier in January confirmed what the industry already knew – that DraftKings will indeed drop Kambi as its sportsbook provider.
What it did not reveal is exactly when this would happen – the prospectus seemed to hint at it happening at the end of 2020. Whether this is accurate remains to be seen.
Nylén doesn't know when it will be – "that's more a question for DraftKings," he says – but he adds that it will not be an easy process.
"If you look at what has to be completed, it's a significant undertaking and rarely do these mergers go smoothly. 
"There's the technology aspect, the customer migration issue, the regulatory impact to ensure the new solution is compliant in every state, and also the product gap compared to what DraftKings offers now will need to be bridged."
He points out that being able to handle high levels of traffic will be a key consideration. After all, DraftKings is a mass market brand, which has taken a podium position in just about every state it has entered, aided by the brand recognition generated from its daily fantasy offering. 
Yet something that DraftKings chief executive Jason Robins said in the wake of the deal may infer that part of the reason behind the decision to go for SBTech was price. Robins suggested that future cost savings played a role in the decision to move away from Kambi. 
Does this mean that the supplier is too expensive in a market where operators will soon shift their focus from customer acquisition to turning a profit?
Nylén denies this.
"First of all, the income we are getting is based on revenue share," he points out, adding that this is often overlooked by the industry. 
"DraftKings risks losing revenue by swapping to a service that may not have the same revenue-driving quality," he explains. "If they can't retain the same quality, they will not be able to retain the same level of revenue, which means there will be no cost saving as the same levels of income won't be there."
In short, success has a price – the more business, the more the software provider is due.
In Pennsylvania, for example, Kambi-powered brands accounted for around 60% of sports betting revenue in December 2019.
"If you add FanDuel's market share as well, you're down to just single digits across all the other operators," Nylén adds. "This highlights the need for a high-quality product. You can only go so far with a strong customer database, as it is very easy for the end user to swap if they're not happy with the product."
"Secondly, it's very easy to underestimate the complexity involved in building a highly competitive sportsbook," he continues. "Outside of Kambi and Bet365, there aren't many that have succeeded in this area. 
It's not only difficult to build, but also costly to develop, maintain and improve, he continues. 
"Finally, who knows what kind of revenue share we would have been looking at if DraftKings were to generate the size of revenues they set out in the prospectus? It's not certain at all that we would have asked for the same revenue share deal."
Room for manoeuvre
And it's not certain that other sportsbook supply deals will remain in place. Again, he brings up the example of Europe. 
The launch of online betting started with the traditional retail giants, before new, online-only challengers were able to steal a march on these incumbents due to superior product offerings. 
"We've not seen the end of it in the US, as to who will be the big market leaders in the years ahead," Nylén says.
"[To] be successful long-term, you have to have a great product," he continues. "We more than anyone else have proven what we are capable of, and what market share our operators can achieve in the US. 
"At the same time, there are others in the US [not powered by Kambi] that have probably underperformed so you'd have to think that they'd be considering their sportsbook options moving forward."
Kambi, he adds, has not simply seen its product work particularly well with a few partners, and decided that it has now offers an optimal solution. It has been making incremental improvements, to reduce friction for the end user with minimal problems and outages. 
This follows extensive development in recent years, to create a strong product for the major US sports and ensure quick and efficient launches. 
This has already seen it achieve a number of market firsts. It was the first mobile operator to launch in New Jersey, the first retail solution to go live in New York and the first mobile roll-out in Pennsylvania, not to mention day one launches in Indiana and Iowa. 
"We have proved from every angle that we have a great product for the US market," he says.
Ultimately, while Kambi has suffered a setback in losing its highest-profile US client, Nylén insists it's "business as usual". There is not going to be any impact on staff numbers, the product roadmap or a dialling back of its ambitions going forward.
"We're very focused on our partner network and will continue to seek out new opportunities," he says. 
"These are exciting times, we are on a long journey and still have so much to look forward to."
It may have suffered a significant, and very public, blow, but it's clear Kambi believes it's far from out. The challenge will be to convince the markets of this. The 12.61% rise from the 52-week low of SEK119.70 per share set on December 23 suggests it is making progress here. This, however, remains far below the high of 224.00 set on 13 February, 2019.
There is a long way to go, but for a business that owes its current profile to an earlier conscious uncoupling from a major partner, it at least has experience of how to achieve this.