This week's State of the Union, in partnership with Segev LLP, covers Illinois Governor signing a wide-ranging gaming expansion bill into law, as well as new hope for legal wagering in California. 
California Assemblymember files sports betting proposal
California Assemblymember Adam Gray has filed a constitutional amendment to clear the way for the state to regulate sports betting, provided it is ratified by citizens in a statewide ballot. 
ACA 16 would amend Section 19, Article IV of California's Constitution of State to give the legislature the power to authorize sports betting regulation. This would clear the way for legislation to be introduced to establish a regulatory framework and tax system for the vertical. 
Assembly Governmental Organization Committee chair Gray explained that the amendment was filed in response to the Supreme Court's decision to strike down the 1992 Professional and Amateur Sports Protection Act (PASPA) in May last year.
"The US Supreme Court has shouldered the burden of bringing legal clarity to the issue of sports wagering and the rights of states under the Constitution," he said. "Now it is the responsibility of the Legislature to determine the most prudent way forward."
Illinois Governor signs gaming expansion legislation into law
Illinois Governor J.B. Pritzker has signed into law the far-reaching gaming expansion bill passed by the state legislature early in June, paving the way for the roll-out of regulated sports betting. 
Senate Bill 690 was one of four bills signed by the Governor as part of the Rebuild Illinois capital plan. This aims to raise $45bn to invest in roads, bridges, railways, universities, early childhood centers and state facilities over the next six years, creating an estimated 540,000 jobs over that period.
The gaming expansion bill allows for the establishment of six new land-based casinos, including a major facility in Chicago, as well as the roll-out of slot machines at racetracks and the O'Hare and Midway airports. 
It also includes Representative Robert Rita's Sports Wagering Act, which was attached to the wider bill in a last-minute push to shepherd sports betting legislation into law. 
This sets out a $10m license fee for master licenses for casinos and racetracks, with online licenses costing $20m and both certificates valid for four years. Sports facilities, stadia with a capacity of 17,000 or greater, will also be able to secure a licence at a cost of $10m, which also allows for mobile wagering within a 5-block radius of the venue.
Rhode Island sports betting revenue slips in May
Legal sports wagering revenue in Rhode Island fell 54.4% month-on-month to $899,165 in May, despite punters spending more on betting than in April.
The Twin River Lincoln and Tiverton casinos, the only two venues licensed to offer sports betting in the US state, took a total of $18.9m in wagers, up from $16.9m in the previous month.
However, with the casinos paying out a combined $18.0m to punters – compared to $14.9m in May – revenue fell and ended two consecutive months of revenue growth in Rhode Island.
Twin River's Lincoln remained the venue of choice for consumers in the state, with players spending a total of $14.6m on sports betting in May, up from $13.7m in the previous month. The Lincoln facility paid out $14.1m in overall winnings, leaving it with revenue of $574,703 for the month.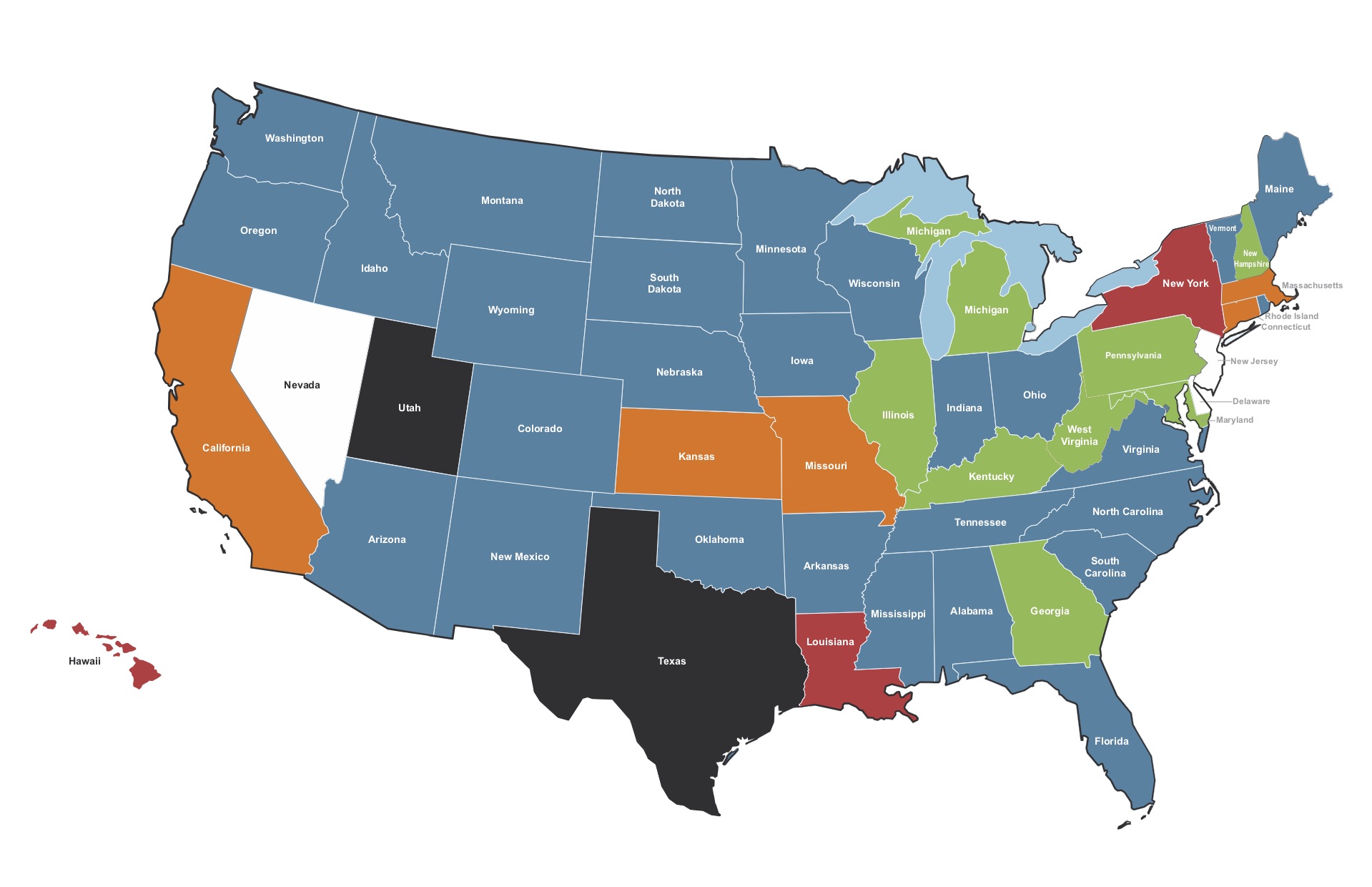 Parx completes online sportsbook roll-out in PA
Greenwood Gaming & Entertainment's Parx Casino has confirmed the official launch of its new online sportsbook in Pennsylvania, powered by technology partners GAN and Kambi.
Parx Casino this week carried out a three-day soft launch period to test the new service. The test was completed, with the Pennsylvania Gaming Control Board (PGCB) subsequently approving the full launch. 
It becomes the second online sportsbook to go live, behind Rush Street's PlaySugarHouse.com, also powered by Kambi's technology.
GAN provides Parx with its gaming platform, into which Kambi's sportsbook solution has been integrated. The offering is to be expanded further with the addition of online casino, scheduled to launch from July 15. 
Nevada sportsbook handle falls below NJ in May
Nevada's sports betting handle rose 0.6% year-on-year to $317.4m in May, though total gambling revenue for the month was down 6.0% to $981.8m. 
May marks the first time amounts wagered in New Jersey have surpassed stakes in Nevada. Earlier this month figures from the New Jersey Division of Gaming Enforcement revealed that bettors staked $318.9m in May, of which of which $263.6m was spent online. 
Nevada's sportsbooks saw revenue decline sharply year-on-year, falling to $11.3m. The majority ($7.8m) came from baseball, with a further $4.5m coming from basketball, while a $2.4m loss on football drove down revenue. A further $1.3m was generated from betting on other events, along with $72,000 from parlay cards. 
DC Council raises concerns over Intralot sports betting contract
Councilmembers in Washington DC are are increasingly questioning the decision to award Intralot a contract to power sports betting in the US capital, which could potentially delay the roll-out of land-based and mobile wagering. 
At a Committee of the Whole hearing earlier this week, councilmembers again lined up to criticise the move to select Intralot, the DC Lottery's solutions provider for draw-based games, the contract. 
Councilmember Robert White, who voted against the sole sourcing measure in February this year, argued that lawmakers had failed to justify awarding the contract without an open tender. 
Budget legislation strengthens Sportech position in CT
Legislation passed as part of the Connecticut State Budget has strengthened Sportech's exclusive license to conduct pari-mutuel betting in the state. 
Sportech, via its Ventures subsidiary, is licensed to offer off-track betting in the state, which it does through 15 venues and an online portal. 
State laws have been amended to outlaw betting via unlicensed online operators, effective October 1, in the two-year budget passed by Ned Lamont earlier this week.
AGA reshuffles management team with trio of promotions
The American Gaming Association (AGA) reshuffled its management team to reflect the industry body's focus on market modernization and advocacy, while high-profile executives Sarah Slane and Stacy Papadopoulos are to depart.
This sees Dan Bretl, formerly vice president of strategic alliances, take on the position of senior vice president of strategy and operations. Vice president of strategic communications Casey Clark, meanwhile, becomes a senior vice president, while Chris Cylke has been promoted to senior vice president of government relations.