This week's State of the Union, in partnership with Segev LLP, covers the latest developments in Montana, Colorado's first sports betting licences, the latest figures from New Hampshire, and more.
Montana to begin sports betting terminal roll-out on March 9
The Montana Lottery Commission has announced that it expects to begin the roll-out of sports betting terminals across the state in the week commencing March 9, with a view to allowing consumers to place legal wagers soon after.
Sports Bet Montana, the Montana Lottery's new sports betting product, will be responsible for the terminals that will be installed at licensed locations.
Once the terminals are installed, the Montana Lottery will provide training to all staff that will be working with the machines, after which they will be able to begin offering sports betting.
"We are in the home stretch of our planning and testing," the Commission's communications manager Jennifer McKee said. "We are really looking forward to getting Sports Bet Montana in the market and we're as excited as Montanans are for betting to begin."
Colorado approves first sports betting licences
Colorado's gambling regulator, the Limited Gaming Control Commission, has approved seven licences and the state's regulations for sports betting.
The seven casinos to receive master licenses are Monarch Casino and Saratoga Casino in Black Hawk, Dostal Alley Casino in Central City and Double Eagle Hotel & Casino, J.P. McGill's Hotel & Casino, Midnight Rose Hotel & Casino and Brass Ass Casino in Cripple Creek.
Each licence allows for both retail sports betting and one online betting skin. Applicants for licenses must pay a $10,000 application fee before applying plus a $125,000 licence fee if approved.
New Hampshire surpasses 1m sports bets in first six weeks
The New Hampshire Lottery has revealed that it processed more than one million sports bets during the first six weeks of regulated sports wagering in the state.
Since the Lottery and partner DraftKings launched legal online and mobile sports betting on December 30, 2019, more than 36,923 registered users wagered over $28.6m on sports.
The Lottery also revealed that the landmark one-millionth wager was placed on February 8, with the overall total to date standing at approximately 1.15m bets.
Washington sports betting bill passes Senate Committee
The Washington Senate Labor and Commerce Committee has passed a bill that would legalize land-based and online sports betting in the state.
Introduced last month, House Bill 2638, along with its companion Senate Bill 6394, would permit in-person sports wagering at tribal casinos and cardrooms, as well as mobile on-premises betting.
The Senate Committee yesterday (February 24) gave its approval to the bill and it will now move forward to the Senate's Ways and Means Committee for further discussion.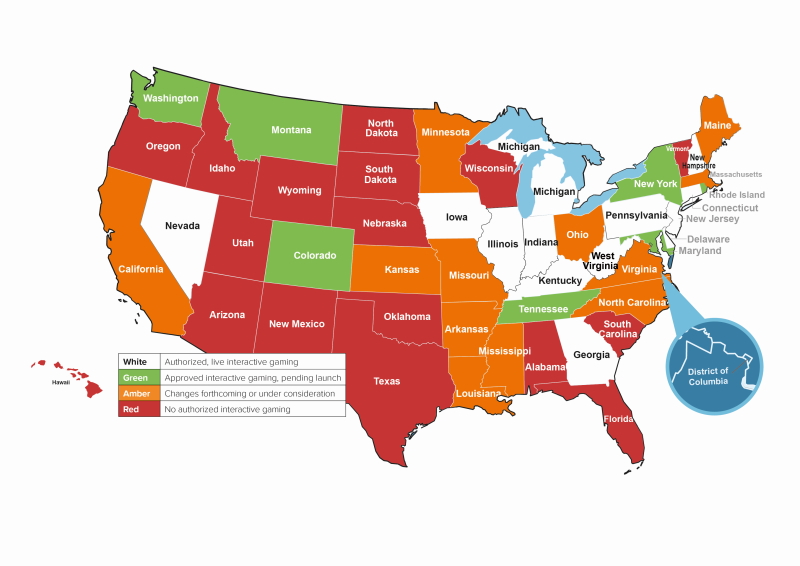 Canadian lawmaker makes new single-event betting push
Canadian Conservative Party Member of Parliament Kevin Waugh is sponsoring a bill that aims to legalize single event sports betting across the country. 
The private member's bill, which was filed yesterday, aims to repeal paragraph 207(4)(b) of the Canadian Criminal Code to allow gambling operators to offer betting on a single sport event or athletic contest. 
Currently the Criminal Code states that only bets on at least three games or more are legal.
Congressman files new anti-igaming bill
Republican Senator Tom Cotton has filed a Congressional bill that takes aim at US financial institutions processing payments to online gambling sites, as well as looking to crack down on the use of child-friendly imagery in gambling content.
Cotton's bill, S.3322, argues that Subchapter IV, Chapter 53, Title 31 of the United States Code was designed to prevent the use of "financial instruments" (banks) for funding online gambling. 
Mobile sports betting bill heads to Georgia Senate Committee
Georgia's Senate Regulated Industries and Utilities Committee is to consider a new bill that would legalise mobile sports wagering in the US state.
Senate Bill 403 was introduced to the Georgia Senate last week with the support of author, Senator Burt Jones, and fellow Senators Jeff Mullis, Brandon Beach, Ed Harbison and David Lucas.
Virginia sports betting bill progresses in Senate
A bill that would legalise sports betting in Virginia has continued to progress through the state's legislature, while a second, competing bill has been rejected by the Senate.
HB 896, proposed by representative Mark Sickles, passed the Finance and Appropriations Committee in the state Senate yesterday (25 March) having already cleared the House. The bill, which was only introduced last month, is progressing quickly with the current session due to close on 7 March.
British Columbia launches inquiry into money laundering
The British Columbian government has commenced its inquiry into money laundering in the Canadian province, with a focus on identifying possible links with the gambling sector.
Recent government-commissioned reports highlighted gaming as one of several industries that could have issues with money laundering, alongside the luxury car and real estate markets. Media reports estimate that as much as CAD$5bn was laundered in the province in 2018 alone.
William Hill seals Michigan market access with tribal partner
William Hill is to expand its reach into Michigan after it agreed a new long-term partnership with the federally recognized tribal gaming operator, the Grand Traverse Band of Ottawa and Chippewa Indians (GTB).
Under the deal, William Hill will serve as the exclusive provider of online sports betting and casino gaming throughout Michigan for GTB. The tribe operates the Leelanau Sands Casino & Lodge, Turtle Creek Casino & Hotel, and Grand Traverse Resort and Spa in the state.
Eldorado secures further regulatory approval for Caesars acquisition
US casino operator Eldorado Resorts has secured approval from the Mississippi Gaming Commission to proceed with its pending acquisition of Caesars Entertainment.
Eldorado in June 2019 agreed to acquire Caesars in a deal worth $17.3bn, though the arrangement is subject to various approvals, including clearance from certain state regulatory bodies.
Caesars Entertainment slips to $1.20bn net loss in 2019
Caesars Entertainment Corporation (CEC) reported a slight increase in revenue for 2019, though fair value changes in its convertible notes led to the operator posting a $1.20bn net loss for the year.
Net revenue for the 12 months to December 31 amounted to $8.74bn, up 4.2% from $8.39bn in the previous year.
BetMGM approved for Indiana launch
BetMGM, the sports betting operator brand by the Roar Digital joint venture between MGM Resorts and GVC Holdings, has secured full approval to launch mobile wagering services in Indiana.
The Indiana Gaming Commission initially awarded BetMGM a temporary licence last month, with permission to conduct mobile sports betting under the Belterra Resort Indiana license.
PointsBet posts $32.3m loss despite revenue growth in H1
Sports betting operator PointsBet said that increased spending on expansion efforts in both Australia and the US led to it reporting a net loss of AUD$32.3m (£16.4m/€19.5m/US$21.2m) for the first half of its financial year.
Net revenue for the six months to December 31, 2019 amounted to AUD$27.4m, up from $12.1m in the corresponding period in 2018.