This week's State of the Union, in partnership with Segev LLP, includes some of the major potential opportunities in the US betting space, with stories concerning mobile betting in New York, sports betting in California and the potential for a major media-betting convergence.
New York Gaming Commission selects nine mobile betting licensees
New York's tender to award mobile sports betting licenses has concluded with two bids – comprising nine operators – recommended for licenses.
At a commission meeting today (8 November), the winning bids were announced. The FanDuel-led consortium comprising DraftKings, BetMGM and Bally Bet was recommended, as was one of Kambi's two proposals – involving Caesars Sportsbook, PointsBet, Resorts World, Rush Street Interactive and Wynn Bet.
That consortium is also aligned with the Oneida Indian Nation and Saint Regis Mohawk Tribes.
Tribal operators launch ballot measure for California sports betting
Four tribal operators in California have introduced a new ballot measure that would bring sports betting to the state if approved.
The proposal, titled the Age Verified Tribal Online and In-Person Sports Wagering & Homelessness Solutions Act, would allow both in-person and online sports wagering to be conducted and regulated by tribal operators with additional regulation by the state of California and the federal government.
The proposal argued that tribal operators are "the best entities to safely offer sports wagering".
ESPN is "perfect" for sports betting, Disney CEO says
Bob Chapek, CEO of Disney, has revealed that the business will push for a greater presence in sports betting, arguing its sports broadcasting arm ESPN is the "perfect" channel to achieve this.
This was announced on Disney's fourth quarter results call for the period ended September 30.
Chapek stressed that ESPN's influence in the world of sports media would be an asset as the company looks into sports betting.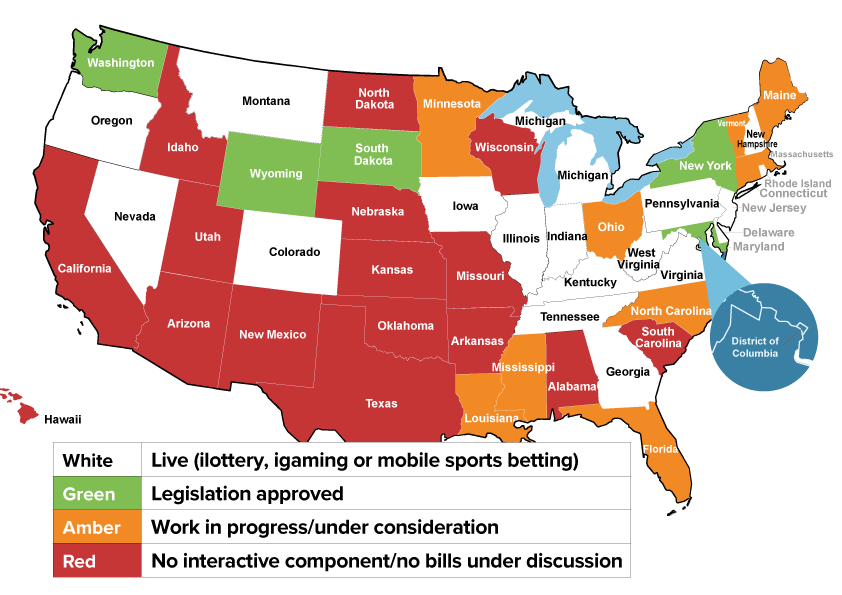 DraftKings revenue and losses both continue to grow in Q3
DraftKings' revenue continued to grow year-on-year, prompting the business to raise its revenue guidance again, but losses also grew further thanks to mounting expenses and unfavorable sporting results.
Revenue was up 60.2% to $212.8m. Though this market a significant year-on-year increase, it was down from both the $297.6m recorded in Q2 and the $312.3m recorded in Q1.
Bicycle Casino pays $500,000 settlement after AML investigation
Los Angeles-based Card room Bicycle Casino has agreed to pay a settlement of $500,000 and undergo an enhanced review after a Department of Justice investigation into potential anti-money laundering failings at the venue.
According to a non-prosecution agreement (NPA), the breaches took place after Bicycle Casino failed to appropriately file reports on an individual who conducted millions of dollars worth of cash transactions in 2016.
Raketech strengthens US portfolio with ATS Consultants acquisition
Affiliate business Raketech has added to a recent string of acquisition deals, purchasing the assets of US-facing tipster ATS Consultants.
The agreed total purchase price is $15.5m on a cash and debt-free basis, with $12m of this to be paid on closing and a further $1m post-closing.
US commercial gaming revenue reaches new heights again in Q3
The American Gaming Association (AGA) has reported that US commercial gaming revenue hit $13.89bn (£10.26bn/€11.99bn) in the third quarter of 2021, marking the second record-breaking quarter in a row.
The results were recorded by the AGA's commercial gaming tracker.
Wynn revenue up 168.4% in Q3 as CEO Maddox steps down
Wynn Resorts CEO Matt Maddox will leave his position effective January 31 2022, a decision announced alongside the business reporting revenue of $994.6m in Q3 of 2021.
Maddox will remain on the Wynn Macau and Wynn Interactive boards until the end of 2022, at the request of Wynn's board of directors.
RSI raises full-year revenue guidance after Q3 growth
Rush Street Interactive (RSI) has raised its full-year revenue guidance after reporting year-on-year growth during the third quarter of its 2021 financial year.
Revenue for the three months to September 30 reached $122.9m, up 57.2% from $78.2m in the same period last year.
GNOG sees Q3 net loss widen despite revenue growth
Golden Nugget Online Gaming (GNOG) posted a net loss of $25.8m for the third quarter of its 2021 financial year, more than it lost in the same period of 2020, despite also reporting a 37.4% year-on-year rise in revenue.
Total revenue for the three months through to the end of September amounted to $35.6m, up from $25.9m in the corresponding period last year.
Jackpocket attracts celebrity investment in $120m Series D funding round
US-facing lottery app Jackpocket has raised $120m in Series D funding during a round that attracted investment from celebrities and sports stars.
Led by growth fund Left Lane Capital, the round included participation from famous names such as Hollywood actors Kevin Hart and Whitney Cummings, entrepreneur Mark Cuban and baseball star Manny Machado.
BetMGM scores wide-ranging deal with Madison Square Garden
Sports betting and gaming operator BetMGM has entered into a multi-year marketing partnership with Madison Square Garden Sports (MSG Sports) and Madison Square Garden Entertainment (MSG Entertainment).
Under the agreement, BetMGM will become an official sports betting partner of National Basketball Association (NBA) team the New York Knicks and National Hockey League (NHL) franchise the New York Rangers, both of which are owned by MSG Sports.
Scientific Games returns to profit in Q3 as revenue climbs 24.8%
Scientific Games has revealed that a 24.8% year-in-year increase in revenue during the third quarter of its 2021 financial year helped it return to a net profit during the period.
Revenue for the three months to September 30 from continuing operations amounted to $539m, up from $432m in the corresponding period last year.
Illinois betting revenue grows to $40.0m in September as NFL returns
Sports betting operators in Illinois took in revenue of $40.0m in September, up 484.6% year-on-year and 49.3% more than in August.
This total came on wagers worth $591.8m, the second-highest recorded by the state, after March's $627.6m. This was up significantly from $394.0m in August and $305.1m in September 2020.
IGT raises guidance after growth across all segments in Q3
International Game Technology (IGT) raised its full-year revenue guidance after experiencing growth across every business segment and product type in Q3, helping overall revenue grow 20.6% to $984m.
Of IGT's $984m in revenue, its global lottery business brought in $652m, up 14.1%.