The big news in this week's State of the Union, in partnership with Segev LLP, is the Department of Justice finally confirming that it will appeal its Wire Act court defeat. Elsewhere, we have the first revenue figures for New York's sports betting market, and Pennsylvania's first gaming contribution.
DoJ prepares appeal against Wire Act ruling…
The Department of Justice (DoJ) has finally confirmed its intention to appeal the New Hampshire court ruling that set aside its revised opinion on the 1961 Wire Act.
The Department has filed a notice to appeal with the US Court of Appeals for the First Circuit, seeking to overturn the verdict issued by New Hampshire District Court Judge Paul Barbadoro in June.
Following a legal challenge by New Hampshire Lottery against the DoJ's revised stance on the Act, Barbadoro ultimately ruled that the Wire Act only applied to sports betting.
The 1961 Act prohibits the use of wire communication facilities to transmit "bets or wagers" across state lines, and has been the subject of much scrutiny and dispute over the scope of these prohibitions.
A 2011 interpretation from the DoJ concluded that the Act only applied to sports betting – a move which paved the way for the launch of online gaming and lottery products in a number of states. However, the Office of Legal Counsel (OLC) took a different view in January.
… as iGaming opponents expect case to reach Supreme Court
One of the leading opponents of the expansion of online gaming in the US said it is "encouraged" by the Department of Justice's appeal against the ruling that set aside its revised stance on the Wire Act.
The Coalition to Stop Internet Gambling also predicted that the matter is likely to go beyond the Court of Appeals, predicting the Supreme Court will ultimately decide whether the Wire Act applies to sports betting or all forms of gambling.
New York casinos generate $349,468 from sports betting launch…
The first 16 days of legal wagering in New York have seen revenue of $349,468 generated across two licensed venues.
With Rush Street Gaming's Schenectady-based Rivers Casino & Resort launching in-person wagering on 16 July, the operator was responsible for the vast majority of revenue accounting for $294,249 of the total. 
Tioga Downs Casino, which has selected FanDuel as its sports betting partner, soft launched its sportsbook a day later, on 17 July, ahead of an official launch on 19 July. Despite launching so soon after Rivers, it only brought in revenue of $55,219 to 31 July. 
From 1 August, the number of casinos offering sports betting has already doubled, following the launch of wagering at the Oneida Nation's Turning Stone Resort and Casino and Point Place Casino. Through the tribal operator's partnership with Caesars Entertainment, each hosts a Caesars-branded sports lounge. 
… as DraftKings prepares for NY sportsbook launch
del Lago Resort & Casino in Waterloo, New York will join the list of New York casinos offering sports betting when its DraftKings Sportsbook opens this Friday (23 August).
The sportsbook will feature more than 1,000-square-feet of LED video screens, a 6,000 sq. ft lounge, 20 self-service wagering kiosks, DraftKings cashier stations and a restaurant and bar.
Located between Syracuse and Rochester in Seneca County, Northwest New York, del Lago Casino opened in 2017 and is operated by JNB Gaming.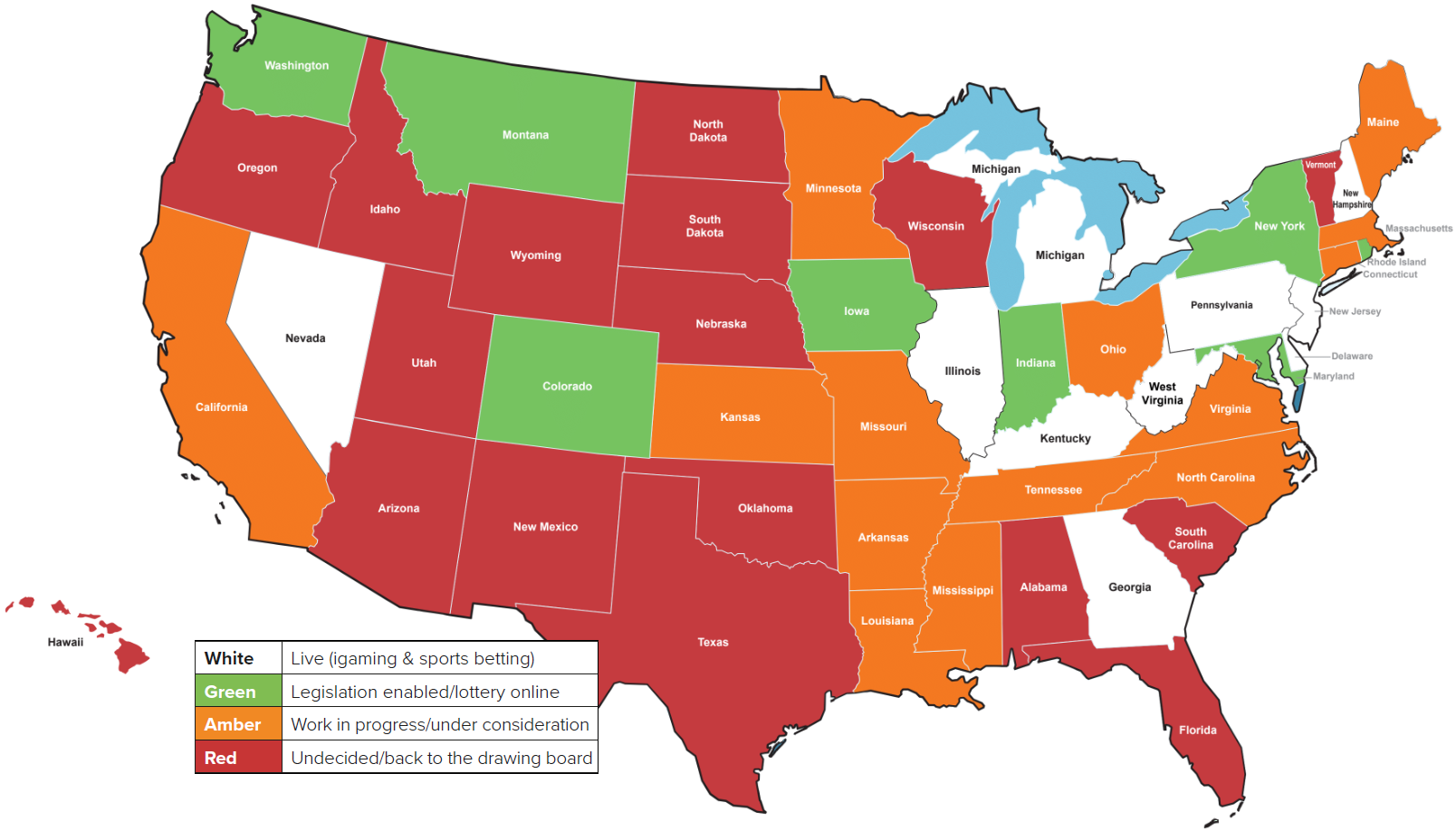 SugarHouse leads the way in first PA igaming revenue figures…
Pennsylvania's licensed operators have generated revenue of $812,306 in the first sixteen days following the opening of the state's regulated igaming market, with customers wagering almost $50m. 
Since the market went live on 15 July, customers spent a total of $49.2m, of which $23.8m was on slots, and $25.5m on table games according to figures from the Pennsyvlania Gaming Control Board. Slot revenue across the three operators that launched during the month was $517,712, while the contribution from table games amounted to $294,594.
Rush Street's SugarHouse Casino led the way in the early days of the market, accounting for more than half – $442,796 – of total revenue. Customers wagered $10.1m on slots, for product revenue of $261,869. Table games contributed a further $160,927, from stakes of $5.8m. 
Parx Casino came second, with total igaming revenue of $260,124. Players staked $10.0m playing slots, though won most back, leaving revenue of $139,903, while table game spend of $19.3m resulted in revenue of $120,221.
… as mobile boosts PA sportsbook market
Operators in Pennsylvania handled a record $59.3m in sports bets in July as the online sportsbook handle doubled to $39m and overtook retail figures for the first time.
Pennsylvania sportsbooks took in $5.1m in revenue from betting – which declined to $2.9m after promotional credits (bonuses) – and paid $969,727 in taxes.
The amounts wagered broke the previous record set in June – the month in which online sports betting first launched – of $46.3m.
The market has significantly benefitted from the online roll-out, which accounted for $2.9m of total revenue, despite only four operators having launched in the channel. However operators spent $2.2m promotional credits, which ate up the bulk of online revenue, leaving $665,798.
Eight go live on first day of legal sports betting in Iowa…
Legal sports betting has come to Iowa, with eight casinos launching retail sportsbooks and four rolling out mobile offerings in the Hawkeye State.
Prairie Meadows Casino, just northeast of Des Moines, Lakeside Casino in Osceola, Ameristar Casino in Council Bluffs, Catfish Bend Casino in West Burlington and Isle Casino Hotels in Waterloo and Bettendorf all launched on 15 August.
Elite Casino Resorts' Riverside Casino and Golf Resort and Rhythm City Casino were cleared for launch later in the day to also open retail sportsbooks.
Prairie, Lakeside and the Isle casinos in Bettendorf and Waterloo – all of which will host William Hill-branded sportsbooks – are also set to launch mobile sports betting apps today.
… as WH and Penn prepare for Indiana roll-out
William Hill will enter the Indiana sports betting market sportsbook through Tropicana Casino, Evansville, pending approval by the Indiana Gaming Commission.
"We are delighted to have William Hill as the official sports book operator at Tropicana Evansville," Glenn Carano, senior vice president of operations, East region, at Eldorado Resorts said.
Penn National Gaming, meanwhile, has revealed that it expects to take its first legal wagers in Indiana on 1 September, the first day from which bets can be placed in the state.
The operator plans to launch sports betting at its Ameristar Casino East Chicago, a riverboat casino docked at Indiana Harbor on Lake Michigan, subject to regulatory approval. It plans to hold an opening day event featuring Chicago Bears legends Mike Ditka and Devin Hester.
Caesars Entertainment's Horseshoe Hammond is also expected to be an early mover in the market, with a launch planned for 4 September.
Mississippi betting market struggles in July
Mississippi's regulated sports betting market has recorded a decline in revenue for July, with amounts wagered also down over the month.
Total handle declined to $13.83m, while revenue for casinos in the state's coastal, central and northern regions was €1.05m, down 35.2% from June's €1.63m, suggesting a win percentage of 7.87%.
As in previous months, the majority (54.0%) came from Mississippi's coastal casinos, though sports wagering revenue of $568,952.96 represented a 19.9% fall from June's total of $709,901.16. Punters in the region wagered a total of $8.66m, down marginally from June's $8.99m.
Oregon Lottery sportsbook launch could miss NFL kick-off
The Oregon State Lottery has insisted that "a smooth player experience" is the priority with its new sportsbook, even if it means the launch misses the start of the new NFL American football season.
The lottery had previously planned for its mobile sportsbook to be up and running by the beginning of the new NFL campaign on September 5, with the second-phase retail offering to follow in early 2020.
However, in response to a report that the schedule has been pushed back, with the retail offering now likely to launch in the middle of 2020, the lottery's public information manager, Matt Shelby, told iGB North America that the focus is on fine-tuning the product, rather than cutting corners.
theScore prepares for NJ launch following DGE approval
The New Jersey Division of Gaming Enforcement (DGE) has cleared Canadian media business theScore to launch its Bet.Works-powered sportsbook in the state.
This will see theScore soft launch its mobile sportsbook product for a select group of punters over the coming days.
Should this limited roll out go with a hitch, the regulator will give theScore the green light for a full launch, which is expected to take place ahead of the start of the 2020 National Football League (NFL) season, which kicks off on 5 September.
"This is a huge milestone and a result of the tireless hard work that has gone into getting our sportsbook ready for launch," theScore founder and chief executive John Levy said.