This week's State of the Union, in partnership with Segev LLP, includes DraftKings' expansion into the world of NFTs, Las Vegas Sands' earnigns report for the first half of the year and record-breaking revenue figures from both Pennsylvania and New Jersey.
DraftKings to launch NFT Marketplace
US sportsbook giant DraftKings has announced the launch of DraftKings Marketplace, a platform for customers to buy and sell non-fungible tokens (NFTs) through their existing DraftKings accounts.
The company has partnered with NFT platform Autograph as part of the launch, which will see it become the exclusive distributor of Autograph's NFT content.
Sands sees revenue rocket 60.2% in H1 amid Covid-19 recovery
Land-based gaming giant Las Vegas Sands was able to significantly reduce its net loss in the first half of its financial year after the reopening of its casino properties led to a 60.2% year-on-year rise in revenue.
Total revenue for the six months to June 30 amounted to $2.37bn, up from $1.48bn in the same period last year, during which the operator was hit by casino closures as a result of the novel coronavirus (Covid-19) pandemic.
Ontario bans autoplay for slots in new igaming regulations
Ontario's new online gambling regulator has published rules for the channel as the provincial market prepares for launch, outlining a ban on auto-play and a minimum spin speed of 2.5 seconds for slots.
Currently, only the Ontario Lottery and Gaming Corporation may offer online gaming, but that is set to change with the provincial government taking steps to liberalise the market.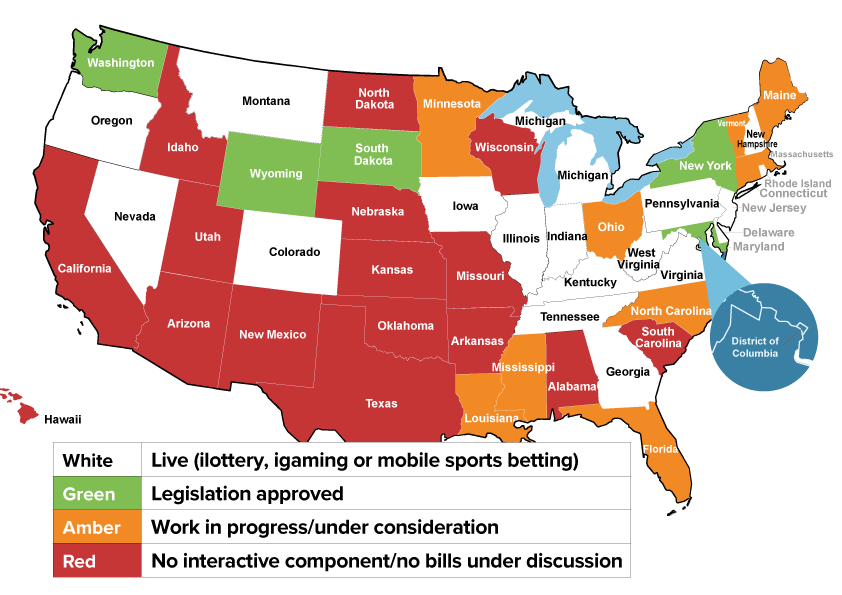 Pennsylvania achieves record revenue after strong casino performance
The state of Pennsylvania achieved a record gaming revenue figure of $3.88bn for the fiscal year 2020/21 – the period of July 1, 2020 to June 30, 2021 – representing a 44.4% increase on the previous year.
Slot games were the largest contributor, generating $1.89bn of revenue for the year. Igaming revenue was the next largest, bringing in $897.2m, followed by table games which amounted to $721.8m. Sports wagering revenue has increased dramatically, rising 171.6% year-on-year to $308.8m.
Latest Massachusetts sports betting attempt passes first stage
A bill to regulate sports wagering in Massachusetts has been referred to the committee on House Ways and Means after it was introduced to the state House yesterday (July 19).
House bill 3974 was reported by the House Committee on Economic Development and Emerging Technologies, and is sponsored by Rep. Daniel Cahill and Rep. Steven Howitt.
Elys completes acquisition of US Bookmaking
Online gambling operator and supplier Elys Game Technology has completed its acquisition of Bookmakers Company, the Nevada-based sports betting services provider trading as US Bookmaking (USB).
Elys paid an initial $12.0m up front to take ownership of USB, with this being split as 50% cash and 50% in 1,265,823 common shares. Certain earnouts could increase the overall value of the deal, which was initially stuck on July 7, to $41.8m by December 2025.
DoubleDown targets $91.4m proceeds as long-awaited IPO moves ahead
DoubleU subsidiary DoubleDown Interactive has filed for its initial public offering (IPO) on the Nasdaq exchange, from which it expects to receive proceeds of $91.4m.
The business said the offering would begin "as soon as possible" after the filing is approved. It will trade under the ticker symbol DDI.
PointsBet pens Arizona market access deal with Cliff Castle Casino Hotel
Sportsbook operator PointsBet has agreed a deal with the Cliff Castle Casino Hotel venue in Arizona to secure market access in the US state.
The 10-year deal will see PointsBet and Cliff Castle, a subordinate economic organization of the federally recognized Yavapai-Apache Nation tribe, pursue online sports wagering in Arizona.
PointsBet appoints Vanderwel to lead Canada business as CEO
Online gambling operator PointsBet has announced the appointment of Scott Vanderwel as the first chief executive of its Canadian business.
Vanderwel will oversee the operator's operations in Canada and report directly to PointsBet global chief executive Sam Swanell.
New Jersey reports record gambling revenue in June
The state of New Jersey recorded gaming revenue figures of $392.8m for June, representing a 302.7% increase on this time last year and the highest total for the dates in which monthly revenue reports are available, beginning at the start of 2010.
June's revenue is ahead of the $364.0m recorded in July 2010 and is also a 4.9% increase on the $374.2m raised in May of this year. It came thanks to strong figures in all three verticals: land-based casino gaming, online gaming and sports betting.
Virginia Lottery Board approves new casino regulations
Virginia's Lottery Board has has given its initial approval to new regulations that will govern the new land-based casinos set to be built in the state.
The rules will apply to the five new casinos that are set to operate in Virginia, something that was made possible by the ratification of Senate Bill 1126 by Governor Ralph Northam in March 2019, allowing land-based casino gaming in the state for the first time. The bill also allowed for online sports betting.
DraftKings to launch as first daily fantasy sports operator in Louisiana
DraftKings has become the first operator to obtain a daily fantasy sports (DFS) license in Louisiana and is set to go live later today (Friday).
DraftKings' launch comes almost three years after voters in nearly three-quarters of the state's parishes agreed to legalize DFS, with lawmakers since creating the framework by which it will be run.
World Series of Poker goes live in Pennsylvania
The World Series of Poker (WSOP) is live in Pennsylvania for the first time after being approved by the state's regulator.
Pennsylvania Gaming Control Board (PGCB) gave the green light to the brand's poker site, which is operated by Caesars Interactive Entertainment and powered by 888 and its Poker 8 client, following a field trial. It is the first deployment of Poker 8, which was launched in Europe last year, in North America.
Michigan's sports revenue hike can't stop another online gambling fall
Internet gaming operators in Michigan reported a third straight month of decline in June despite a leap in sports betting revenue.
Figures released by Michigan Gaming Control Board (MGCB) show gross internet gaming and sports betting receipts of $114.2m in June, down slightly on the $114.3m in May.
Scientific Games and Playtech to debut OGS partnership in New Jersey
Scientific Games Corporation and Playtech have signed a mutual distribution agreement that will roll out first in New Jersey.
Under the terms of the deal, Playtech's software, including slots and live casino, will be available to operators via Scientific Games' Open Gaming System (OGS). Playtech's full casino portfolio will all be integrated with Scientific Games' features and promotions set.
Michigan authorizes Evolution to provide state's first live casino games
The Michigan Gaming Control Board (MGCB) has announced the authorization of Evolution to offer live dealer casino games in the state.
The casino games will be livestreamed with real-time dealers through licensed operators from 10am on July 22.
Pennsylvania GCB names Denise Smyler as new chair
Denise Smyler has been named chair of Pennsylvania's gaming regulator following the retirement of David Barasch.
Smyler became a member of the Pennsylvania Gaming Control Board (PGCB) in 2019, following a spell as General Counsel of the Commonwealth of Pennsylvania. As General Counsel, Smyler oversaw the provision of legal services to the governor, his senior staff, and more than 30 executive branch and independent agencies.
WynnBet named official sportsbook and gaming partner of Detroit Lions
Mobile sports betting operator WynnBet has signed a multi-year partnership with the Detroit Lions, which will see it become the NFL team's official sportsbook and gaming partner.
The deal will also see the creation of the WynnBet Sports Bar at Ford Field, available to those aged 21 and older. Customers will have access to brand ambassadors, food and drink, and live betting lines.
Delaware sports betting revenue slips to year low in June
The Delaware Lottery has revealed that sports betting revenue fell to a calendar-year low during the month of June, while igaming revenue and spend also declined year-on-year.
Sports wagering revenue for the four weeks to June 27 amounted to $645,736, the lowest monthly amount this year so far.
South Dakota approves tax changes ahead of sports betting introduction
South Dakota has taken a step closer to the limited introduction of sports betting after state gambling officials amended and passed final regulations.
The rules, having now been approved by South Dakota Commission on Gaming (SDCG), are set to be considered by the state legislature for approval on 2 August, with operators to then be licensed ahead of the start of the National Football League (NFL) season in September.
DraftKings scores betting partnerships with PGA Tour golf events
Sports betting and daily fantasy sports operator DraftKings has agreed a deal to become the first official betting operator of the World Golf Championships-FedEx St. Jude Invitational and The Northern Trust PGA Tour golf events.
Under the agreement, DraftKings will have hospitality suites at the two tournaments, with the facility and both events to feature areas that are open to the public.
High 5 Games appoints former Wynn executive Robert Gansmo as CFO
High 5 Games has named former Wynn Resorts Macau executive Robert Gansmo as its new chief financial officer.
Gansmo has joined the casino content developer following an 11-year spell in the same position at Wynn's Macau operation.
Elys to launch new betting platform with CDI after US Bookmaking deal
Interactive gaming and sports betting company Elys Game Technology (Elys) has announced that it will showcase its new retail sports betting platform, Elys Gameboard US, at the National Indian Gaming Association (NIGA) Trade Show.
The Gameboard solution is built on microservices, a platform style which allows a collection of services to deliver information efficiently.
BetMGM launch helps push DC betting revenue and handle up in June
The rollout of BetMGM in Washington DC helped drive sports betting revenue and handle in the US district up month-on-month in June.
Overall revenue from William Hill, DC Lottery's Gambet brand and BetMGM for the month amounted to $2.2m, up 10.0% from $2.0m in May, while DC's handle also increased 42.3% to $19.5m.
PGCB chairman Barasch retires after six-year term
David Barasch, chairman of the Pennsylvania Gaming Control Board (PGCB), has announced his retirement from public service after serving the board for six years, during which he oversaw the launch of igaming.
Before starting his term as chairman in 2015, Barasch had held several prominent roles within the state government, such as consumer advocate for the Commonwealth of Pennsylvania, special assistant to Governor Bob Casey, U.S. Attorney for the middle district of Pennsylvania, and deputy secretary of the Pennsylvania department of revenue.
Bally's Interactive and Sportradar sign five-year betting deal
Bally's Corporation's digital division, Bally's Interactive, has signed a new five-year US sports betting partnership with Sportradar.
Under the terms of the deal, Sportradar will provide the operator with access to its complete pre-match betting services, live betting services, and content solutions portfolio.
Cordish Companies makes two executive hires to support growth plans
Real estate and entertainment business Cordish Companies has appointed Cathy Beeding as executive vice president and general counsel and Suzanne Trout as executive vice president and chief marketing officer.
Beeding will assume responsibility for all legal, regulatory and compliance affairs, including oversight of all Live! Casino and Hotel properties in Maryland and Pennsylvania, along with igaming and sports betting initiatives.
FireKeepers Casino launches igaming content in Michigan with SG
The tribal-owned FireKeepers Casino Hotel in Battle Creek, Michigan has launched online casino and digital sports betting content in the state through a partnership with Scientific Games.
Since opening in 2009, FireKeepers Casino has become one of the biggest tribal gaming operators in the US, and launched its retail sportsbook through an initial deal with Scientific Games last year.
Online gambling operator PointsBet has appointed Aaron O'Sullivan, formerly of Bet365 and Rank Group, as its vice president of online casino revenue and to oversee North American operations.
PointsBet brings in Bet365's O'Sullivan to lead North American operations
Online gambling operator PointsBet has appointed Aaron O'Sullivan, formerly of Bet365 and Rank Group, as its vice president of online casino revenue and to oversee North American operations.
In his new role, O'Sullivan will sit on the operator's US executive leadership team and report to PointsBet US chief executive Johnny Aitken