This week's State of the Union, in partnership with Segev LLP, covers Roar Digital's partnership with Yahoo Sports, Democratic presidential hopeful Andrew Yang's contribution to the federal regulation debate, and more. 
BetMGM lands sports betting deal with Yahoo Sports
MGM Resorts and GVC Holdings' Roar Digital joint venture has agreed a deal to power sports betting for Verizon Media-owned media platform Yahoo Sports.
Under the multi-year partnership, Yahoo Sports will launch real-money sports betting on its app in regulated US states next month, with all transactions to take place on the BetMGM online sports betting and gaming app.
The agreement will also establish Yahoo Sports as an official digital media sports partner of MGM Resorts, with the two parties to collaborate on content experiences, exclusive live events and promotional marketing efforts.
In addition, MGM Resorts will distribute Yahoo Sports content across its various properties and platforms, while Yahoo Sports will host multiple player events at MGM Resorts properties.
Presidential candidate Yang supports federal poker regulation
Andrew Yang, Democratic presidential candidate for 2020, announced his support for federally regulated online poker in a Tweet published on Saturday (October 26).
"Online poker is legal in 4 states," Yang said from his official Twitter account. "The state-by-state rules are variable and push many players to offshore sites.
"We should clarify the rules and make it legal in all 50 states. US players and companies would benefit and new tax revenues could be used to mitigate addiction."
Nevada retakes sportsbook crown with NFL's return
The start of the NFL season brought Nevada back to the top in sports betting as players wagered $546.4m on sports in September, helping total gaming revenue climb 6.8% to $1.06bn.
The sportsbook handle exceeded New Jersey's total of $445.6m, the first time since June that Nevada has led the way in terms of amounts wagered. The two states narrowly fell short of a combined $1bn on sports bets.
With the NFL's return on 5 September and the first full month of collegiate games, football dominated sportsbook revenue with $39.1m from a handle of $377.5m. Baseball was the next most popular sport, as bettors spent $122.4m on baseball bets, bringing in $7.6m for casinos.
DraftKings in pole position for NH sports betting launch…
DraftKings looks set to be awarded licences for retail and mobile sports betting in New Hampshire, after the operator's proposals for each channel scored highest in the state's license tender. 
The request for proposals (RFP) issued by the New Hampshire Lottery in August received 13 submissions for mobile wagering contracts, six for retail sportsbooks and four to run betting on behalf of the lottery. 
DraftKings, which has partnered Crown Gaming for its bid, was ranked above all others for mobile and retail, and second for its lottery proposal behind Intralot. The lottery will now enter into final negations with the two businesses, and according to the RFP final contrast could be signed by November 20.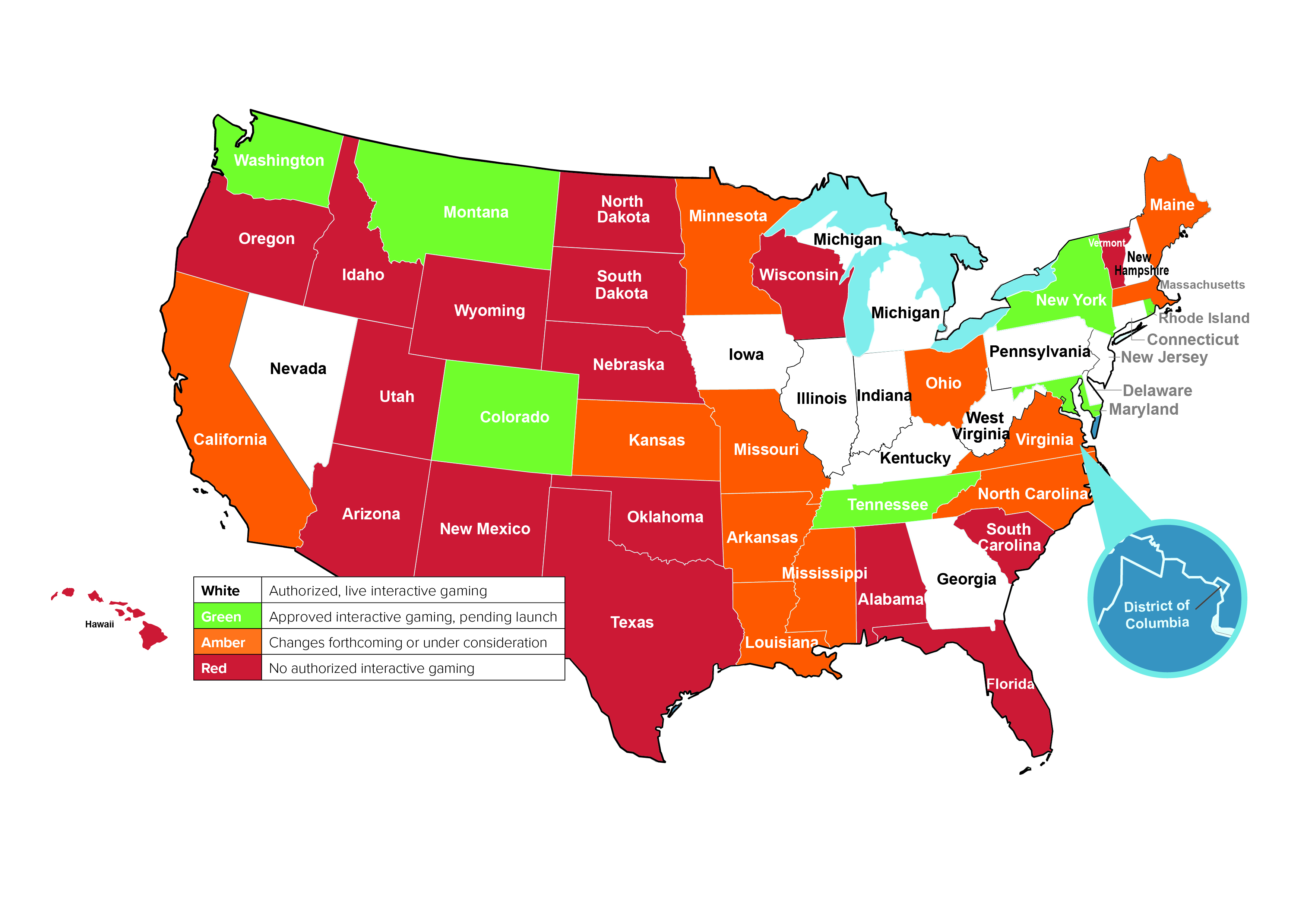 … as NH voters prepare to have say on sportsbook locations
Voters from nine cities in New Hampshire will have the opportunity to vote on whether to permit retail sportsbooks to operate in their communities at the state's municipal elections on November 5. 
The nine cities that have been put forward as potential locations for retail wagering are the cities of Berlin, Claremont, Concord, Dover, Laconia, Manchester, Nashua, Rochester and Somersworth.
Executive director Charlie McIntyre said the New Hampshire Lottery had been working with city leaders and residents to ensure they have all necessary information on the implementation of the state's sports betting regulations.
RI sports betting revenue rockets in September
Rhode Island sports betting revenue almost tripled month-on-month to $2.5m in September, with an increase in retail betting accompanied by the first contribution from mobile.
Total market revenue was up 195.4% from $851,778 in August, breaking the previous monthly record of $2.2m set in June of this year. Players wagered $22.2m, which represents a 120.6% increase on the previous months' $10.1m.
As the market opened in November 2018, year-on-year comparisons are not yet available.
New casinos boost Churchill Downs revenue in Q3
An increase in gaming revenue from new casinos helped Churchill Downs Incorporated (CDI) increase revenue 38.4% year-on-year in the third quarter of 2019, to $306.3m.
Of CDI's $306.3m in revenue, $178.3m came from casino gaming, a 61.5% rise from 2018. New casinos were a major boost to CDI's gaming revenue, with Presque Isle Downs & Casino in Pennsylvania, acquired in January, the largest source of revenue with $38.1m.
Lady Luck Nemacolin, also in Pennsylvania and acquired in March, brought in $10m, while Ocean Downs, acquired in September 2018 from Saratoga Casino holdings, brought in $26.7m, compared to $8.1m in the previous year.
Michigan House passes Iden's betting and gaming bills
The Michigan House of Representatives has passed the legislation filed by Representative Brandt Iden to legalize online gaming and sports betting in the state.
The bills progress to the Senate after amended versions were voted through yesterday (October 30). The proposal to regulate online gaming, House Bill 4311, passed with 62 Representatives voting for the bill, and 46 against. 
House Bill 4916, the Lawful Sports Betting Act, passed by a vote of 63 for and 45 against. 
DraftKings clinches first daily fantasy sports license in Iowa
DraftKings has become the first operator to secure a daily fantasy sports (DFS) license in Iowa and has revealed plans to launch in the state in the coming days.
The new license, awarded by the Iowa Racing and Gaming Commission (IRGC), will permit DraftKings to roll out online and mobile DFS contests in the state.
IRGC administrator Brian Ohorilko confirmed the news to iGB North America and said the state regulator is also considering at least one other application a for DFS license.
US growth pushes turnover up at PointsBet in Q1
PointsBet has reported a 138% year-on-year rise in turnover during the first quarter of its fiscal year, primarily due to its launch and subsequent expansion in the US, while the online sports betting operator has also revealed plans to raise AUD$122.1m (US$88.3m) through a share placing.
Turnover for the three months to 30 September 2019 amounted to $235.8m, representing a significant increase on $99.1m in the corresponding period last year.
Higher spending among customers also pushed net revenue for the quarter up 138% on a year-on-year basis from $5.0m to $11.8m, according the operator's revenue update.
theScore sports betting expansion causes wider losses in 2019
Canadian media business theScore saw its net loss increase 59.3% year-on-year in the 12 months to August 31, 2019, after the launch of its new sportsbook product in New Jersey led to higher spending.
Overall revenue for the business' 2019 financial year amounted to CAD$31.1m (£18.5m/€21.4m/US$23.8m), up 12.0% from $27.7m in the previous year.
theScore noted higher sales in both the US and its native Canada, with revenue from Canadian sources up 28.4% to $13.1m, and other revenue, predominantly from the US, rising from 2.9% to $18.0m.
FanDuel scores exclusive fantasy sports deal with Pittsburgh Steelers
Flutter Entertainment's FanDuel has agreed an exclusive deal to become the official daily fantasy sports partner of Pennsylvania-based NFL franchise the Pittsburgh Steelers.
Under the fully integrated marketing agreement, FanDuel will benefit from a prominent branding presence inside the team's Heinz Field home stadium.
FanDuel will also gain access to a range of marketing assets such as LED and scoreboard video signage, as well as radio, television and digital advertising.
Loto-Québec sees revenue climb despite lottery decline
Canadian provincial lottery operator Loto-Québec has reported a 1.53% year-on-year increase in revenue for the first half of 2019, despite seeing a decline within its draw-based games business.
Total revenue for the 183 days to 30 September 2019 amounted to CAD$1.42bn (US$1.09bn), up from $1.39bn in the same period last year. Loto-Québec noted that the first half of last year was slightly shorter, based on the 177 days to 24 September 2018.
Casinos were the most popular form of gaming in the Canadian province in the first half of the year, with revenue coming in at $512.5m, up 5.3% from $486.7m last year.