Engine Media files patent infringement lawsuit against DraftKings
Esports provider Engine Media Holdings has filed a patent infringement lawsuit against sportsbook giant DraftKings.
The infringement concerns Engine Media's skill gaming-focused Winview Inc. subsidiary, which owns the patents allegedly used by DraftKings, both of which concerned integration between skill gaming and live events.
According to the lawsuit, the gaming services provided by DraftKings overlap with two specific Winview patents – "Methodology for Equalizing Systemic Latencies in Television Reception in Connection with Games of Skill Played in Connection with Live Television Programming" and "Method of and System For Managing Client Resources and Assets for Activities On Computing Devices".
Congressmen propose bill to "remove federal barriers" to online tribal gaming
Two US Congressmen have proposed a federal bill clarifying that all wagers placed with servers on tribal lands, may be considered gambling on tribal lands and regulated as such.
House Bill 4308, proposed by California's Luis Correa and New York's John Katno, would "remove federal barriers regarding the offering of mobile wagers on Indian lands when the applicable State and Indian Tribe have reached an agreement".
It would do this by defining any wager placed at a server on tribal lands as being placed on those lands.
Elys agrees to acquire US Bookmaking
Online gambling operator and supplier Elys Game Technology has entered into a definitive purchase agreement to acquire 100% of Bookmakers Company, the Nevada-based sports betting services provider trading as US Bookmaking (USB).
Under the agreement, Elys will pay an initial $12m upon closing of the deal, with this to be split as 50% cash and 50% in its common stock.
Additional earnout payments of up to $41.8m will also be paid.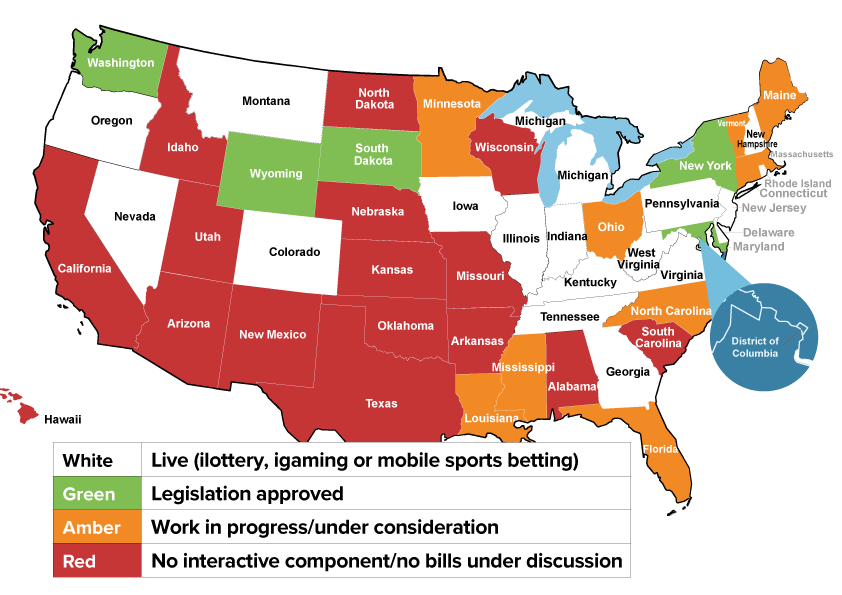 DraftKings renews sponsorship of Major League Eating hot dog event
DraftKings will continue as a sponsor of Major League Eating's (MLE) 2021 edition of the Nathan's Famous Fourth of July International Hot Dog Eating Contest.
Under the agreement, DraftKings will serve as an official sponsor of the event for the second consecutive year.
NFL legend Brees receives PointsBet equity in brand ambassador deal
PointsBet has announced the appointment of NFL great Drew Brees as global brand ambassador in a deal that will see him receive
In his new role, Brees will feature in PointsBet's original content, lead promotional concepts and partake in providing sports education and commentary.
Mohegan strikes Connecticut betting and igaming deal with FanDuel
FanDuel has announced a market access deal with Mohegan Gaming and Entertainment, to offer retail and online sports betting, as well as online casino gaming.
The partnership will take advantage of a new tribal compact and accompanying bill in Connecticut, which passed the state senate in May. It has been in the works since 2019.
Maryland Governor appoints Martin to lead Lottery and Gaming Control Agency
Maryland Governor Larry Hogan has appointed John Martin as the new director of the US state's Lottery and Gaming Control Agency.
Martin succeeds Gordon Medenica, who announced his retirement in April this year after leading the regulatory organization since 2015.
Hard Rock and Seminole Gaming pledge donations to Miami's Surfside relief
Hard Rock International and Seminole Gaming, the gambling business of of the Seminole Tribe of Florida, have pledged to donate funds to ongoing relief work following the collapse of Champlain Towers South in Surfside, Florida.
The 12-story building collapsed in the early hours of June 24, leaving at least 28 people dead and a further 11 injured. Work is currently ongoing to recover any remaining survivors.
Caesars strikes deal for Harrah's Nebraska casino
Caesars Entertainment has reached an agreement with horse racing operator Columbus Exposition and Racing (CER) to build and operate a Harrah's property in Nebraska.
Expected to be completed by late 2022, the casino and racetrack development will cost around $75m.
Genius Sports lands sports betting license in West Virginia
Sports data technology business Genius Sports has secured a permanent sports wagering license in West Virginia.
Issued by the West Virginia Lottery Commission, the permit will enable Genius to provide its solutions to licensed sportsbooks and lotteries in the state.
WynnBet eyes online betting in AZ with San Carlos Apache Tribe deal
Wynn Resorts' online sports betting brand WynnBet has entered into a partnership with the San Carlos Apache Tribe with the aim of securing an online sports wagering license in Arizona.
Under the agreement, WynnBet will work with the tribe's San Carlos Apache Tribal Gaming Enterprise, which operates the Apache Gold Casino and Apache Sky Casino, to secure a new license in the state.
Playtech partners with Kindbridge for US gambling treatment research
Playtech has partnered with virtual mental health clinic Kindbridge in a union that will aimed at creating a new framework for gambling treatment across the US.
The newly formed Kindbridge Research Institute will focus on the mental health of gamblers, offering support to those at risk.
IGT seals deal to power sports betting in Louisiana
International Game Technology (IGT) will allow it to power sports betting at the Coushatta Tribe of Louisiana's Coushatta Casino Resort, the state's largest casino.
As part of the deal, IGT will provide Coushatta with its PlaySports turnkey solution and offer its trading advisory services.
Z Capital Partners completes Affinity-SIG merger
Private equity business Z Capital Partners has announced the conclusion of the merger between its portfolio companies Affinity Gaming and Sports Information Group (SIG), creating Affinity Interactive.
Affinity Interactive currently offers gaming and horse wagering services, and is set to launch social gaming and sports betting as part of its expansion across the US.
Virginia betting revenue bounces back in May as spending surpasses $1bn
Sports betting revenue in Virginia increased 37.7% month-on-month to $15.7m in May, while total handle since launch passed $1.0bn despite a second month of decline.
Adjusted gross revenue was up from $11.4m in April and was also the highest monthly total since the market opened on January 21.
Illinois sports betting revenue and handle down again in May
The Illinois Gaming Board reported a month-on-month decline in sports betting revenue and handle for the second consecutive month in May.
Adjusted gaming revenue from sports wagering for the month amounted to $36.2m, down 17.0% from $43.6m reported in April.
Gaming1 launches US joint venture with Delaware North
Belgian gaming and sports betting provider Gaming1 has entered a partnership with hospitality company Delaware North, in a deal that will see Gaming1's platform and products distributed to licensed operators in North America.
Gaming1 will also supply its collection of proprietary game content through the deal.
Bragg appoints Looney as CCO to execute US expansion
Technology supplier Bragg Gaming has appointed Chris Looney as the company's new chief commercial officer.
Looney will work closely with recently appointed chief executive Richard Carter to help execute Bragg's expansion strategies within regulated markets, with key attention being paid to the US.