This week's State of the Union, in partnership with Segev LLP, includes major news from new York – where rules for mobile betting have been approved and details of the six bids to offer mobile betting have been revealed. Elsewhere, there's results from Pennsylvania, New Jersey, Delaware and Washington DC, as well as a number of key appointments.
FanDuel-led bid proposes 50% tax rate for NY mobile betting
The New York State Gaming Commission has published details on the six bids to operate mobile sports betting in the state, with one bid from four of the country's largest operators proposing a 50% tax rate.
Under New York's mobile betting rules, the state must select two platform providers, which together must offer at least four skins. Players, however, may only have one account per platform provider.
RSI partners CT Lottery for final sports betting skin in Connecticut
Online casino and sports betting operator Rush Street Interactive (RSI) has secured the third and final sports wagering skin in Connecticut through a 10-year deal with the Connecticut Lottery Corporation (CLC).
Under the agreement, RSI will serve as the CLC's exclusive provider of a sports betting system for mobile, online and retail betting in the US state.
New York Gaming Commission approves mobile betting rules
New York State Gaming Commission has approved rules under which mobile sports betting will be conducted in the state.
The Commission approved the rules unanimously during its August 16 meeting, after making some minor changes from the rules that were published in July alongside a request for applications for providers.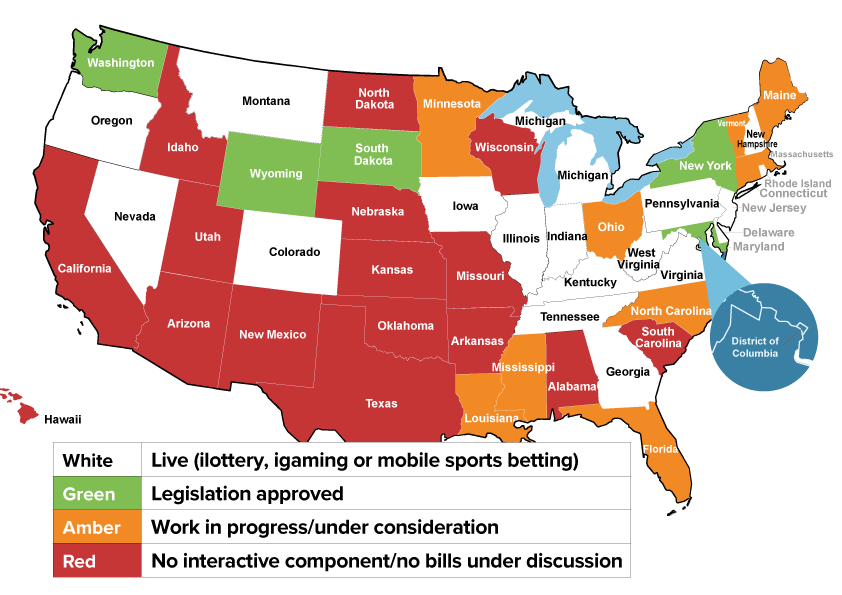 New Jersey online casino revenue reaches $118.7m record in July
New Jersey posted a new monthly online casino record of $118.7m in July, as the US state also recorded a significant year-on-year increase in overall gambling revenue for the month.
Total revenue for the state's gambling market amounted to $450.6m in July, up 70.4% from $264.5m in the same month last year and also 14.7% higher than $392.8m in June this year.
Bally's acquires fan engagement specialist Telescope
Bally's Corporation has completed the acquisition of Telescope, a provider of real-time audience engagement solutions for live events, gamified second screen experiences and interactive live streams.
Financial terms of the deal were not disclosed, but Bally's said Telescope's products will amplify its Bally's Interactive, BallyBet and Bally's Sports brands, offering users an integrated experience whereby they can engage on a range of platforms and channels.
Pennsylvania gambling revenue reaches record $423.7m in July
Gambling revenue in Pennsylvania increased 49.7% year-on-year to a record $423.8m in July as the state saw growth across all sectors of the market.
July's figure surpassed the previous record of $413.2m set in May this year and was also far higher than the $283.1m posted in July of 2021.
Genius Sports names former ESPN CEO Bornstein as North America president
Genius Sports has appointed Steve Bornstein, former chief executive of ESPN and founder of the NFL Network, to the newly created position as president of its North America business.
In his new role, Bornstein will oversee Genius's operation in the US and Canada, heading up the business's growth and expansion efforts in the region.
US tribal gaming revenue down 19.5% in 2020 following pandemic effects
The National Indian Gaming Commission (NIGC) has recorded gross gaming revenue (GGR) figures of $27.83bn for 2020, representing a 19.5% decrease on the year prior.
The Sacramento region, containing California and northern Nevada, was the area with the highest revenue, generating $8.40bn, although this was still a 13.2% decrease from 2019.
GNOG records H1 revenue growth ahead of $1.56bn DraftKings deal
Golden Nugget Online Gaming (GNOG) has recorded revenue of $58.4m (£42.3m/€49.6m) for the first half of 2021, representing a 38.7% increase on the same period last year, as it prepares for an acquisition by DraftKings.
$51.1m of the revenue total was derived from gaming – a 38.1% increase from 2020 – while $7.3m came from other sources.
RSI names Schwartz as new chief executive, cuts net loss in first half
Rush Street Interactive (RSI) has appointed its co-founder and president Richard Schwartz as its new chief executive, while the online casino and sports betting operator also revealed that a 134.1% rise in revenue in the first half led to a significant drop in net loss.
Schwartz has been promoted to the new role with immediate effect and will also join RSI's board of directors.
GAN raises revenue projections after successful Q2 results
Online gaming platform GAN has reported revenue of $34.6m (£25.0m/€29.3m) in its Q2 results ended 30 June, a rise of 316.0% year-on-year.
The increase came after the Q2 2020 period was affected by the novel coronavirus (Covid-19) pandemic.
Caesars and Unibet score new NFL partnerships
Caesars Entertainment has entered into a partnership with National Football League (NFL) team the Houston Texans, while Kindred Group-owned Unibet has linked up with the Pittsburgh Steelers.
The agreement between Caesars and the Texans will see the operator become the official casino partner of the franchise from the 2021 season, which kicks off on September 9.
Strive Gaming brings in Kambi's former CCO Meltzer as new CEO
North American-focused igaming platform business Strive Gaming has appointed Max Meltzer, formerly chief commercial officer of Kambi, as its new chief executive.
In his new role, Meltzer will oversee Strive Gaming's expansion efforts across North America as it seeks to grow its presence and business in the market.
Michigan online casino revenue grows but betting declines in July
The Michigan Gaming Control Board (MGCB) has reported $111.9m (£808.6m/€950.1m) in combined online sports betting and casino revenue in July, in a fourth consecutive month of decline.
The total was 2.0% less than $114.2 reported in June.
Women's Tennis Association names FanDuel as official operator
The Women's Tennis Association (WTA) has announced FanDuel as its authorized gaming operator in North, South and Central America.
The partnership will see WTA highlights broadcast on FanDuel's platform, marking the first time video highlights of a women's sport will feature on FanDuel's platforms and sportsbooks.
GNOG becomes minority investor in Boom Entertainment
Golden Nugget Online Gaming (GNOG) has agreed a partnership with Boom Entertainment that will see it gain access to the developer's online gaming content and become a minority investor in the business.
GNOG participated as a minority investor in Boom's most recent financing round along with the likes of online casino and sports betting operator Rush Street Interactive (RSI), which also became a minority investor.
Betfred and MaximBet gain market access in Arizona with tribal partnerships
Bookmaker Betfred and MaximBet – the betting brand associated with the Maxim media group – have announced plans to launch sports betting offerings within the state of Arizona after securing market access agreements with tribal operators.
Betfred is set to open a retail sportsbook in partnership with Fort McDowell Yavapai Nation's We-Ko-Pa Casino Resort. The "state of the art, Las Vegas quality" sportsbook will be accompanied by mobile and online betting under the Betfred brand.
NeoPollard success drives net profit up 344.5% at NeoGames in first half
Online lottery platform provider NeoGames reported a 344.5% year-on-year increase in net profit to $6.7m for the first half of its financial year, partly due to the ongoing success of its NeoPollard joint venture.
Revenue for the six months to 30 June amounted to $26.2m, up 18,6% from $22.1m in the same period last year.
Delaware online gambling revenue rises 12.4% year-on-year in July
The Delaware Lottery reported a 12.4% year-on-year increase in online gambling revenue to $793,017 in July, though this was the market's lowest monthly total since February.
Revenue was up from $705,533 in July 2020 but down 5.4% from $843,118 in June this year and the third-lowest monthly amount so far in the 2021 calendar year.
Ontario Lottery to launch new platform for single-event betting
Ontario Lottery and Gaming Corporation (OLG) has announced its plans to launch a new platform, Proline+, on the same day that single event sports betting becomes legal in Canada.
The product is due to launch on 27 August and will give players the opportunity to place bets on their phones, tablets or desktops for the first time in the country.
Washington DC sees sports betting revenue and handle fall in July
Sports wagering revenue in Washington DC declined 10.0% month-on-month to $1.8m in July after the district reported a 34.4% fall in handle of the month.
Revenue from Caesars Entertainment-owned William Hill, DC Lottery's Gambet brand and BetMGM was down from $2.0m in June, while DC's handle fell from $19.5m to $12.8m.
Elys sees revenue grow in H1 despite retail declines
US and Italy-facing operator and supplier Elys Game Technology recorded revenue of $25.8m for the first half of the year, a 72.3% increase from 2020, as it prepares to launch its US B2B operations.
The revenue came from turnover of $463.3m, up 120.2%.
PointsBet launches sports betting in West Virginia
Australia-based sports betting operator PointsBet has launched in West Virginia after being approved by the state's Lottery Commission.
The state marks the seventh into which the operator has launched its sports betting product, following New Jersey, Iowa, Indiana, Colorado and Michigan. PointsBet also operates igaming in New Jersey and Michigan.
Betsson turns to Canada with Slapshot Media investment
Online operator Betsson has acquired 28% of Canadian start-up Slapshot Media Inc, for a purchase price of CAD$3m.
Slapshot specialises in creating localised sports content, and provides marketing and managed services to the online gaming market in Canada. The business will work exclusively with Betsson in order to build the operator's presence in the upcoming regulation of the Canadian market.
North Carolina Senate committee passes sports venue betting bill
North Carolina's Committee On Rules and Operations of the Senate has favorably reported a bill to allow both retail and online commercial sports betting – but with online betting only permitted at or near sports venues.
Under the bill – Senate Bill 688 – the North Carolina Lottery Commission would act as the regulator and issue licences to operators and suppliers in the market.
Slot Buzz casino review site goes live in Canada
Online casino and igaming review website Slot Buzz has launched in Canada as part of its ongoing strategy to reach customers in regulated and soon-to-be regulated markets.
Players in Canada can now visit Theslotbuzz.com to access reviews on licensed operators, their websites and the latest online slot games.
Sightline Payments hits $1bn valuation after $244m fundraising round
Sightline Payments has announced that it has raised $244m in a new round of fundraising, taking the provider's total valuation to over $1bn.
With this milestone, Sightline has become one of an estimated 700 global startups to earn over $1bn as a private company.
DraftKings secures Baltimore Ravens as fifth NFL partner
Sports betting and daily fantasy sports operator DraftKings has agreed a new partnership with National Football League (NFL) franchise the Baltimore Ravens.
Though the length of the deal was not disclosed, it was confirmed that DraftKings will serve as the official daily fantasy sports partner of the Ravens, as well as an official betting and free-to-play partner of the Maryland-based team.
FanDuel enters multi-year partnership with golf star Jordan Spieth
Sportsbook giant FanDuel has announced it has entered a multi-year partnership with three-time golfing major winner Jordan Spieth.
The deal will see FanDuel, an official sports betting partner of the PGA Tour, become Spieth's exclusive sports betting and fantasy provider.