This week's State of the Union, in partnership with Segev LLP, covers DraftKings' acquisition of Vegas Sports Information Network, the reinstatement of Action 24/7's Tennessee sports betting license and monthly results from Colorado, RHode Island and Nevada.
DraftKings acquires Vegas Sports Information Network
Sports betting and daily fantasy sports operator DraftKings has completed the acquisition of US-facing multi-platform broadcast and content provider Vegas Sports Information Network (VSiN).
Financial terms of the purchase were not disclosed, but DraftKings said the deal would enable it to further enhance its content capabilities in the 14 US states where it operates.
Based in Las Vegas, Nevada, VSiN develops, produces, and distributes up to 18 hours of live linear sports betting content each day.
Action 24/7 sports betting license reinstated after court grants injunction
A court ruling has ordered that Tennessee-based sportsbook Action 24/7 has its license reinstated after an appeal for a temporary injunction was granted.
On March 22, Action 24/7 became the first US online betting operator to have its license suspended when the Tennessee Education Lottery Corporation (TEL) took action after fraudulent activity was discovered on the platform.
Action 24/7 filed a lawsuit against the TEL on the same day claiming that Susan Lanigan, the chair of the Lottery's board, suspended its operations before the board voted on the motion.
DraftKings strikes WWE collaboration deal
DraftKings has struck a deal to become the official gaming partner of WWE, the US-based wrestling entertainment promoter.
The partnership will focus initially on DraftKings' free-to-play pools product, with the first offering under the partnership set to coincide with the 37th edition of WWE's annual WrestleMania event, which will take place on the weekend of April 10-11 in Tampa, Florida.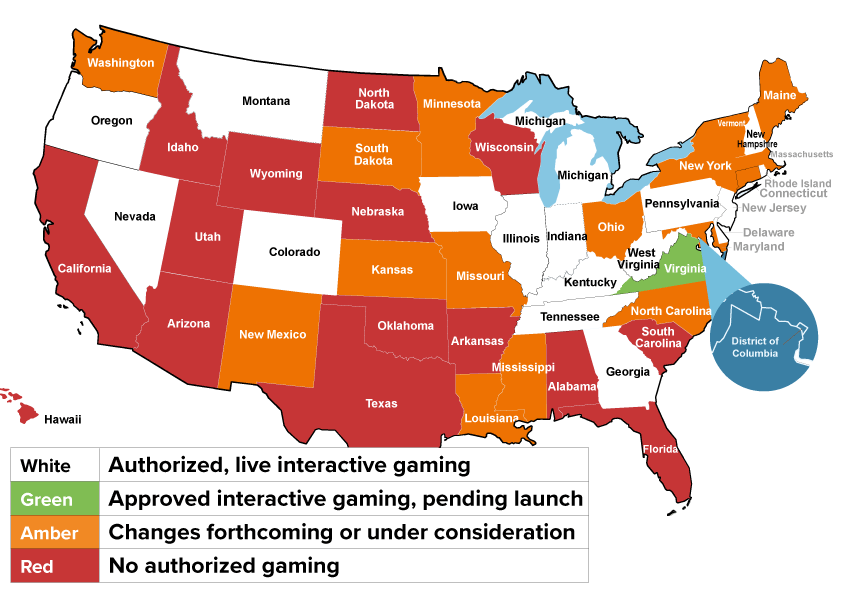 Playtech to open first US live casino studio in Michigan
Playtech has confirmed plans to open its first live casino studio in the US after securing a multi-year lease at a site in the city of Southfield, Michigan.
The studio – which will be linked to Playtech's flagship studio in Riga, Latvia, via video technology – will support Playtech's growth strategy in the US.
Colorado sees first sports betting declines in February
The Colorado Department of Revenue has revealed that the US state suffered its first month-on-month declines in sports wagering revenue and handle during February.
Gross gaming revenue for the month amounted to $10.4m, down 55.0% from the record $23.1m reported in January.
Fox Sports and NYRA announce wagering and media rights deal
Fox Sports has agreed a deal to become the official wagering partner and the official media rights partner of the New York Racing Association (NYRA), while it is also set to acquire a stake in the association's betting business, NYRA bets.
The previous deal gave a Fox Sports subsidiary the option of acquiring a 25% stake in NYRA Bets, an Advance Deposit Wagering (ADW) platform available in 30 states. Fox Sports will exercise this option and acquire the 25% stake by summer 2021 pending regulatory approval.
Allied Esports accepts increased Element offer in WPT bidding war with Bally's
The bidding war for Allied Esports Entertainment's poker assets, including the World Poker Tour, took another twist, as Allied's board agreed to accept an increased bid from Element Partners and again reject a Bally's proposal.
Element initially agreed to acquire the assets for a total consideration of $78.3m, which was approved by Allied's board of directors subject to shareholder and regulatory approval.
KY court rejects Flutter bid for new hearing on $870m judgement
The Kentucky Supreme Court has denied Flutter Entertainment's request for a new hearing on a decision that could see the operator ordered to pay $870m to the state over the activity of its PokerStars brand in the state from 2006 to 2011.
The case originated with a claim that PokerStars offered online gambling to 34,000 Kentucky players between October 2006 – when the Unlawful Internet Gambling Enforcement Act (UIGEA) was introduced – and April 2011, when its US operations were shut down by authorities.
Nevada February revenue down 25.9% YoY after full year of Covid-19 impact
Nevada gaming revenue came to $772.4m in February, the highest total since October 2020, but this was still down 25.9% year-on-year as the state experienced a 12th straight month of double-digit declines due to the novel coronavirus (Covid-19).
Slots brought in $530.8m of this revenue, down 18.2% from February 2020, as players staked $8.15bn. Multi-denomination slots continued to be the most popular form of slots, bringing in $250.3m, as players spent $4.67bn. These games proved to be among the most resilient following the impact of Covid-19, with revenue down just 9.1% year-on-year.
BetMGM and Audacy announce multi-year partnership
Sportsbook BetMGM has been named as the preferred sports betting partner for audio platform Audacy, the business previously known as Entercom.
The deal will see BetMGM content integrated into Audacy audio network, which includes radio shows and podcasts.
Tennessee sports handle slips to lowest total since opening month
Tennessean sports betting operators processed a total of $176.3m in bets during February, the lowest total for a full month since the US state opened its regulated market in November last year.
The February amount represented a 16.6% drop on the record $211.3m posted in January of this year, and was the lowest total since players wagered $131.4m in November 2020.
US national survey highlights problem gambling risk among young people
A survey from the National Council on Problem Gambling (NCPG) has suggested younger Americans are at particular risk of gambling-related harm, with half of those under 35 answering "yes" to at least one question that suggests a risk of problem gambling.
The National Survey of Gambling Attitudes and Gambling Experiences (NGAGE) is the first national research report on gambling attitudes since the National Gambling Impact Study Commission in 1999.
Evolution seals new PlayLive! deal in Pennsylvania
Evolution has signed a new agreement with Cordish Gaming Group, a division of real estate and entertainment business Cordish Companies, to provide players in Pennsylvania with online live casino and first-person RNG-based games via the PlayLive! site.
Under the deal, Evolution's Philadelphia studio will be responsible for supplying the games, including gameshow-style gaming and first-person offerings, in which the player's view is intended to imitate a real player's view of a land-based table game. The games are expected to go live via PlayLive! in the second quarter of 2021.
theScore secures Illinois market access with Caesars deal
Canada-based betting operator theScore has agreed a deal with Caesars Entertainment that will allow it to access the Illinois online betting market through Harrah's Joliet Hotel & Casino.
The operator will still need regulatory approval before launching, but expects to take bets from Illinois in the second half of 2021.
Allied Esports poker assets generate $1.5m profit ahead of Element sale
Allied Esports has reported a $45.5m loss for 2020, though its poker assets such as the World Poker Tour, which it is in the process of divesting, brought in a $1.5m profit.
Allied's revenue from continuing operations – which excludes the poker assets – came to $3.2m, down 57.5%, over the 12 months to 31 December 2020.
Wyoming sports betting bill passes Senate
A bill designed to legalize online sports betting in the state of Wyoming has passed the third reading at the state Senate.
House Bill 0133, which was initially rejected when introduced, passed by a vote of 24-5-1 after clearing the Senate Appropriations Committee last week. 
BetMGM and Detroit Tigers sign gaming-focused partnership
Major League Baseball outfit Detroit Tigers today announced a multi-year sponsorship agreement with BetMGM, which will become an official gaming partner of the team.
The deal will see BetMGM branding appear on scoreboards across the Tigers' Comerica Park stadium, as well as integrated social media content between the two.
Galaxy Gaming revenue drops 52% in 2020
Casino supplier Galaxy Gaming has released its financial results for the fourth quarter and full year 2020, showing a decline in revenue of 52% for the 12 months to 31 December, 2020.
The supplier brought in a total of $10.2m in revenue for the year, leaving adjusted earnings before interest, tax, depreciation and amortisation (EBITDA) of $1.4m, down 84%.
Rhode Island sports betting revenue falls to $1.5m in February
Rhode Island sportsbooks revenue totaled $1.5m in February, a 33.0% decrease from February 2020 and 58.5% drop from January 2021.
Players wagered $34.1m on sports during the month, down 14.3% from the previous month but up 21.2% from $28.1m in the same month of 2020.
theScore Bet signs PGA Tour deal
Score Media and Gaming (the Score) has partnered with the PGA Tour, making its theScore Bet sportsbook the Tour's official betting operator in the US and, pending legislative changes, Canada.
The deal will make theScore Bet the Tour's fifth official betting operator in the US, and its first in Canada – pending the passing of Canada's single event sports betting bill.
MGM Resorts appoints Jeff Mochal to senior communications role
MGM International Resorts has appointed Jeff Mochal as senior vice president of corporate communications while Ayesha Molino, who previously held the role, moves up to senior vice president of public affairs.
Mochal previously held the role of senior vice president for marketing and communications at LPL Financial. He will take this experience forward to his new role, where he will focus on overseeing corporate communications, internal communications and sustainability messaging strategies.