This week's State of the Union, in partnership with Segev LLP, covers Caesars Entertainment's agreement to purchase British betting operator William Hill, Costa Rica-based sportsbook 5Dimes' settlement with US authorities and Nevada's casino revenue for August.
Caesars reaches agreement on William Hill acquisition
US gambling giant Caesars Entertainment Inc. has agreed terms on a deal for its Caesars UK Holdings subsidiary to acquire the entire William Hill business for approximately £2.9bn (€3.17bn/$3.72bn).
Terms of the deal, which were set out earlier this week, will see Caesars pay 272 pence for each William Hill share, having finalised its due diligence in relation to the offer.
The acquisition remains subject to approval by William Hill shareholders, but the bookmaker's board has said that it considers the terms of the deal to be "fair and reasonable", and will recommend both unanimously and unconditionally that the offer be accepted.
5Dimes agrees $46.8m DoJ settlement, targets US licenses
Costa Rica-based betting operator 5Dimes has agreed to pay a $46.8m settlement to the Department of Justice following an investigation into the operator illegally targeting US customers and announced it plans to enter the US regulated market.
The agreement ends an investigation from the United States Attorney's Office for the Eastern District of Pennsylvania, in conjunction with the Department of Homeland Security Investigations, that started in 2016. It follows the operator's decision to block all US customers earlier this month.
At the time, it hinted at an attempt to seek licenses in the US and following the settlement, it has confirmed this is the case, under a new corporate structure.
Nevada casino revenue declines to $743.0m in August
Nevada casino revenue declined 1.7% month-on-month and 21.9% year-on-year to $743.0m in August, as low margins and the novel coronavirus (Covid-19) combined to keep revenue low.
With casinos having been closed in late March and early June this year due to the virus, the revenue total was the lowest for a full calendar month since the state Gaming Control Board started publishing figures in December 2003.
However, this was partly due to lower win rates than July across both slots and table games, as players staked a total of $9.99bn, up 7.7% from the previous month.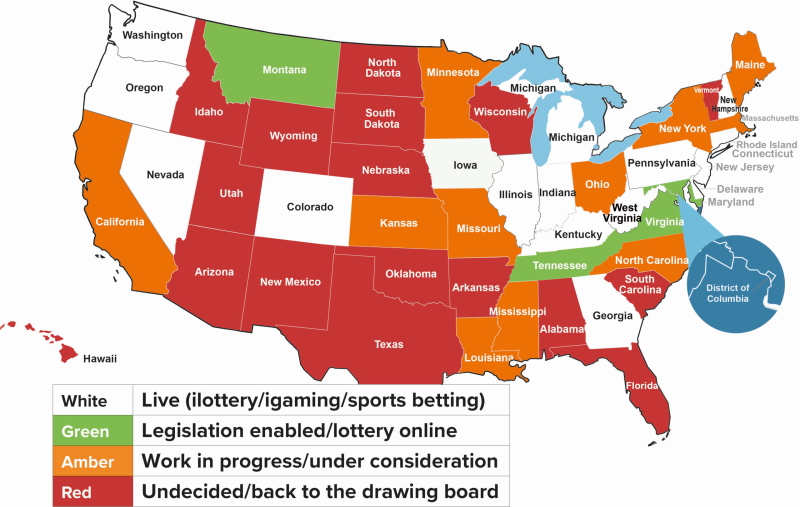 Caesars details £2.9bn takeover offer for William Hill
US gaming giant Caesars Entertainment Inc. has set out further details of its possible cash offer for William Hill, saying that it is set to make a bid worth £2.9bn (€3.29bn/$3.71bn) for the bookmaker.
The offer would see Caesars pay 272.0 pence for each William Will share, with the operator also revealing that it has finalised its due diligence and will make a further announcement on the potential offer when appropriate.
PointsBet partners with NFL's Colts and Bears
PointsBet has agreed partnerships with both the Indianapolis Colts and Chicago Bears, making it a sportsbook partner of the NFL franchises.
Under both deals, PointsBet may use the team's logos in its marketing and will have access to sponsorship opportunities and brand visibility across various digital assets.
Tipico receives DGE approval for NJ launch
German sports betting giant Tipico has received conditional approval to launch sports betting in New Jersey from the New Jersey Division of Gaming Enforcement (DGE).
The imminent launch will be the first in the US for Tipico, which has set up its US operations in the state and also plans to launch igaming when it receives the required approval. The operator has partnered with Atlantic City's Ocean Casino Resort for the offering.
Hard Rock selects SG for betting and igaming technology
Hard Rock International has selected Scientific Games as its new US betting and gaming technology provider, replacing Gaming Innovation Group (GiG).
The partnership will see Scientific Games providing its OpenSports digital and retail solutions to the operator for its sportsbook in Iowa and New Jersey, while Scientific Games' OpenGaming solution will power its online casino offering in New Jersey.
BetAmerica launches Michigan & Colorado sportsbooks
Churchill Downs Incorporated (CDI) has opened BetAmerica-branded sportsbooks at the Island Resort & Casino in Harris, Michigan and Bronco Billy's Casino in Cripple Creek, Colorado.
The operator has partnered with Hannahville Indian Community to launch its Michigan retail sportsbook, and with Full House Resorts to launch in Colorado.
Betsson agrees US odds deal with Scientific Games
Swedish online operator Betsson is to integrate its Scientific Games' OpenTrade solution to improve its trading capabilities in the US and across the globe.
Under the multi-year, global deal, Scientific Games will provide Betsson proprietary pricing services from Don Best Sports, a business the supplier acquired in 2018. This will be rolled out across Betsson's brand portfolio and B2B network.
BetMGM scores betting deal with Tennessee Titans
BetMGM, the brand operated via the Roar Digital joint venture between MGM Resorts International and GVC Holdings, has agreed to become the official sports betting partner of National Football League (NFL) team the Tennessee Titans.
Under the agreement, BetMGM will benefit from brand visibility across a number of the Titans' digital assets, including on video board replays inside the team's Nissan Stadium.
SG agrees Flutter extension ahead of FanDuel migration
Scientific Games has extended its contract with Flutter Entertainment as the Paddy Power and PokerStars operator prepares to migrate FanDuel's sportsbook to its partner's OpenSports technology.
The new five-year agreement has been struck on the 20th anniversary of Scientific Games – then OpenBet – agreeing to supply its technology to Paddy Power.
Retail resurgence drives RI sports betting revenue in August
The Rhode Island Lottery has reported an increase in sports betting revenue and player spending in August, primarily due to increased activity at the state's two retail sportsbooks.
Revenue for the month totalled $1.4m, a 64.4% year-on-year rise from $851,788 in August of last year, while the figure also represented a 298.4% increase on $351,425 in July this year.
Delaware sports betting revenue improves in September
Sports wagering revenue in Delaware amounted to $904,450 in the month to 27 September, which despite marking a month-on-month improvement, remains far behind 2019 levels.
Revenue was down 58.9% from $2.2m in September 2019, but the monthly total was 146.4% higher than the $367,116 recorded in August of this year, in a month when the National Football League season began.
PA casino employment drops 38.9% year on year to 30 June
The number of employees at Pennsylvania casinos collapsed by 38.9% to 9,883 as of 30 June, 2020, despite all but one casino in the state having reopened after the impact of the novel coronavirus (Covid-19) pandemic, according to the state's 2019/20 casino diversity report.
The decline in employees was largely down to the novel coronavirus (Covid-19) pandemic and included many temporary layoffs, with Rivers Casino Philadelphia – which employed more than 1,500 before the pandemic – listing no employees whatsoever as it had not yet reopened on 30 June. It went on to reopen with a staff of 813.
Scientific Games adds former Barclays Bank CEO to board
Scientific Games has appointed Tim Throsby, former chief executive of Barclays Bank, as an independent director and member of its board.
Throsby will sit on the Scientific Games board alongside eight other directors, the majority of whom are also independent.
IGT pens extension with Minnesota Lottery
International Game Technology (IGT) has signed a two-year extension to its instant ticket games contract with the Minnesota Lottery in the US.
Under the renewed deal, which will run through to the end of June 2022, IGT will continue to supply a range of instant ticket services for the Minnesota Lottery.
IGT secures tribal sports betting deal in North Dakota
International Game Technology (IGT) is set to expand its US retail sports betting network into North Dakota after striking a new deal with the Turtle Mountain Band of Chippewa Indians.
Under the agreement, IGT will provide its PlaySports sports betting solution to the tribal organization's Grand Treasure Casino in Trenton and Sky Dancer Casino and Resort in Belcourt.
Nevada's Nugget Casino Resort lays off 154 staff
Marnell Gaming-owned Nugget Casino Resort in Reno, Nevada, has announced that it is to permanently lay off 154 of its employees.
The staff, which currently hold roles across a number areas of the business, will have their employment officially terminated on November 15 this year.
SG Digital signs up NetEnt, seals exclusive US deal with BTG
Scientific Games' online division SG Digital has announced that NetEnt's content will be available through the supplier's OpenGaming platform, which will also serve as the exclusive platform for Big Time Gaming content in the US and Canada.
Announced at Scientific Games' MediaFest press briefing, SG Digital chief executive Jordan Levin said the supplier was "proud" to announce the partnership with slot giant NetEnt.
NIGA strikes RG training agreement with RG24seven
Video-based responsible gambling training platform, RG24seven, has signed a new partnership with the National Indian Gaming Association (NIGA).
This will see the service provider develop tribal-specific responsible gambling training for NIGA members.
GiG and Hard Rock terminate platform services deal
Gaming Innovation Group (GiG) and Hard Rock International have agreed to a mutual termination of their platform and sportsbook services arrangement.
Both parties acknowledged that while the partnership had proved successful and there was an upswing in results during this year, they were not able to strike a commercial agreement that supported their individual strategic aims.
Penn National Gaming public offering hits $982.1m target
Casino operator Penn National Gaming (PNG) has raised $982.1m through a public offering of shares, with the proceeds to be used to fund its online betting and gaming expansion plans.
Launched last week, the offering saw a total of 16.1m shares of common stock in PNG made available, at a public price of $61.00 per share.
SciPlay appoints Moy as chief strategy officer
SciPlay, the social gaming division of Scientific Games, has appointed Danny Moy as senior vice president and chief strategy officer.
In this position, Moy will oversee SciPlay's business development team and attempt to find new business development opportunities.
DraftKings expands partnership with Colorado Rockies
Sports wagering and daily fantasy sports operator DraftKings has expanded its partnership with Major League Baseball (MLB) franchise the Colorado Rockies.
Under the deal, DraftKings will serve as the team's first official sports betting operator, as well as continuing as its daily fantasy sports operator.
Loto-Québec closes land-based facilities as Covid-19 cases rise
Canadian provincial gambling operator Loto-Québec is to close a number of its land-based gaming venues with Québec facing a rise in novel coronavirus (Covid-19) cases.
From midnight October 1, the Casino de Montreal and the Salon de jeux de Quebec will have to close until October 28, however lottery sales are not affected by the new guidelines and will continue across the operator's retail network.