This week's State of the Union, in partnership with Segev LLP, includes a series of fines issued by the Pennsylvania control board, as well as results from states including Illinois, Indiana, Iowa and New Jersey.
Pennsylvania Gaming Control Board issues four fines totaling $284,000
The Pennsylvania Gaming Control Board (PGCB) has issued fines amounting to $284,000 to three license holders including Boyd Gaming and Penn National Gaming.
Hollywood Casino operator the Mountainview Thoroughbred Racing Association – a subsidiary of Penn National Gaming – was given two fines totaling $120,000. The first – worth $70,000 – was for allowing a self-excluded customer to gamble, become intoxicated and subsequently cause damage to other customers' vehicles.
New Jersey gambling revenue rises again in May
Gambling revenue in New Jersey increased 290.4% year-on-year to $374.2m in May, while the monthly total was also 6.4% higher than in April of this year.
Overall revenue for the US state's market was significantly higher than the $95.9m posted in May 2020, primarily due to the impact of novel coronavirus (Covid-19) restrictions in New Jersey last year.
Committee approves Ohio betting bill, launch delayed to April 2022
Ohio's Senate Gaming Committee has unanimously approved a bill to allow sports betting in the state, after including an omnibus amendment that would delay the market opening to 1 April but increase the number of licensees.
If passed, the bill – SB 176 – was set to come into force on 1 October, which would kick off the process to allow operators to apply for licences. However, Kirk Schuring, chair of the Senate Select Committee on Gaming, said that a delay would allow all operators to begin on equal footing when the market opens.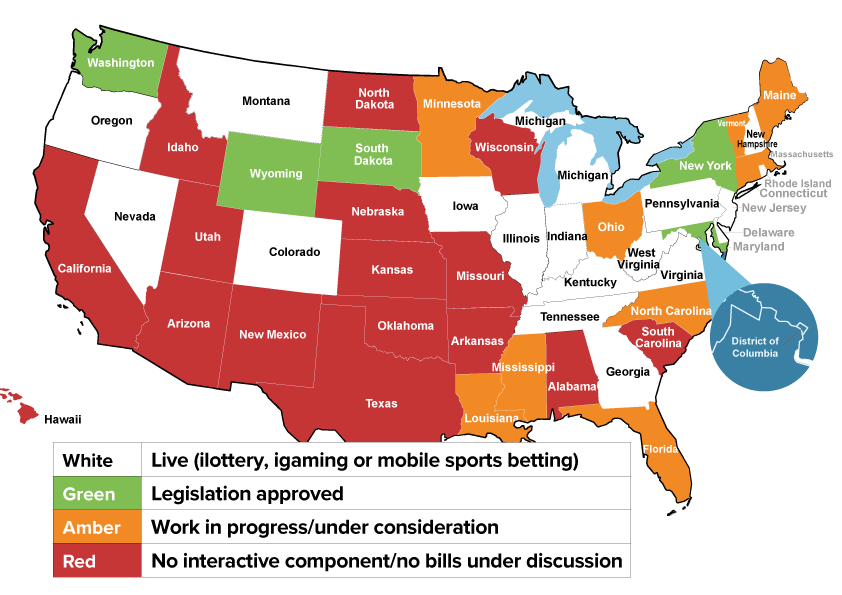 Richmond council selects One for city's casino resort
Richmond City Council has approved One Casino + Resort as the city's preferred operator for a proposed casino resort project in South Richmond, meaning the proposal will now be voted on by residents of the city.
The deal now moves to the Virginia Lottery Board for pre-certification, and if successful then a referendum will be held on 2 November, after approval from the Circuit Court. If voters approve the casino, then it may be built.
Bally's completes acquisition of Jumer's in Illinois
Bally's Corporation has completed its acquisition of Jumer's Casino & Hotel in Illinois from Delaware North Companies Gaming & Entertainment for $120m.
The deal was originally struck in October by Twin River Worldwide Holdings, prior to the operator acquiring the Bally's brand and rebranding as Bally's Corporation.
Louisiana betting bills beat the clock on final day of regular session
Regulations for Louisiana's sports betting market and a separate bill formalising how funds from legal wagering will be distributed are headed to Governor John Bel Edwards for his signature.
Senate Bill 247, sponsored by Senate President Patrick Page Cortez, and SB142, from Senator Rick Ward III, both passed after going to a conference committee, when the upper chamber rejected amendments put forward in the House of Representatives.
Illinois betting revenue dips slightly in April despite retail improvement
Sports betting revenue in the state of Illinois dipped 1.2% month-on-month to $43.6m in April, as handle declined by 14.4%.
The $43.6m in revenue came on handle of $537.2m, down 14.4% from March's record, when betting on the NCAA basketball tournament boosted revenue.
New York sports betting revenue reaches $1.6m in May
Commercial sports betting revenue in New York amounted to $1.6m in May, an increase of 23.1% from the total generated in April.
Year-on-year comparisons were not possible as the state's four commercial casinos licensed to offer sports wagering were closed for all of May 2020 due to novel coronavirus (Covid-19) restrictions in New York.
PointsBet appoints Fiore to lead responsible gambling strategy
PointsBet has announced the appointment of Teresa Fiore as its responsible service of gambling and corporate social responsibility manager.
Fiore joins the operator having spent almost five years working in the responsible gambling sector, including a spell with the Massachusetts Gaming Commission.
Delaware igaming revenue down in May despite 125.6% hike in spend
Online gambling revenue in Delaware declined 17.3% year-on-year to $910,282 in May despite player spending more than doubling to $26.7m.
Revenue was down from $1.1m in May 2020, but 4.2% higher than the $874,017 reported in April this year.
Hard Rock scores partnership with soccer icon Messi
Land-based operator Hard Rock International has entered into a partnership with Argentinian soccer legend Lionel Messi.
The five-year global agreement will see Messi serve as an ambassador for Hard Rock and its entertainment, hospitality and restaurant properties.
PlayStar appoints Bet365's Alexander as chief operating officer
Online casino start-up PlayStar has appointed Dan Alexander, previously head of casino at Bet365, as its chief operating officer.
As COO, Alexander will help build the foundations of the brand's online casino product and also play a central role in growing the start-up's team.
Indiana sports betting revenue declines despite higher handle in May
Revenue from sports betting in Indiana fell 5.5% month-on-month to $18.9m in May despite the US state experiencing a 7.6% increase in its handle to $254.4m.
Year-on-year, total adjusted gross revenue (AGR) was up 490.6% from $3.2m in May 2020, but last year's figures were severely impacted by the novel coronavirus (Covid-19) pandemic, with many sports events cancelled or postponed, thus limiting betting options.
BetMGM enters DC market with Washington Nationals partnership
BetMGM is to expand into Washington DC's regulated sports betting market through an exclusive partnership with the Washington Nationals Major League Baseball (MLB) team.
Under the multi-year agreement, BetMGM will launch its mobile sports betting app in the state.
Michigan online gambling revenue edges down in May
The Michigan Gaming Control Board (MGCB) reported a second consecutive month of online gambling revenue decline in May, with the $114.3m generated during the month down 0.8% from April.
Online casino accounted for $94.9m of all revenue for the month, level with April's total, but online sports betting revenue declined 4.4% month-on-month to $19.5m.
Iowa reveals month-on-month betting revenue and handle declines in May
The Iowa Racing and Gaming Commission (IRGC) has reported a month-on-month decline in sports betting revenue and handle for May.
Net receipts for the month amounted to $6.1m, which was 20.8% lower than the $7.7m recorded in April of this year, marking the second consecutive month of decline in Iowa.
DraftKings to collaborate with AGA responsible betting campaign
DraftKings has announced a collaboration with the American Gaming Association's (AGA) "Have a Game Plan, Bet Responsibly" campaign.
The campaign will be featured on DraftKings' online channels through digital marketing and social media promotions and at select DraftKings retail gaming properties, including in all 10 of its sportsbooks across the US.
Entain launches new US-facing responsible gambling app
The Entain Foundation US, a not-for-profit funded by BetMGM and Entain, has announced the launch of a new responsible gambling mobile app in the US.
Produced in partnership with Epic Risk Management and RG24/7, 'Gamble Responsibly America' is free to download and features a range of educational resources and tools to support users facing potential issues with problem gambling.
Sports IQ signs data supply deal with Chalkline
US-focused odds supplier Sports IQ has signed a new agreement with free-to-play specialist, Chalkline.
The multi-year agreement will see Sports IQ provide US sports data to power Chalkline's suite of free-to-play games.
WynnBet signs partnership with MLB's Cincinnati Reds
Wynn Resorts' online sports betting brand WynnBet has announced a new corporate partnership with Ohio-based Major League Baseball (MLB) team the Cincinnati Reds.
While sports betting isn't yet legal in Ohio or Kentucky, which make up most of the Reds' local markets, the operator said it hoped to use the deal to reach fans in Indiana, as the mobile sportsbook expands in the state.